2013 Graduate Programs Commencement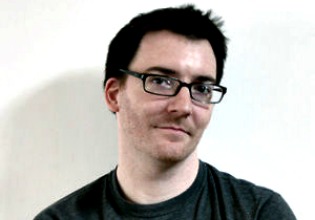 R. Luke DuBois—a composer, conceptual new-media artist, educator, and performer—will be the keynote speaker at Goucher's graduate programs Commencement, during which the college will graduate its first cohort of students from the Master of Arts in Digital Arts (MADArts) program.
The Master of Arts in Digital Arts program allows students who are interested in music, digital culture, and media to create a marketable body of work in collaboration with well-known, working digital artists, and it teaches them about the business of digital art so they can finance, advertise, and manage their careers.
The Commencement ceremony will be held Sunday, August 4, at 3 p.m. in Kraushaar Auditorium and will honor the achievements of the graduates enrolled in programs through the Robert S. Welch Center for Graduate and Professional Studies at Goucher College.
DuBois has lectured and taught worldwide on interactive sound and video performance, including at Columbia University, Princeton University, the School of Visual Arts, and the music technology and interactive telecommunications programs at New York University. In 2008 he became a full-time professor at the Polytechnic Institute of NYU, where he is the director of the Integrated Digital Media Program and the Brooklyn Experimental Media Center.
He has collaborated on interactive performance, installation, and music production work with many artists and organizations. As part of the avant-garde Freight Elevator Quartet and as a solo artist, DuBois has appeared on nearly 25 albums and now performs as part of Bioluminescence, a duo that explores the modality of the human voice, and Fair Use, a trio that looks at U.S. culture through electronic performance and remixing of cinema.
As a conceptual artist, DuBois takes on various topics in American culture and places them under a computational microscope to raise awareness about important issues, such as politics, science in society, socio-cultural identity, and war. His work has been exhibited at the 2008 Democratic National Convention; the San Jose Museum of Art; the National Constitution Center in Philadelphia; the Cleveland Museum of Contemporary Art; the Daelim Contemporary Art Museum in Seoul, South Korea; the 2007 Sundance Film Festival; the Sydney Film Festival; and the Smithsonian American Art Museum in Washington, DC. His work and writing also have appeared in print and online in The New York Times, National Geographic, and Esquire magazine.
DuBois holds a doctorate in music composition from Columbia University. He serves on the board of directors of the ISSUE Project Room, a performance center in Brooklyn for both emerging and established experimental artists.
The Robert S. Welch Center for Graduate and Professional Studies at Goucher College offers seven master's degree programs, including five programs offered in low–residency, distance-learning formats. The limited-residency programs are a Master of Arts in Arts Administration, Master of Arts in Historic Preservation, Master of Arts in Cultural Sustainability, Master of Arts in Digital Arts, and Master of Fine Arts in Creative Nonfiction. Designed for working adults, classes are offered primarily online with a required two-week, on-campus residency. Because of the flexibility the programs provide, students enroll from all parts of the country and often from other countries.
Additionally, the Welch Center offers a Master of Education program that allows students to specialize in athletic programs and leadership, education for at-risk students, middle school education, reading instruction, school mediation, school improvement leadership, and urban and diverse learners. The center's Master of Arts in Teaching is a certification program designed to prepare graduates with no teaching background for careers in elementary, middle, or special education.