Q & A with Dean of Students Bryan Coker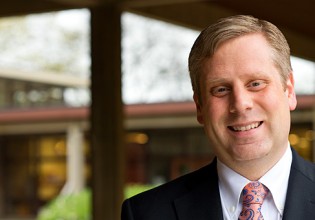 What do James Taylor, Mortimer the Gopher, and children in Afghanistan have in common? They're all part of a question-and-answer with Bryan Coker, Goucher's new(ish) vice president and dean of students. Coker, who came from Florida's Jacksonville University in February, is responsible for all student affairs departments and athletics here at Goucher.
1. What would you like the Goucher community to know about you?
Besides being the VP/dean of students, I am also a husband and father. My wife of 16 years, Sara, and I have three children: Caroline (11), William (8), and Chris (4). While I arrived in early February, my family joined me around two weeks ago, and we are residing not too far from campus, in the Wiltondale area of Towson.
2. Do you fear the Gopher?
I can't say I fear the Gopher – personally, I like the Gopher – but, I definitely hope all of our athletic rivals fear the Gopher. At my going-away reception at my previous institution, my cake said, "Mortimer Fears the Fin." "Mortimer" is, of course, the name of the Goucher Gopher, and the "Fin" refers to the Dolphin, Jacksonville University's mascot. But, we all know that Mortimer does not fear the Fin – the Gopher is fearless!
3. What was your favorite thing about your own college experience?
That's a tough question. I enjoyed almost every moment of my college experience, really. Overall, I would say I enjoyed being challenged and stretched in my personal learning, growth, and development like never before.

4. What's the farthest you've ever been from home, and how did that experience change you?
At this point, the U.K. has been my farthest trip. I am hoping to travel to Afghanistan within the next year or two. My wife and I co-founded and coordinated a nonprofit organization in Jacksonville that brought over 45 Afghan children to Jacksonville in recent years for comprehensive medical care, and we hosted three of those children in our own home. I hope to eventually travel to Afghanistan to follow up with, and meet the families of, all those children.
5. What attracted you to Goucher?
Goucher reminds me a great deal of my own undergraduate institution, Rhodes College in Memphis. I always hoped I would return to lead student affairs in the small, private, residential, liberal arts environment. In such an environment, I believe we have the best opportunity to play meaningful and significant roles in the lives of students.
6. What's your favorite band/musician?
My all-time favorite would be James Taylor; however, my musical tastes completely run the gamut, from New Orleans zydeco to Memphis blues to country-western (I did live in Tennessee for 10 years).
7. Is there any professional achievement you're especially proud of?
At my previous institution, Jacksonville University, I was given the responsibility of providing leadership for transforming a vacant academic building into a student center for the campus. While I could have approached that project many different ways, I chose to utilize an incredibly inclusive and collaborative process, with substantial and diverse student involvement and input. I always say that I know the collaborative and inclusive approach was successful because the final product of the student center was not at all what I would have originally expected – it was truly the result of what arose from the process. Leaving that building (the students were kind enough to even let me have an office there) in January was a tough "goodbye" for me, as I began my transition to Goucher.
8. What is your favorite place in the whole wide world?
That's another tough question – but, while previously living in Knoxville, Tennessee, I developed a strong affinity for the Great Smoky Mountains. There are some amazing spots near the North Carolina-Tennessee border, which never fail to take my breath away.
9. Do you have any specific plans for your time at Goucher?
As I have shared with many people in recent days, I plan to spend my first few months at Goucher on the three L's: looking, listening, and learning. Over the years, I have observed leaders enter new institutions thinking they have all the answers, and the results are typically disastrous. However, I can say with confidence that I want to look critically and completely at the overall student experience at Goucher and determine what we are doing really well, as well as those things upon which we need to improve.
10. How do you feel about
a. The Ravens
My first night in Baltimore was the night of the Super Bowl, thus, I became an instant Ravens fan!
b. Crabs
I am pretty much obsessed with seafood. I could probably eat it every meal – oysters and shrimp are my favorites. Crabs are in that family, so we're good there.
c. Snow?
I grew up in Western North Carolina, so I have a real appreciation for true seasons. While I enjoyed my last 10 years in Florida, I really missed the seasons, and I want my children to have the experience of growing up with seasons. So, bring on the snow – my two boys are especially excited about it. However, I think my 4-year-old son had visions of Baltimore being something like the North Pole – all snow, all the time.