Goucher Playwrights Open Studio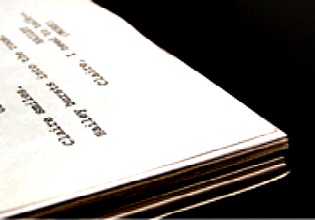 Goucher Playwrights Open Studio will present "Historical Dramas: Public and Personal" from Thursday, April 25, through Tuesday, May 7, in various locations on the college's campus. Students, faculty, and regional professional actors will present "cold readings" (little or no rehearsal) of pieces written in Assistant Professor Alvin Eng's advanced playwriting course for the playwright to hear the play come off the page for this first time. The readings are open to the entire Goucher community. Special guest faculty members will be invited to share their expertise on the given play's theme and subject matter in post-reading discussions. All events are free and open to the public. For more information, contact Alvin Eng at Alvin.Eng@Goucher.edu.
The play lineup follows.
That Fatal First
By Craig Richie
Thursday, April 25
3-4:15 p.m., Van Meter 213
It is 1835, and a young Abraham Lincoln is about to face his inner demons in what would be his most dangerous struggle against manic depression. Through this lens, Abe struggles with his wife, Mary Todd; legal partner and confidant, John Stuart; and others to understand this sickness and reflect upon conceptions of mental disease. 
Invited Guests: Daniel Marcus, associate professor of communication and media studies, and Jean Baker, professor of history
All That's Left
Concept and Libretto by Nancy Terry; music by Gil Kline
(A concert presentation of a new musical theatre work based on a play written by Nancy Terry, in collaboration with Goucher's Department of Music)
Friday, April 26
8 p.m., Mildred Dunnock Theatre
What happens when all control is lost from a disaster? What happens within friendships, romantic relationships, and families? Eliza and Katrina have an unbreakable bond of friendship. Their letters to each other represent the unique communication that happens between two people who are so close that the line separating who is who blurs. The antagonists, Evan and Ethan, are the outsiders in this play. Their actions bring out different qualities in Eliza and Katrina. Eliza is able to have faith in others, while Katrina is not so quick to give the benefit of the doubt. The house fire spurs the plot along as we all learn from the characters the power and danger of human connection.
Invited Guest: Kendall Kennison, chair of the Department of Music
In Stitches: (Or, How My Boyfriend's Breasts Threaten My Precious Queer Identity)
By Jeremy Grant
Tuesday, April 30
3-4:15 p.m., Van Meter, 213
What if your existence was a threat to society's standards of decency? Join one man on his tragically comedic and atypical adventure through the harsh waters of gender identity, sexuality, and propriety. (Contains graphic material.)
 Invited Guest: Mel Lewis, assistant professor of women, gender, and sexuality studies
Diligent and Reliable Officials
By Marley Witham
Thursday, May 2
3-4:15 p.m., Van Meter 213
Soviet Union, 1931. Under Stalin's formidable shadow, Soviet author Maxim Gorky is forced to rearrange his view of art when he is asked to pardon another defecting author.
Invited Guest: John Corcoran, visiting assistant professor of history
Bound for Bed
By Adam Black
Tuesday, May 7
3-4:15 p.m., Van Meter 213 
Sex, violence, and an inevitable tiredness – Bound for Bed explores the effects of chronic fatigue syndrome on sexual encounters.
Invited Guest: Jim Sheehan, playwright and Goucher's director of marketing