Goucher Named a Top 'Green College'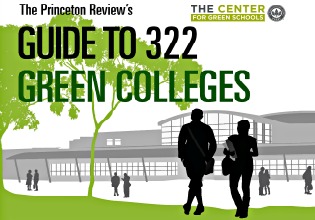 Goucher College was included in The Princeton Review's Guide to 322 Green Colleges: 2013 Edition for its "strong commitment to the environment and to sustainability." The college was also one of only 21 colleges and universities named to the Princeton Review's Green Honor Roll, which recognizes schools that received a green rating of 99. The rating measures "a school's performance as an environmentally aware and responsible institution" and primarily considers sustainable campus living, academic coursework in sustainability and sustainable school policies to determine the score.
The guide was compiled using data that were solicited from hundreds of colleges and universities in the United States and Canada. The survey asked administrators more than 50 questions about their institution's sustainability-related policies, practices, and programs. Each college was given a "Green Rating," a numerical score from 60 to 99 that is based on several data points, including percentage of food expenditures on local and organic food, waste diversion rates, environmental literacy requirements, and sustainable transportation options. The colleges profiled in the guide received scores in the 83rd percentile or higher.
Goucher was cited for:
Conducting public inventories of all greenhouse gas emissions on campus
Implementing an institutional action plan to combat its carbon footprint and become climate neutral
Spending 30 percent of its food budget on local/organic food
Offering transportation alternatives, such as carpool systems and free bus services
Purchasing 100 percent of the school's energy from renewable resources
Maintaining 100 percent of the grounds organically
Having an environmental studies major
Providing guidance on green jobs
Making environmental sustainability a core educational requirement
The college was praised for its policy requiring that all new buildings and renovations of existing ones be certified at least at the Silver level under the Leadership in Energy and Environmental Design (LEED) Green-Building Rating System. Goucher's Athenaeum is the campus's first LEED Gold-certified building.
The Goucher Environmental Sustainability Advisory Council's (GESAC) efforts in working with Environment Healthy and Engineering (EH&E), Inc., to framework a Climate Action Plan, were also mentioned. EH&E is a Massachusetts-based environmental and engineering consulting firm.
To download Goucher's profile in The Princeton Review's Guide to 322 Green Colleges: 2013 Edition, click here.