Embracing "Big Brother"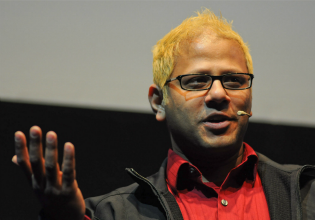 Internationally known interdisciplinary artist Hasan Elahi will present "Embracing 'Big Brother'" on Thursday, April 25, at 6 p.m. in Goucher College's Kelley Lecture Hall.
Elahi will discuss his projects and recent encounters with "Big Brother"—beginning with a 2002 detainment in the Detroit airport after being falsely suspected of hoarding explosives. After this encounter, Elahi began posting photos of his life—as many as 100 a day—to notify the FBI of his whereabouts.
The event is free and open to the public, and tickets are not required. For more information, contact Rick Delaney, Goucher art lecturer, at rdelaney@goucher.edu or 443-804-1381.
Elahi has frequently been covered by The New York Times, Forbes, Wired, CNN, ABC, CBS, and NPR, and he has appeared on Al Jazeera, Fox News, TEDGlobal, and The Colbert Report. He is associate professor of art at the University of Maryland, College Park, where he is director of digital cultures and creativity in the Honors College. To learn more, visit elahi.umd.edu.
This event, the Irwin C. Schroedl Jr. Lecture in the Decorative Arts and Material Culture, is sponsored by Goucher College's Art and Art History Department.