Newest Results of the Goucher Poll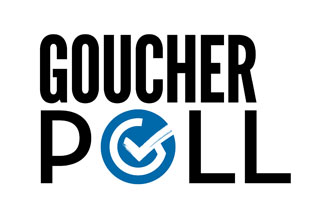 Twenty-eight percent of Maryland residents indicate the economy is the most important issue facing the state today. Another 13 percent say the most important issue is taxes, followed by 10 percent saying it is education and gun control, respectively.
Perceptions of State Government and Officials
Citizens were divided on their opinions toward Maryland Governor Martin O'Malley and the Maryland General Assembly. Forty-six percent of Marylanders have a favorable view of Governor O'Malley, while 45 percent have an unfavorable view. When asked about the job O'Malley was doing as governor of Maryland, 47 percent approved, and 43 percent disapproved.
Thirty-eight percent of Marylanders disapprove, and 38 percent of Marylanders approve of the way the Maryland General Assembly is handling its job, while a quarter of citizens indicated they "don't know."
Forty-seven percent believe the state has gotten off on the wrong track, while 44 percent think it is going in the right direction. Sixty-four percent of residents believe they can trust the state government to do what is in the public's interest "some" or "all" of the time.
Death Penalty
Fifty-one percent of Maryland citizens are opposed to ending the use of the death penalty in the state; 43 percent support ending it. Fifty-five percent disagree that the death penalty acts as a deterrent to murder, while 37 percent think it does.
Forty-eight percent of Marylanders favor life in prison as a punishment for murder, while 40 percent favor the death penalty.
When asked to estimate how many people have been executed in Maryland over the past 10 years, nearly half overestimated the amount, and 18 percent indicated they "don't know." Thirty-three percent estimated that the state executed anywhere from zero to three individuals in the past 10 years. Two individuals have been executed in the state in past 10 years: Steven Howard Oken (2004) and Wesley Eugene Baker (2005).
"During this past week, the Maryland General Assembly has taken the first steps to add Maryland to the list of 17 other states that have abolished the use of the death penalty," said Mileah Kromer, director of the Sarah T. Hughes Field Politics Center. "While citizens appear to overestimate its use, prefer life imprisonment without parole, and express doubts over whether the death penalty deters murder, half of Maryland residents do not want the death penalty taken completely off the table."
Transportation
Maryland citizens were asked to offer their opinions on the biggest transportation issues in the state. More than a quarter mentioned an issue dealing with public transportation; 19 percent cited an issue with infrastructure; 18 percent mentioned an issue with congestion and traffic; and 17 percent expressed concern about the costs associated with transportation in the state.
Respondents then were asked to rate the roads and highways and public transportation in the state on a scale of 1 to 5, where 1 means "very bad," and 5 means "excellent." Positive perceptions of Maryland's roads and highways were higher than for its public transportation: 33 percent rated Maryland's highways and roads a 4 or 5, while only 23 percent gave public transportation in the state a 4 or 5.
Marylanders were divided on their opinions toward the speed cameras in use throughout the state. Forty-nine percent of residents indicate they are an "ineffective" tool for reducing speeding, while 48 percent view them as being "effective."   
Guns
Maryland residents were asked their opinions on several of the gun laws and regulations being discussed in Annapolis.
83 percent support requiring a license for handgun buyers.
82 percent support fingerprinting as a requirement for purchasing a handgun.
77 percent support prohibiting anyone who was involuntarily committed—for any length of time—to a mental health facility from purchasing a gun.
61 percent support a statewide ban on the sale of assault weapons.
59 percent support a statewide ban on the sale of high-capacity ammunition magazines that hold more than 10 bullets.
The poll, conducted March 3-7, surveyed a dual-frame (landlines and cell phones) random sample of 791 Maryland residents and has a margin of error of plus or minus 3.48 percentage points. The sample is of all Maryland residents and does not restrict by registered or likely voters.
Additional crosstabs of the survey results are available upon request, and Mileah Kromer, the director of the Sarah T. Hughes Field Politics Center, is available for comment. She can be reached at mileah.kromer@goucher.edu or 724-840-0990.
More information about this round of poll results, including methodology, survey question design, sample demographics, and expanded data, is availble here.