'Creature Features'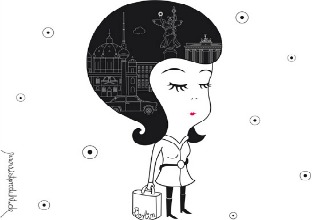 Goucher will present Creature Features, an exhibit by Berlin-based artist Claudia Bernhardt, in the Geen Community Center from March 26 through April 6 and in the Lenrow Gallery on the fourth floor of the college's Athenaeum from March 26 through April 11. The exhibit is free and open to the public and can be viewed during normal business hours.
Additionally, Goucher students can meet the artist in the Geen Community Center on Wednesday, March 27, 1:30-3 p.m., and Thursday, March 28, 5-6 p.m. For more information, contact Antje Krueger, assistant professor of German, at antje.krueger@goucher.edu.  
As an artist and illustrator, Bernhardt uses everyday observations of personality and attitude to create unique characters and scenes that reflect the vibrant art scene of Berlin. Her work has appeared in several German national newspapers, including Welt am Sonntag and Die Zeit, and in Vanity Fair. She has recently illustrated two books, Zwischen Tieren (2012) and Naturgeschichten (2011), and has her own label, istprodukt. Bernhardt's exhibit at Goucher will show how she uses her characters in illustrations, cartoons, and product design. 
This event is sponsored by the Department of Modern Languages, Literatures, and Cultures and the Evelyn Myers Fund.