Celebrating Women's History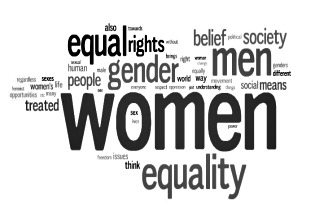 Goucher College is celebrating women's history and contributions with the following events, activities, and presentations:
Ad-Busting Campaign
Thursday, February 28
11 a.m. to 2 p.m.
Heubeck Hall
Are you tired of seeing advertisements that objectify women? Join Goucher's peer listeners and the Student Health Advisory Council in modifying these ads to help change cultural expectations. This event is held in collaboration with the college's Student Health and Counseling Center's programming for Eating Disorder Awareness Week.
 
Women on Weights
Monday, March 4
11 a.m. to noon
and
Thursday, March 7
2-3 p.m.
Goucher's Women's Head Soccer Coach Tati Korba will give an introduction to the college's Cardio Room and Strength and Conditioning Center, demonstrate proper use of machines, and recommend workout ideas.
 
That Takes Ovaries
Saturday, March 9
9 p.m.
Gopher Hole 
This open-mic night will recognize the courageous acts of women through story. Come listen to the brazen and bold stories of women and share your own. This event will be hosted by Ang Buxton '13.

The Birth Story: Ina May Gaskin & the Form Midwives Film Screening
Wednesday, March 13
7 p.m.
Kelley Lecture Hall
The film tells the story of Ina May Gaskin and her spirited friends, who began delivering one another's babies in 1970 on a caravan of hippie school buses headed rural Tennessee. With May as their leader, the women taught themselves midwifery and founded a communal, agricultural society called The Farm. Their story and continued fight for natural childbirth is documented through archival footage. A representative from the organization Maryland Families for Safe Birth will answer questions at the end of the film. There is a suggested donation of $5 for non-Goucher community members.

Gender Variance and American Law: A Discussion With Samantha Mildred McDermitt
Thursday, March 28
7-9 p.m.
Buchner Hall, Alumnae/i House
Activist, attorney, novelist, playwright, and educator Samantha Mildred McDermitt will discuss the history of American laws that regulate gender identity, including the legal realities of individuals who seek to live as a gender other than the one they were assigned at birth. The talk will be followed by a question-and-answer session. 
Vagina Monologues
Friday, April 5, and Saturday April 6
8 p.m.
Merrick Lecture Hall 
The Vagina Monologues is an episodic play written by Eve Ensler based on interviews conducted with women from all around the world. Each monologue relates to the vagina as a tool of female empowerment and a symbol of individuality. Goucher students will perform the play.
These events are sponsored by the offices of Community Living, Multicultural Student Services, and Student Engagement; Word for Word Group of the Kratz Center for Creative Writing; the Department of Women, Gender, and Sexuality Studies; Athletics; Goucher's Student Health and Counseling Center; Religious and Spiritual Life; and the Feminist Majority League Alliance.
Contact Mary Wahl at mary.wahl@goucher.edu or 410-337-6424 with questions.