Whiskey in the jar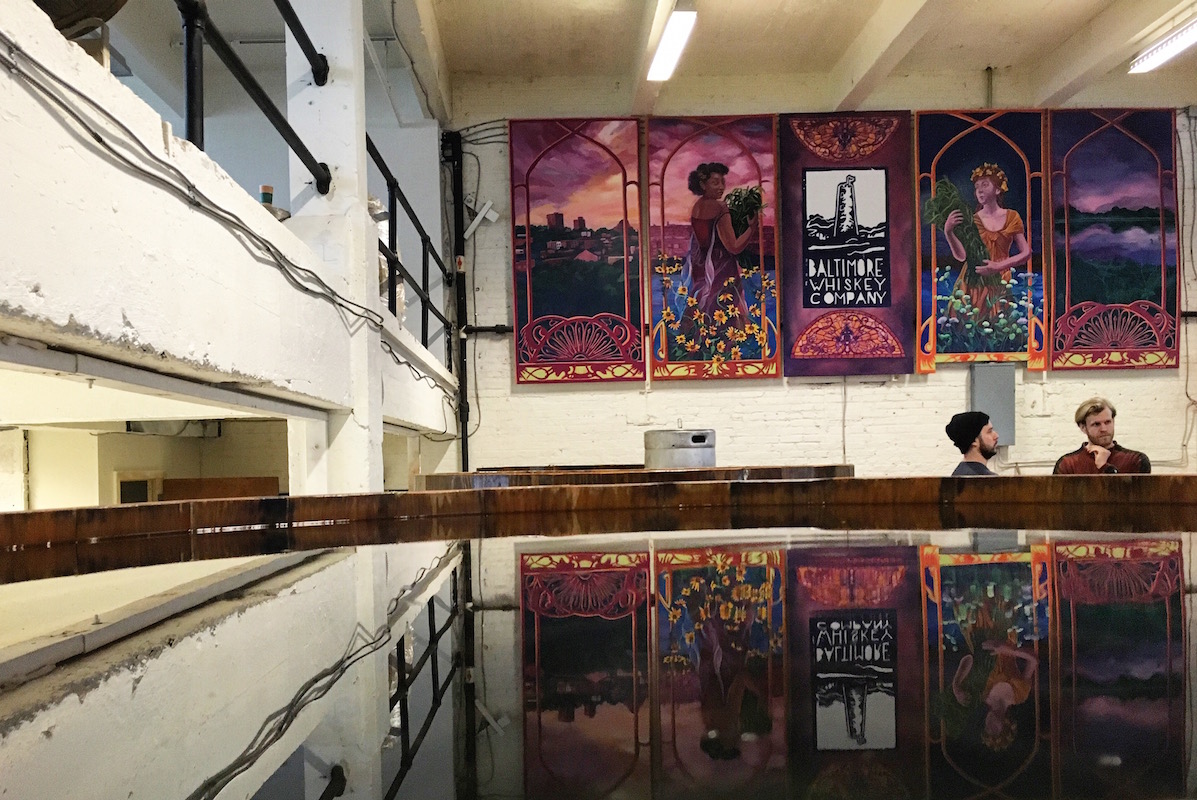 E
li Breitburg-Smith '08 majored in anthropology at Goucher College; Max Lents '08 studied philosophy. Their majors now are the distillers' arts, which becomes clear one recent afternoon, as the two methodically check the equipment in a brick warehouse in Baltimore's Remington neighborhood. Short sugar chains, active enzymes, and yeast fermentation are their focus.
Their Baltimore Whiskey Company began production in November, but the business they founded with partner Ian Newton has been in the works for nearly three years.
The path from anthropology to small business ownership wasn't random, says Breitburg-Smith, who originally considered a physics major. These days he appreciates how Goucher's liberal arts curriculum gave him the chance to dabble in "art stuff" as well as science. "I certainly blended those together in school, and now that comes into play," he says. "Every day we're doing some sort of creative work combined with practical use of science."
Lents says his undergraduate experience prepared him for launching and running a company. "The philosophy department was super challenging, very rigorous, and demanding," he says. "Philosophy lends itself to business. It's one of the more popular majors for business school. It teaches you how to think critically and aggressively and solve problems. It's related, even if the subject matter isn't."
At Goucher, Lents was the Philosophy Club treasurer, and Breitburg-Smith was president of
the Break Dancing Club. (He still can't talk about
it without laughing.) But now it's most easy to find the two at the distillery. "It's double full time," Lents says. "We were here until Tuesday on Monday."
Their pre-business relationship began at a spring break group rental house at Alligator Point in Florida near the Gulf of Mexico. They were
then briefly housemates in Baltimore and also dabbled in home brewing (in Breitburg-Smith's case, professional brewing) before starting the venture that is the second distillery in Baltimore City. The first to be founded was a father-daughter corn whiskey operation, Louthan Distilling; Under Amour mogul Kevin Plank's Sagamore Spirit distillery was the third.
They were "very publicly" looking for a building, when the landlord approached them about Remington's Broom Factory, a space shared with the Mill Valley General Store in the shadow of  a Geico billboard and the Jones Falls Expressway, Lents says. The warehouse met the city's manufacturing zoning requirements while also being in a largely residential area—a perfectly accessible spot for "your friendly, neighborhood distillery."
Equipment and décor were acquired from craftsmen around the country, including fermenters from Alabama, a copper still from Washington, and a mash turn from Maine; and local sources, including a series of paintings by Baltimore artist Kristie Winther and a tasting bar obtained via Craigslist. The distillery is filled with the sounds of swishing, clicking, and, every once in a while, the conversation of an assembly line of friends, bottling four jars at a time, tasting allowed.
The Baltimore Whiskey Company's current offerings, including 1904 Ginger Apple Liqueur, Baltimore Shot Tower Gin, and Charles Street Apple Brandy, sprang from "divine inspiration," Lents says. "We haven't done anything yet that hasn't been a passion project for someone in the company."
But their ultimate goal is to create a rye whiskey that will do the Maryland tradition of rye whiskey proud. "We are all whiskey enthusiasts," Lents says. "We really wanted to make good whiskey, and we wanted to do it here. That's really why we got into it." Rye whiskey is a regional liquor with a rich heritage and burgeoning popularity. "For a long time it was more popular than bourbon," says Breitburg-Smith. Rye also takes longer to make; their first batch is already distilled and aging—on track to be bottled in 2018.
The founders have high hopes for their fledgling company. "We want to be as big as we can," says Lents. A native of Houston, he had not planned to stay in Baltimore, but, unsure of where to go after college, he moved into Baltimore's Station North and fell in love with the arts scene.
Breitburg-Smith was one of five co-founders (four of the five being Goucher graduates) of the Baltimore Rock Opera Society (BROS) in 2007. Now part of Baltimore's cultural landscape, BROS regularly produces original live rock operas. At one point, Breitburg-Smith had moved to Nevada for brewing experience. "Now I own a house here," says the Hampden resident.
The two men say that Goucher still has a large hold on their lives. "The biggest thing is connections in the community," Breitburg-Smith says. "Connections with those who invest in the community. It's paid off and helped us to get to where we are and do the things we're doing."
Free tastings are offered at The Baltimore Whiskey Company,
2800 Sisson St, Baltimore, MD 21211, on Saturdays from noon to 4 p.m. More information can be found at thebaltimorewhiskeycompany.com.