What is race?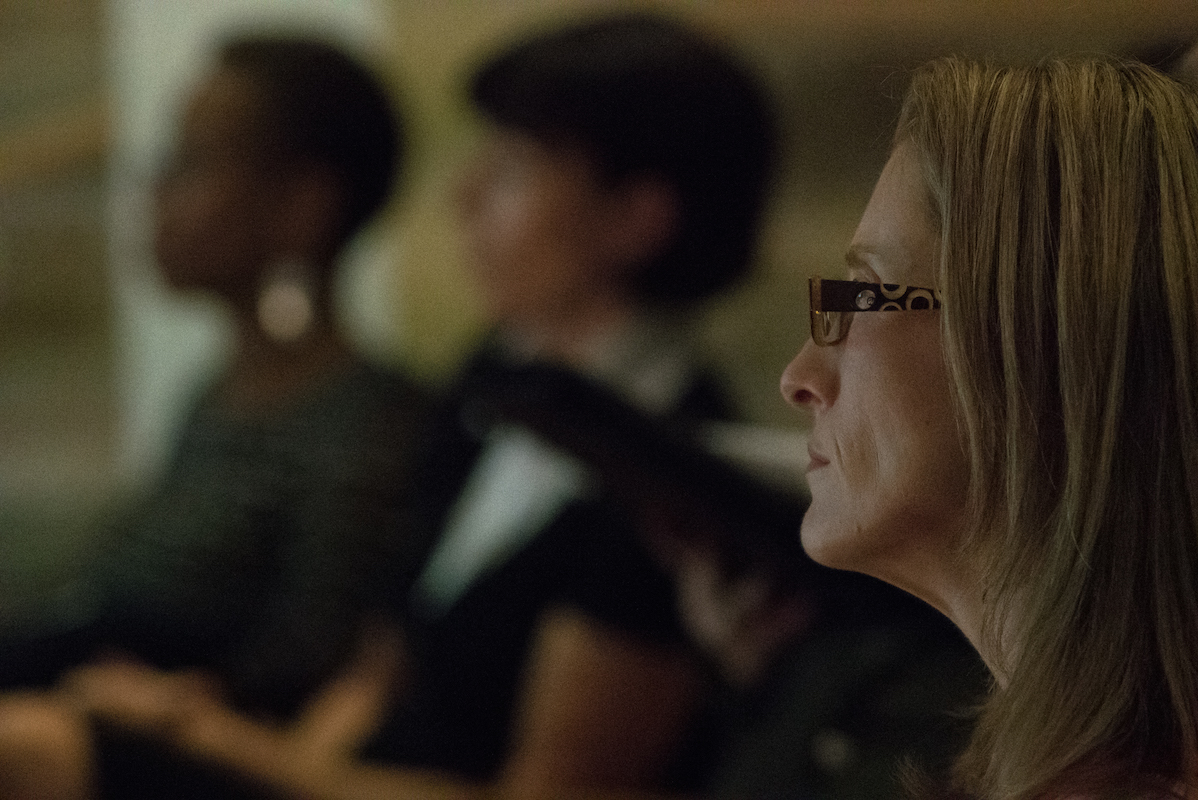 Goucher Faculty and Staff Tackle a Tough Subject
As a little girl growing up in Dayton, Ohio, Kelly Brown Douglas often wondered why so much discrimination against African Americans existed. She also recalls when she came to the conclusion that there was no viable explanation.
"I can even remember thinking, 'I figured out why white people threaten us: for no good reason. We didn't do anything,'" she said.
"On that day, I became aware in my 7- or 8-year- old mind of the reality of the narrative of race in America. … All of my innocence about being a 'Negro' child in America was forever shattered."
The Goucher religion professor spoke Nov. 1 as part of a seven-week seminar aimed at deepening understanding of the academic theory and history behind the concept of race. Called "What is Race?" the class, which was offered to faculty and staff members, included presentations by Douglas and seven other faculty members whose work involves various facets of race studies. About 70 staff and faculty members attended the 90-minute, weekly sessions.
In her talk, titled "Is God a White Racist?" Douglas discussed the power of religious belief among African Americans. Pointing to how the families of the nine African Americans who were shot June 17 in a Charleston, South Carolina, church by a white man called for forgiveness, she said: "Black faith presents a narrative of resistance to the narrative of white racism."
The families, she added, "were not exonerating the shooter. They were freeing themselves from being trapped in a racist narrative. They knew there was no justice on Earth that would justify what happened, and they would not define themselves by that."
The seminar grew out of discussions held by the Faculty Anti-Racism Collective, which was formed last January after students of color raised concerns about discrimination on campus and lack of support for them. Against a backdrop of protests on Goucher's campus and at other colleges and universities throughout the country, about
30 faculty members began meeting last spring for informal discussions about race.
"A number of student activists told the Collective, 'we don't want you to lead us, and we don't want you to just support us. We want you to take the initiative.' And out of that came the idea for the seminar," said Yousuf Al-Bulushi, assistant professor of peace studies, who organized the seminar with Steve DeCaroli, associate professor of philosophy.
"We realized that one of the things we could do is create a space in which people who already had knowledge about race could share that knowledge."
The idea was that the seminar would not represent an endpoint in discussions about race, but a beginning, said DeCaroli. "What we talk about in these discussions has to be part of how we go about our lives. This knowledge we're gaining has to be embedded into our curriculum and daily lives. It has to be part of what it means to be part of Goucher."
For some participants, the range of academic perspectives on race was illuminating—and left them hungry for more. "The seminar provided a global perspective on the topic of race. But it didn't provide people with enough tools for them to assess their own racial IQ or their interactions with others," said La Jerne Cornish, associate provost for academic studies. "I'm looking forward to more conversations."
For Casey Miller, associate director for alumnae/i career programming, the presentations offered new ways to think about race relations. "I learned that I still have a lot to learn. This opened a lot of different ways and perspectives to understand race," he said. "I definitely look at it as a beginning, and I am looking forward to more conversations about race and how to move Goucher forward."