Warren Dorsey, M.Ed. '71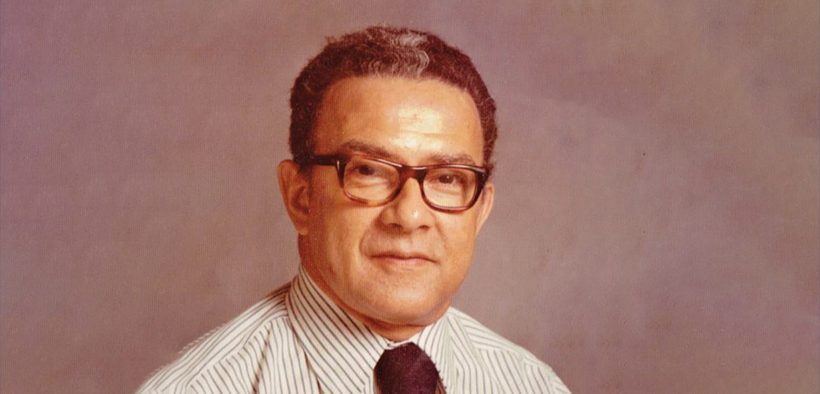 Warren Dorsey was the first Black man to graduate from Goucher. The 100-year-old microbiologist, teacher, and principal has overcome many obstacles throughout his life to get the education he dreamed of.
By Molly Englund
Warren Dorsey, M.Ed. '71, has seen miracles. One hundred years ago, he was born on the family farm, the ninth of 12 children. The Dorseys lived in Sykesville, which was a highly segregated, rural part of Carroll County, MD, at the time. "It was a struggle," Dorsey says. "What we ate depended upon what we could raise on the land we owned." Everybody had to work.
Dorsey's mother, Carrie, was the engine that kept the family going, sometimes literally. "She walked with us often," says Dorsey. "I remember vividly as she looked to the heavens and said, 'Children, there's going to be a better day.'" She believed it always.
Carrie had a dream for her children to go to school. Her first child was born in 1904, the same year the first school for Black children was created in their community. Like all of his siblings, Dorsey started at the one-room school when he was six years old and continued to fifth grade. "I hadn't learned a whole lot, mainly because the teacher didn't teach us a whole lot," says Dorsey. "Everybody liked her, but she was a lousy teacher."
In 1931, Dorsey was sent to a larger school—this one with two teachers. It was four miles away, and the county sent no bus. "We walked many a day, most of the time," he says. When he entered the school for the first time, one of the teachers stood there, an imposing figure looming before him. And here was Warren Dorsey, a fifth-grader who could hardly read. Yet "she had the belief that every kid could learn. She also had the belief that she could teach them," Dorsey says. "By the end of the year, little Warren Dorsey from this little old school in Sykesville could read. And that was a miracle, the first real miracle in my life."
He read what he could from the school's small library, and a world bloomed in Dorsey's mind. "I found out there was a world outside of the little community where I was born," he says. "People did all kinds of things, there were all kinds of commodi­ties available in the outside world, and there were people of different cultures. That was the most illuminating event in my life."
Dorsey finished seventh grade in 1933, ready to take on high school. One had just been built for Black students, but it was up in Westminster, nearly 20 miles away from where most of the county's Black residents lived. Dorsey had just about given up on the idea of high school when one of the teachers rallied parents to buy a bus together. Dorsey and his sister Mae would each need 50 cents a week to contribute for gas. An older sister in Baltimore sent them the money, and the two of them walked three miles every day to a highway where they'd pick up the bus.
There were again only two teachers for the entire school. "But as luck would have it," says Dorsey, "we hit the jackpot, because the two teachers, by anybody's standard, were master teachers, and kids who finished under them, among all of the negative circumstances, were able to go on to the next level and succeed."
Dorsey himself went on to Morgan College, now Morgan State University, a historically Black college in Baltimore, and studied microbiology. When he graduated, he was awarded a scholarship for graduate school through a fund set up by Julius Rosenwald, the head of Sears, Roebuck and Company. Dorsey was set to attend Iowa State, but WWII was underway, and he was drafted into the Army in 1943.
After the Army, Dorsey got a job as a microbiolo­gist at Fort Detrick. "It is true that the research was in biological warfare," he says, but he was amazed at all the opportunities for research available to him. He spent 25 years there, while raising his family in nearby Frederick, MD, before retiring in 1970.
Dorsey had a successful life. Still, something scratched at the back of his mind, a memory that refused to be buried. Way back in Sykesville, the summer before he left for Morgan, Dorsey was doing work for a white farmer a few miles from his family's farm [Note: There is a use of a racial slur below.]:
"Come September, I was working in the field. We were getting in hay. The gentleman that owned the farm, a white gentleman, who regarded us as just nothing, really, he came to the field. I go, 'I'll be leaving at the end of the week.'
"He wanted to know, 'Boy, what are you leaving for?'
"I said, 'Well, I'm going to try to go to college.'
"'Go to college? For what? You don't need any college to pitch hay. What're you going to do?'
"I said, 'Well, I thought maybe I could become a teacher.' That was one of the few opportunities that was a solid, professional career for African Americans.
"And he looked at me, and he said, 'Boy, you know very well that a n—– ain't got sense enough to teach.'"
More than 30 years later, Dorsey still had that man in the back of his mind. He knew he still had so much he wanted to do.
In 1970, Dorsey applied to Goucher College's Master of Education Program and became the first Black man to graduate from Goucher. "Goucher helped me achieve that level to prove in my mind, even though the farmer was probably dead long ago, that yes, I had sense enough to teach," says Dorsey.
Dorsey became an elementary school teacher. He believed he could have the most impact on the most students by teaching younger ages, a time of great wonder in his own life. Eventually, he became a principal before retiring, again, in 1981.
Dorsey lived his mother's dream. He was a boy who couldn't read, who had no way to get to school each day, who had people more powerful than him doubting him, insulting him, sending him to war. But little Warren Dorsey learned how to read, and found his way to school, and held fast to the knowledge that he was worthy: "I have the satisfaction of knowing that I beat whatever odds that life threw at me and succeeded."
(Photo at top): Dorsey as a teacher in the 1970s