Turning the tassel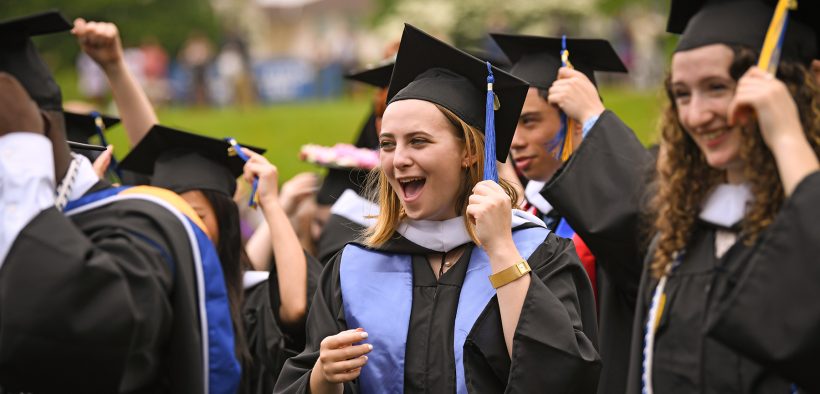 At the end of a college graduation ceremony, the students move their tassels from one side of their mortarboards to the other—an iconic image captured in movies and in the memories of almost everyone who graduates from college in the United States.
But very few people know that the tradition just might have started at the Woman's College of Baltimore, now Goucher College. The online magazine Mental Floss published an article on April 24 of this year, "Which Side of a Graduation Cap Does the Tassel Go On?" that pointed to the Woman's College as one of the first to adopt the tradition. Mental Floss, which puts out stories focusing on interesting tidbits and history, linked to articles from 1901 and 1902 in The Brooklyn Daily Eagle and The Baltimore Sun, respectively, that mention the Woman's College Commencement ceremony.
The significance of the tassel turn seems to have remained unchanged over time.
The Brooklyn Daily Eagle, based in Brooklyn, NY, wrote this tidbit on July 12, 1901:
"Turning the tassel," is an interesting part of the commencement exercises at the Woman's College, Baltimore. All undergraduates there wear the cap and gown and the place of the tassel on each mortarboard designates the class of its wearer. Beginning at the right hand corner of the square top over which the tassel must hang, in case of a freshman, each of the other three corners indicates respectively the other three classes. At the moment when the seniors file back from receiving their diplomas, every other member of the student body present by one concerted movement turns her tassel, thereby raising her rank.
And in a June 4, 1902, piece that covered the Woman's College's Commencement ceremony, including the "brilliant" address by author George W. Cable, The Baltimore Sun mentioned this:
An incident of the afternoon not mentioned on the program forthcoming was the "turning the tassels" by the undergraduates. As the last senior received her diploma each student swiftly changed the tassel on her Oxford cap to show she had turned another corner in her college career.
These articles imply that the tassel would have been placed at different corners of the mortarboard depending on which year of college the student was in. Today, the common tradition for graduating seniors is simply to move it from the right to left side at the end of the ceremony.
As for the mortarboards themselves, they too have a murky origin. Many scholars connect their use to the biretta hat worn by Roman Catholic clergy. But traditions evolve, and the last few decades have seen a growing trend of decorating the caps, something in which the early Woman's College graduates might have delighted.