An international collaboration on stage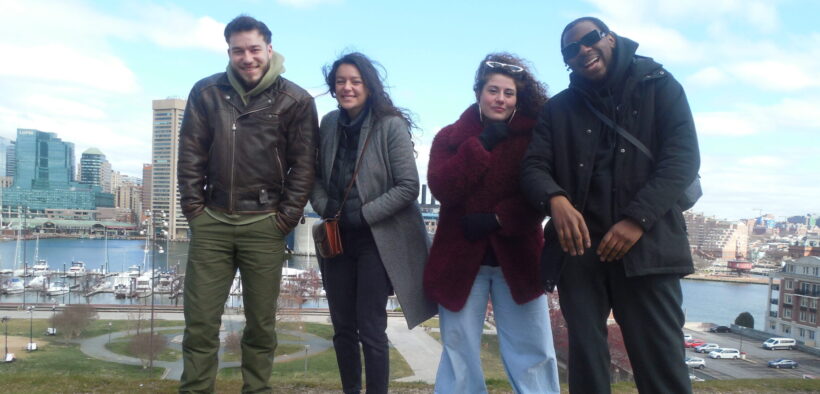 By Molly Englund
In early March, Goucher College professors and students welcomed the TRAC theater company from France for a collaborative production of Molière's The Miser. Performed on March 10 and 11 after a week of rehearsals, The Miser was an example of the kind of international and interdisciplinary experience that the Goucher community thrives on.
In some ways, the TRAC, an amateur theater troupe based in the small town of Beaumes-de-Venise in southern France, is an ideal company to bring to campus for such an immersive production. TRAC is an acronym for Théâtre Rural d'Animation Culturelle, and "trac" is also French for "stage fright." As Professor of French Transnational Studies Mark Ingram explains, the idea is to show that it's OK to be nervous; anyone can perform. "They're all about getting people to participate," says Ingram.
That inclusive mentality was precisely what Ingram and Associate Professor of Theatre Becky Free wanted and why this was the TRAC's eighth visit to Goucher. When the TRAC comes to Goucher, they choose a play by Molière to perform in French, and they cast themselves in a few of the roles while leaving others open for Goucher students. Ingram and Free, who co-produced this year's play, then encourage students who study French and theatre students who have French proficiency to take part. In some years, finding enough students to memorize a lot of French dialogue has been a challenge; once, three students shared one role.
This year, the play also needed a little ingenuity. Ingram and Associate Professor of French Transnational Studies Kathryn St. Ours agreed to share the role of the commissioner (Ingram says St. Ours performed most of it), while French Teaching Assistant Laure-Lyne Vagner played Mariane. Laura Juda '23, meanwhile, played La Flèche, the valet.
"That particular role is usually played by a man as sort of old and friendly," says Ingram. "She had this impish quality to her, and it worked wonderfully."
Those challenges are at the heart of what the company tries to do. The performers of the TRAC "just want people to participate and do it for the love of it," says Free.
Even for an audience that might not all speak French, the plays put on by the TRAC and Goucher can be a lot of fun to watch. "Molière is a good choice," says Ingram, "because a lot of people know it, for one thing, and it's accessible to a lot of people. [The plays] are funny."
As Free says of the TRAC, "Their style is very physical, so you can tell what they're feeling by looking at their bodies, even if you don't know exactly what they're saying."
Ingram added that the TRAC captures something of Molière that's not always put forward: his roots in commedia dell'arte. "There's a physical kind of humor there, and they bring that to the fore," he says. "Commedia dell'arte was about performing to people who didn't necessarily understand everything being said." So while not everyone will understand every line, the story still comes across.
While the productions are always fun, Ingram and Free stress that this is a great learning experience for Goucher undergraduates; it's a challenge to keep up in rehearsals, even for French Transnational Studies students. And that's a good thing—the students are put in a situation where they might be a little uncomfortable and a little shy, but over the course of the week, they overcome it and learn to be a little more comfortable in uncomfortable situations.
Beyond the Modern Languages, Literatures, and Cultures Department and the Integrative Arts Department, the production also had help from Goucher's Center for Writing, Arts & Media, particularly from Head of Production Todd Mion, who created the lighting design for the show. Additionally, Bennett-Harwood Distinguished Professor Kendall Kennison suggested music students to accompany the performance, other students worked backstage, and support came from the Cooper Fund and the Faculty Lectures and Fellowships Committee.
This year was the first time the TRAC had been back to campus since the start of the pandemic, and Free and Ingram hope to have them back in the next few years. Whatever they perform next, it will most likely be a little uncomfortable and a lot of fun.
(Photo at top): Members of the TRAC theater troupe, visiting from France, at Federal Hill in downtown Baltimore