The sandwich generation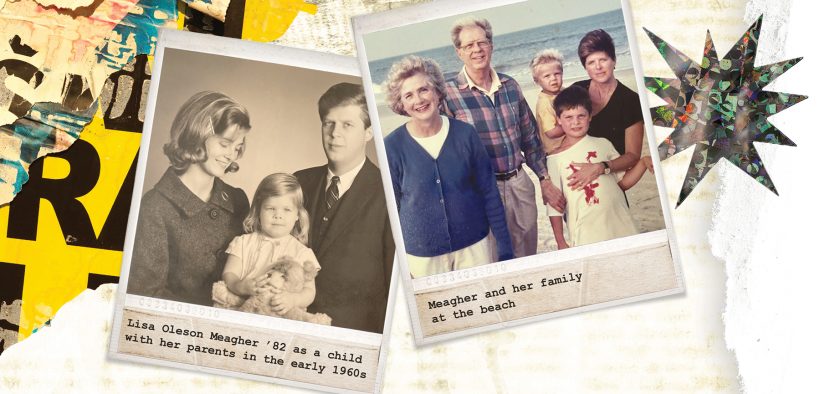 "Sandwiched" Americans are bringing up their children while taking care of their parents—and they are growing in number. These Goucher alumnae/i tell all.
By Molly Englund
Hearing aids typically aren't covered by health insurance. That's not something Laura Zelley Van Riper '89, P '22, expected to know or think about, but it was something she learned after her parents moved to her busy Atlanta suburb in the summer of 2021. The move was a big transition for her parents, who left a rural community in Upstate New York for an apartment close to Van Riper's home, and who plan to move in with her eventually.
Van Riper is part of the "Sandwich Generation," which is a term to describe people of any age who are caring for family members of more than one generation, but it's used most often to refer to people caring for their parents and children at the same time. According to a 2018 analysis from the Pew Research Center, 12% of parents in the U.S. with a child at home also supply unpaid care for another adult.
Not counted in that percentage are people like Van Riper, whose children and parents live independently but still rely on her every day for help. Her father needs a hip replacement, and he is beginning to show signs of cognitive decline, so Van Riper deals with health insurance and drives her father to the doctors' appointments she makes for him. Meanwhile, two of her children, 24-year-old twins who have high-functioning Autism, often call for help with routine challenges with a car or work.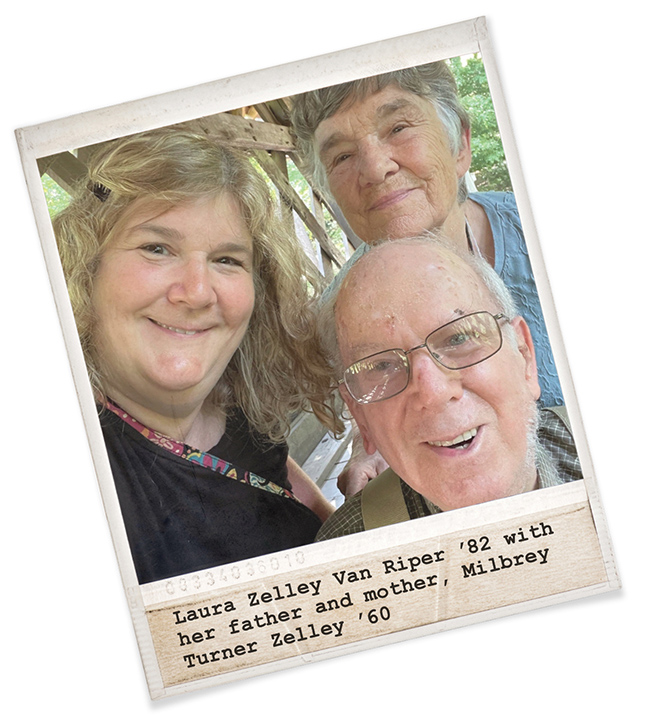 "If something is going on with them," she says, "they need Mom." Now, Van Riper pushes back on some of the emergency requests from her twins if her father needs to be taken to a doctor's appointment.
"This is a change, but it's been good for them," Van Riper says. "I think all of us are learning new things."
While her youngest child, Steven, is currently at Goucher, Van Riper also has a daughter in Atlanta who is expecting a baby—one that Van Riper plans to help care for. That will make her situation, perhaps, something more like a club sandwich. It doesn't leave her much time for her volunteer activities or for herself, but she's grateful for the time she spends with her parents in person. "This is the first time since I left for Goucher that I've lived this close to my mom and dad," she says. "And I'm really happy to have that time with them. I know it's not forever."
Her new role has changed her relationship with her parents, for better and for worse. Her mother had a hard time with the move, as she misses her friends and activities, and Van Riper has become a sympathetic ear for her. But Van Riper also struggles with not infantilizing her parents, particularly when trying to help with a digital process like signing into an online medical portal.
Lisa Oleson Meagher '82 has also developed a new relationship to her parents. She hasn't lived with them since she was 14; her father was a U.S. diplomat, and as a young child she lived all over Central and South America, as well Cairo for a time. For high school, Meagher was sent to an American boarding school.
In 1993, when Meagher's first child was born, her parents, now in retirement, moved to Baltimore to be close. Over the years, they saw each other regularly. "When my kids were young, they would come and see all their different school activities," she says. But her parents lived independently, so the relationship was mainly social.
"They didn't share a whole lot with me about their finances or medical situations or anything. They dealt with everything," Meagher says. "So, for me, it happened almost overnight."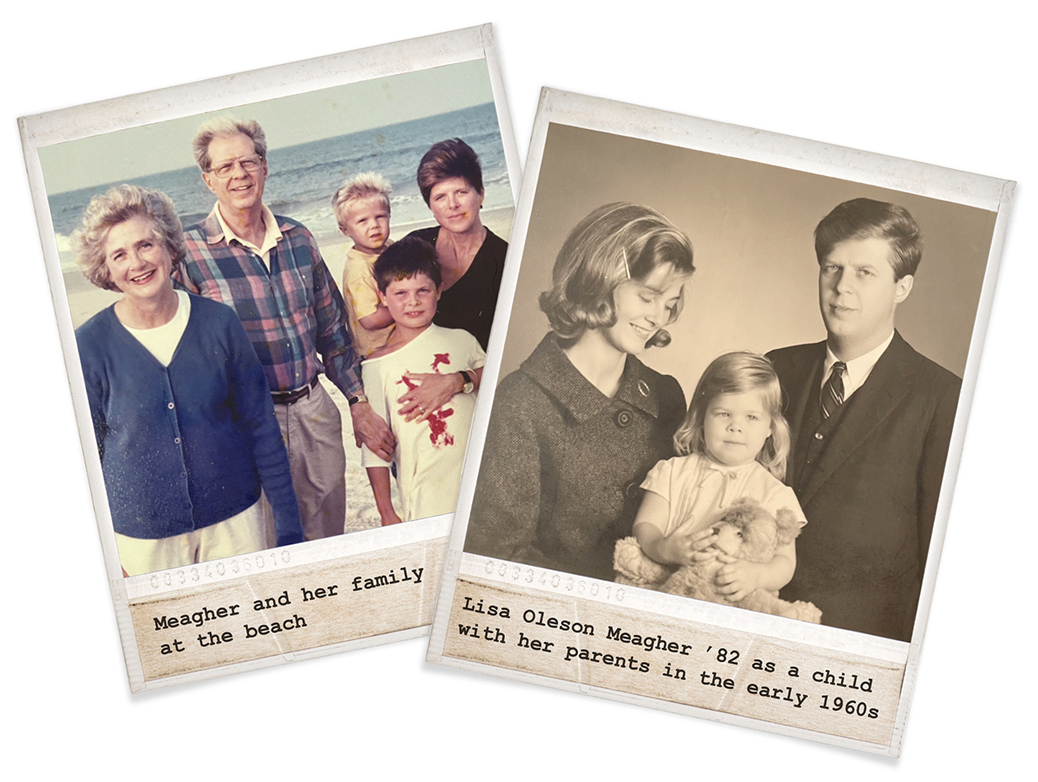 In 2019, Meagher got a call from the hospital that her father had been admitted for pneumonia. He spent 10 days there and began to show signs of cognitive decline. "He wasn't the same man when he came out of the hospital," Meagher says.
Meagher saw her parents needed help; her mother was reluctant to make decisions about her father's health. Then it became clear she couldn't make those decisions; her own critical thinking was declining. "The transition was stark," she says. "I went from being not involved at all in their day-to-day life to being absolutely involved in it."
Meanwhile, both of Meagher's sons were in California and going through life transitions; one had just graduated college, and the other was just beginning it. Meagher flew out to see them when she could, but she felt guilty about leaving her parents behind.
The pandemic brought new challenges. Her older son's work was halted, and he came home to live with Meagher and her husband. Her parents were living in a condominium with one full-time aide, which became two full-time aides and another person to help her mother at night. "They were great," Meagher says, "but they weren't medical professionals. I was there every day trying to organize the caregivers, and we still had to get nurses in or bring them to the doctors."
Her mother needed more physical care, and it was becoming untenable financially. "I made the decision to have them placed in a memory care facility near my home," says Meagher. It was the summer of 2020. Meagher couldn't go in to see them; they couldn't come out. She finally saw them in May 2021.
"They had declined so much being isolated there," she says. "It was such a heart-wrenching, hard decision to make."
Meagher credits the Center for Successful Aging at Good Samaritan Hospital in Baltimore for helping her keep her sanity and make decisions for her parents. "They kept telling me during COVID, 'There are really no good choices.'"
The COVID-19 pandemic has separated many families. Oliver (Ben) Karp '93 lives in Tokyo with his wife, a full-time professor, and daughter. In her late 70s, Karp's mother began to spend half the year in her home outside of Philadelphia and half the year with him in Tokyo. It was just like living with another adult, Karp says. "We'd get up in the morning, we'd walk, have a coffee, shop, come home and cook for the family, and then I'd go and pick up my daughter. Then I'd go to my teaching job. And she would do her thing." Everyone was happy with the arrangement; Karp was pleased to see his mother grow close with his wife and daughter. Karp's mother made friends and even traveled to parts of Japan Karp hasn't yet been.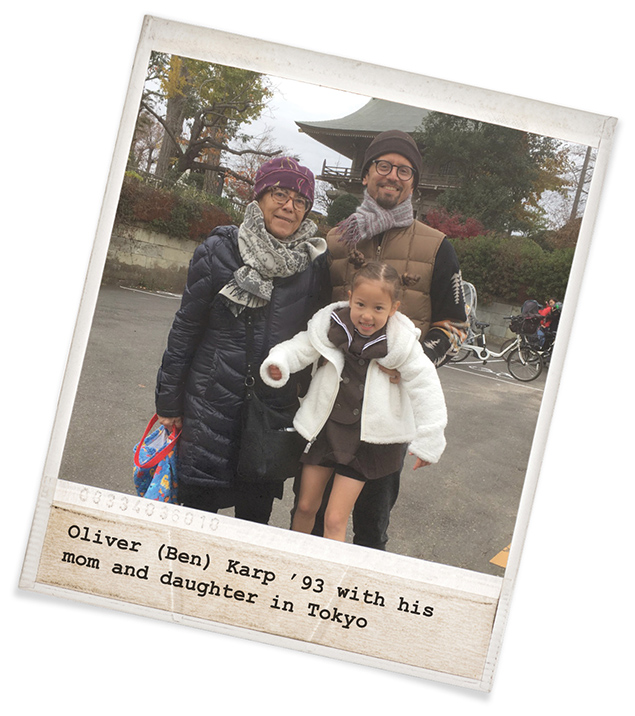 Today, she's 81 and still living independently, vigorously so, but the pandemic is keeping her in Philadelphia for now. Karp feels they are just starting to get to the point where difficult questions need to be asked, like when's the right time for her to leave home. "Do you want to leave when you're still functioning, or do you want to just enjoy every moment of life?" he asks. "Everyone thinking about this has to balance that need with the desire to live alone and be independent."
But he knows for sure he wants his mother and his daughter to continue to be close. "That's life-affirming and life-sustaining" for all of them, he says.
Like Meagher's parents, Stephanie Dickinson Otero '91's father wanted to move closer to her after she had kids. Otero's parents had stuck to traditional gender roles in their marriage, and after her mother died when Otero was a new college graduate, she became accustomed to helping her father.
Her father's own parents were getting older, too, and so in 2007, Otero's father moved with her grandparents to El Paso, where Otero lived with her husband and young kids, who weren't yet in school. They bought a house up the street with a pool, which was fun for everybody—the kids could swim while their great-grandparents watched. Otero started taking care of her grandparents, and she would continue to do so until they each died a few years later.
Just when Otero thought the family had a chance to slow down again, her father had a knee surgery in 2016 that brought on an infection. "Within a year, I was right back into care-taking mode," says Otero. She was grateful for her husband, who cooks, cleans, and could help lift her father when needed. Unfortunately, Otero's father never recovered from the infection; after multiple surgeries, he developed early-onset dementia, and he died in assisted living in 2018.
"I had an extended 10 years of raising children and taking care of both ill grandparents and then an ill father," says Otero. She was so unaccustomed to free time that now she often panics when she has an hour to herself, certain that she must be forgetting something.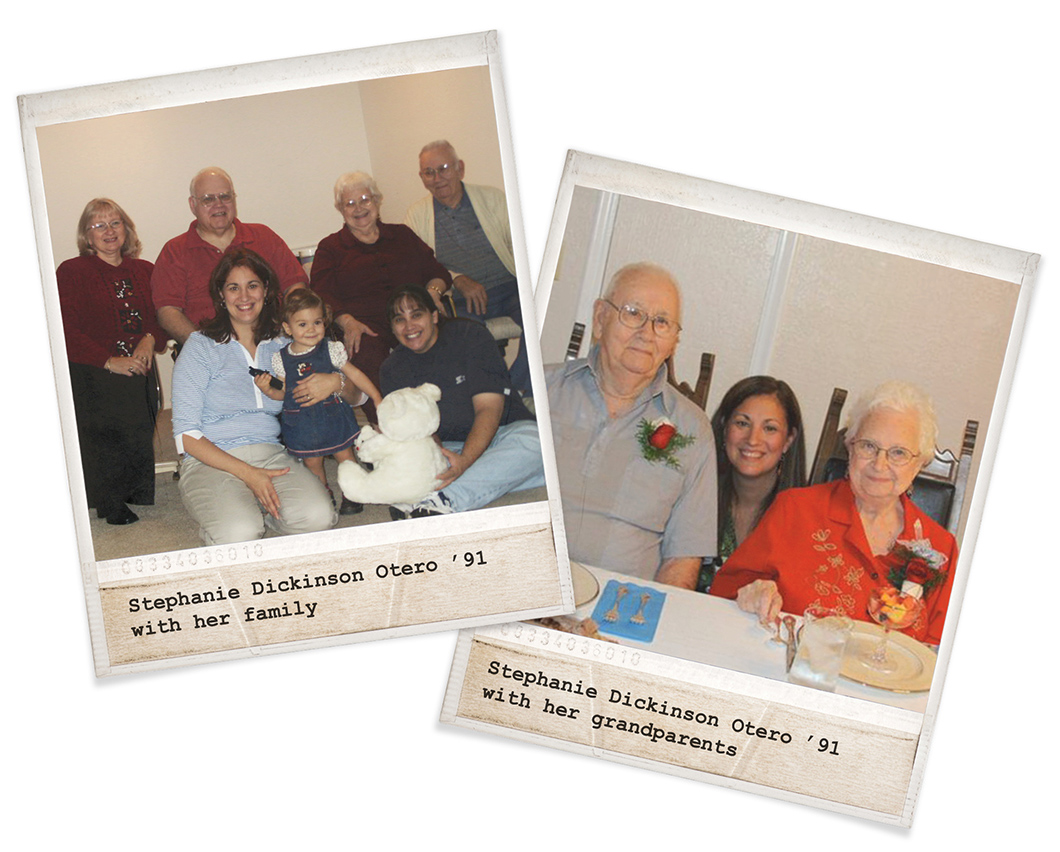 Otero wants people who are going through this to avoid looking back in regret. "When you're in it," she says, "and you have young children, and you're put in a position to make all these medical decisions, but you're not a medical expert—you can't have regrets." There were so many decisions to make and none of them came easily—decisions about care, whether to move or remodel their home for accessibility, finances, and so much more.
Otero remembers the good and the bad of that time in her life. "On the one hand," she says, "I got that time with them. I got to be there for them, and I got to give back to them for being important people in my life. On the other hand, it was really hard. You're guilt-ridden all the time because whether it's your parents, your kids, yourself—somebody is not getting something in that moment."
Amy Eddy, M.A.T. '04, has felt that herself many times. Eddy has been her mother's support system since 2008. Her mother, who is only 75, has had significant health problems over the years—lung cancer twice, breast cancer twice, and heart surgery. She also suffered a car accident and currently deals with swelling in her arms and legs. Eddy's mother lives with Eddy's older brother, who has developmental disabilities.
"They rely on each other, but she's getting to an age where she can't really take care of him anymore," Eddy says, and her mother now needs more care herself. "I haven't gone the route yet of having everybody move in with me, but I feel like it's inevitable at some point."
While helping her mother, Eddy was also undergoing her own journey to have a child. Eddy now happily has a three-year-old daughter after a diet change, several surgeries, medication, and in vitro. "I do feel like I juggle trying to watch out for my mother, my older brother, and my kid," she says.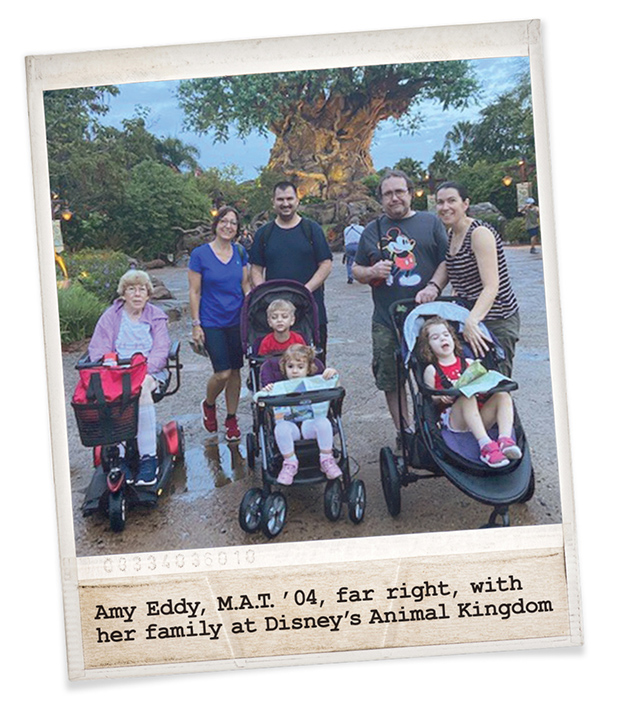 "There are times when I have to say, 'Mom, I can't help you right now because I'm trying to figure out how to take care of my daughter.' I bounce back and forth to all these different priorities," she says. When asked, Eddy admits she struggles with making time for herself.
But having a daughter has brought her closer to her mother. "We have more in common now that I have this child she is totally obsessed with," she says with a laugh.
While sandwiched Americans consist of many demographics, a 2006 analysis in Monthly Labor Review estimated that in the late 1990s, 33% of U.S. women ranging from their mid-40s to mid-50s could be considered part of the sandwich generation. Going further, according to the Family Caregiver Alliance, more than half of all Black caregivers in the U.S. are caring both for an older person and a child. The pandemic has also forced many young adults back under their parents' roofs. As Lisa Meagher noted, "I think more and more people are experiencing this, and it hasn't really entered our cultural narrative yet."