The reinvention of Rick Pringle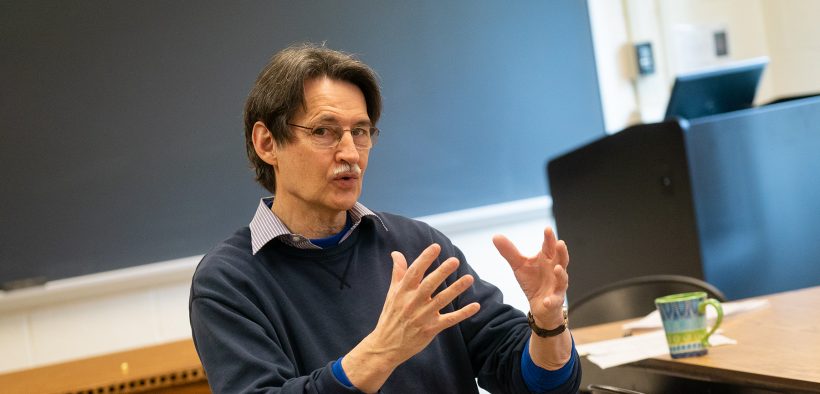 By Molly Englund
We all know the transformative powers of a Goucher education—but providing that education can be just as transformative. That's what happened to Rick Pringle, the now-retired professor of psychology at Goucher, who fell in love with his field not once, but twice.
Pringle had a working class upbringing in Florida, and he was the first in his family to go off to higher education when Eckerd College recruited him. He planned to major in physics, but then he took a psychology class with a charismatic professor. "The professor was just a fascinating man," he said. Pringle was seized by the field and the way it asked questions about people and the world.
He had fallen in love with a scientific, quantitative version of psychology, and continued on that path for his master's and doctoral degrees at Kansas State University. But when Pringle came to Goucher in 1979, he began to realize there were other ways to look at the world and different kinds of questions to ask.
As a new assistant professor, Pringle taught statistics, research methods, and other classes that used quantitative frameworks. It was the '70s, so feminist theory was beginning to permeate academia. According to Pringle, women clinicians at the Wellesley Centers for Women started to examine the key factors to health and ill health, and identified the importance of relationships at the center of it.
The field of psychology at the time was based around a completely different idea, considering healthiness "to be rooted in autonomy," Pringle said. As the feminist critique began to take root, championed by psychology researchers like Carol Gilligan and Jean Baker Miller, Pringle's thinking changed. He credits most of this to his students.
"I got connected because I started asking students what was going on in their lives," he said. "And students told me." It made him reconsider what the classroom experience should be. Pringle looked through the scientific literature for a different kind of theory and pedagogy, and he fell in love with psychology anew.
"That was a decades-long incubation and process where I reinvented myself and came into some alignment with relational cultural theorists," Pringle said, referencing Miller and her cohort. He was reading everything he could find on the topic and figuring out qualitative methods that would work in the classroom. He wasn't exactly sure what he had on his hands.
Then, in 1996, Carol Gilligan came to do a residency at Goucher. Pringle walked the loop with her one day to talk shop. "I remember talking to her about this version of my classroom, and talking about what it means to bring relationships into the classroom," he said. "I didn't know what to call it. She said, 'Call it relational psychology.'"
He did, ever since. Pringle is proud of the way the Psychology Program continues to evolve. (Pringle is also affiliated with the Peace Studies Program at Goucher.) He pointed to Associate Professor Nyasha Grayman-Simpson, who teaches counseling psychology and cultural psychology, as a colleague whose work is attentive to issues of power and collective/cultural identity.
Transformations aren't easy. As Pringle's retirement neared and he looked back on his life in the classroom, he kept thinking about the caterpillar inside the chrysalis.
"It essentially digests itself," he said. "It becomes a liquid mess. As a metaphor—that has to be painful. So there's a beautiful thing that comes out of it on the other side, but, oh, there's that messy stuff."