Sydney Hines joins Goucher men's basketball staff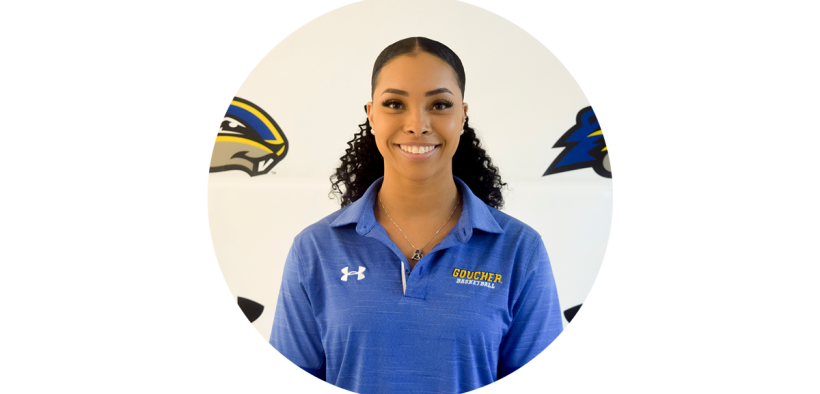 By Dave Musil Jr.
Like most athletes, Sydney Hines wanted to continue with the sport she loved after her collegiate career was over, and that led her to Goucher College. She is unique in that she joined Tom Rose's men's basketball staff as a female assistant coach.
"I decided to apply to Goucher's men's basketball coaching position because it is a different aspect than what I am accustomed to," said Hines. "Being a woman, I have always been involved in girls' sports. I have been coached by both men and women during my basketball playing career. It is rare that a woman coaches men, which is something I never understood since it is normal to find men coaching women. With this position, I am able to transfer my skill and knowledge of the game to these young men while also breaking barriers and promoting equality in sports."
Hines, an Owings Mills, MD, native, comes to Goucher after a four-year stint on the women's basketball team at Central Connecticut State University, an NCAA Division I school in New Britain, CT. She amassed 439 points, 116 rebounds, 84 assists, and 41 steals in 97 games, including nine starts. Hines had 12 double-figure point games in her career, including a career-high 19 points against Fairleigh Dickinson University in her junior campaign and 14 points against Seton Hall University as a sophomore.
"We're excited to have Sydney join the men's basketball program," said Rose. "Her collegiate playing experience at Central Connecticut State and passion for basketball will help our program continue its growth. She is driven to be a college coach and leader, which stood out during the selection process. We're very fortunate she will be working with us."
Hines arrived at Central Connecticut State after a standout four-year career at New Town High School in Owings Mills. She left New Town as the all-time leading scorer, with 1,835 career points, and she was selected to the all-county and all-conference first team while earning all-metro second-team honors in her senior campaign.
"I became interested in coaching due to my own experiences within the sport," said Hines. "I had been playing basketball since the age of seven. Despite my playing career being over after the collegiate level, I love the sport too much to completely let it go. Therefore, I knew that coaching would be the next best thing to pursue because it allows me to share my love for the game with others."
Hines is the second female men's basketball assistant coach in program history at Goucher, after April Rose served as a men's basketball assistant coach for five seasons (1995-2000). She is also the third woman to serve as a men's basketball coach in the state of Maryland, joining Rose and Stephanie Ready at Coppin State (1999-2001).
"I feel that women should be encouraged to coach men in sports," said Hines. "The lack of diversity and equality in men's basketball is the driving force behind my will and desire to change the typical standard. I want to be able to prove that women are just as capable to do this job as men are. At the end of the day, it is the person's skill and knowledge of the game that should be considered, not their gender."
She is the 11th known woman to serve as an assistant coach on a men's basketball staff, dating back to the first female NCAA Division I men's basketball assistant coach at the University of Kentucky in 1989-90. Hines is the 15th woman to serve on a men's basketball staff as either an assistant coach, director of basketball operations, or special assistant to the head coach.
Hines was hired over the summer, and with the new academic year upon us, she has started to get to know the players that she will be coaching for the 2019-20 season.
"It has been great meeting and getting to know the players," said Hines. "All of the players on the team have been extremely accepting and welcoming. I have been able to get to know them more through scheduled weekly one-on-one meeting times. They all have different personalities and it has been fun getting to experience each one. I am looking forward to working with them on the court when the season officially begins."
Practice begins October 15, and fans can get their first look at the 2019-20 Gophers men's and women's basketball teams at Gopher Madness on October 18 at 10 p.m.
"I am very excited and elated for the first practice to begin," said Hines. "As a staff, we have weekly meeting times just for the coaches to discuss practice plans, drills, offensive and defensive sets, as well as other season preparation aspects of the program. As a result, I am eager to put these discussions into action."
Hines will make her assistant coaching debut on November 8 at Valley Forge and her Decker Sports and Recreation Center debut against Johns Hopkins on November 12. The full Goucher men's and women's basketball schedules are out and can be found on the Goucher Athletics website: MEN | WOMEN