Serving their community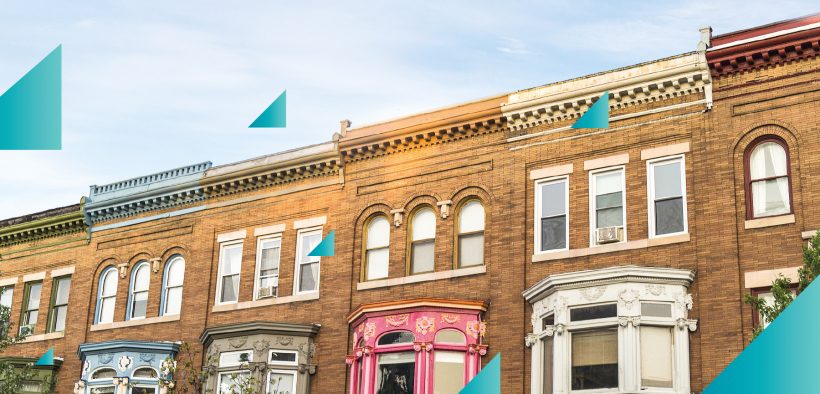 A cohort of Goucher alumnae/i is working in Baltimore City government to support equitable reforms for the city and its citizens.
By Tara de Souza
How do you describe Baltimore? Media narratives and national politicians highlight the city's ills: poverty, violence, and racism. But that narrative is contested by many who call the city home. They cite Baltimore's rich culture, the thriving art and culinary scenes, and a city's spirit that is both comforting and quirky.
At this pivotal time in history, the reckoning of those two narratives is transforming the approach of local leaders who are helping to shape public policy. By amplifying the deep sense of community and connection shared within Baltimore's distinct neighborhoods, a cohort of Goucher alumnae/i is working across city government—in housing, neighborhoods, education, and legislation—to provide the necessary resources and empower the city's marginalized and vulnerable residents in more just and equitable ways.
Many Goucher alumnae/i have stayed and worked in local government or nonprofits in the city and the surrounding Baltimore communities. In the Baltimore County community, John Olszewski Jr. '04 currently serves as the county executive, with Romaine Williams '78 serving in Olszewski's executive team as chief of employee and labor relations.
In the 2020 election, Baltimore City residents voted in their youngest mayor, Brandon Scott, along with the city's first Hispanic city councilmember, Odette Ramos '95, and reelected Zeke Cohen '08 to the city council. After years of political scandals that have rocked city leadership, there is renewed hope that positive change is coming.
FINDING THEIR WAY TO PUBLIC SERVICE
Goucher College has its roots in Baltimore City. The college was founded there in 1885, and it remained there for more than 50 years. Even today, the neighbor­hood where the original college campus was located is referred to as "Old Goucher." Beyond the geographic points, the ties between Goucher and Baltimore City continue to this day through community-based learning programs, internships, and institutional partnerships with other colleges and universities in the city.
After growing up in Albuquerque, NM, Odette Ramos '95 moved to Baltimore to attend Goucher. At Goucher, she was student body president for three years and one of the first students to create their own major. For her, it was social justice.
Being active in student government helped lay the foundation for her future roles in public service. She says many of the skills needed for public service can't be taught. Goucher's student government experience helped her learn more about how to get involved and enact change as well as the role compromise could play in moving messaging and causes forward.
Zeke Cohen '08 came to Goucher from Northampton, MA. At Goucher, Cohen also served as student body president. He worked to bring speakers from the city to campus and had a formative experience interning for Sheila Dixon during her Baltimore City mayoral race. His student experience was broader than just politics, and Cohen developed a writers' workshop for boys living in a West Baltimore foster home. That experience changed his life, and after graduating from Goucher, he enlisted in Teach for America, where he insisted he be placed at a school in Baltimore.
"Goucher played a profound role in my journey as a public servant in Baltimore," says Cohen. "The city adopted me. I fell in love with it, and there was nowhere else I wanted to live after college."
Alice Kennedy '97, acting housing commissioner for the Baltimore City Department of Housing & Community Development, also credits her Goucher education and experience as key to her interest in community engagement, community service, and public policy. "Goucher prepared me for being an active member of the community—how to listen, engage, and take action."
When Kennedy spoke to her graduating class during her Goucher Commencement ceremony, she emphasized, "Goucher prepared all of us to be stewards of the world we live in."
Franca Muller Paz '10 also had a transforma­tional experience while at Goucher. As a student, she received a social justice grant to teach at an after-school program at an elementary and middle school in the Sandtown-Winchester area of Baltimore. She recognized how powerful her students' voices were, and she wanted to support them by becoming a teacher. As a first-generation college student who emigrated from Peru as a child, she knew how important education was.
After graduating from Goucher, she joined Teach for America and became committed to organizing. She teaches at Baltimore City College high school, and there, she supported the creation of Students Organizing a Multicultural Open Society (SOMOS), a student-led movement that fights against systemic injustice. She is an elected Baltimore Teachers Union building represen­tative and appointed to the Baltimore Movement of Rank and File Educators. In 2020, she ran for Baltimore City Council as a Green Party candidate.
Gabriel (Gabe) Stuart-Sikowitz '13 began working in public policy and political campaigns during his time at Goucher and continued in the field when he graduated. After working in Baltimore City Councilwoman Shannon Sneed's office, he realized the impact his work could make in the city. "I really enjoyed working on the council and working to pass legislation that helped building service workers and residency requirements, and helped bring a procedure system to the municipal regulations process."
When he joined Councilwoman Ramos' office as legislative director, "I saw a chance to continue working to build a better city," he says, "and help a lot of different people."
A third-generation Goucher College graduate, Scott Davis '10 currently serves as director in the Mayor's Office of Neighborhoods, where he works for Baltimore City Mayor Brandon Scott. After graduating, Davis, who studied Spanish and peace studies, began working as a Baltimore County Public School Spanish teacher. At many of the schools he taught, he found himself spending a lot of time helping translate for the school's Hispanic populations and assisting non-native English speakers in navigating systems.
That work helped him recognize the more signifi­cant impact he could have on the community, and he decided to get involved in community government.
Cohen also made the transition from teaching to public service. In 2012, Goucher Quarterly profiled Cohen in a feature on emerging leaders. At the time, Cohen was a young alumnus who had cofounded a Baltimore nonprofit, the Intersection, to teach the city's young people leadership and community organizing skills.
He told the Quarterly, "When we talk about inner-city kids, we talk about them as problems or at best as victims. I thought, 'What if we shifted the paradigm and let them be part of the solution?'"
Now, in his second term as a Baltimore City councilman, Cohen is working to give voice to all in his local community.
"To me, there is something about Baltimore that is extremely compelling," he says. "It is small enough that you can make a big impact, and it is large enough that it matters."
Odette Ramos' passion for community building and dogged persistence to find productive and fair solutions started early in her life. When she was in seventh grade, she saw first-hand the power citizens can have to enact change when she testified in front of her local city council to lobby for recycling. That night, the council approved the bill, and her passion for public service was ignited.
Three decades later and Ramos is still fighting for change. "I get super mad and motivated to change something if it is not right," she says.
VISION FOR THE CITY
Over the past 30 years, Ramos has worked in the Maryland General Assembly and neighborhood programs, including leading the Neighborhood Congress; she was founding director of the Baltimore Neighborhood Indicators Alliance; and she started a consulting firm to support nonprofits and small businesses to become more effective.
Before running for city council, Ramos reflected on her work and her goals for helping her community and thought, "Do you make better progress inside the process or outside?"
She ultimately decided that she could affect change from the city council, and in 2020, Ramos was elected the first Latina to serve on the Baltimore City Council.
In 2020, Muller Paz's grassroots campaign for a Baltimore City Council seat focused on the city's youth and marginalized communities. In Baltimore, she had developed a deep connection to her community through her role in education.
"For a teacher in Baltimore City, it's been a long set of tough years," says Muller Paz, "seeing everything our families are going through, struggling between financial stability and a deep sense of loss across the city, [with] students losing family members to violence as well as to some of the health issues that hold Baltimore back."
For Davis, connecting with and helping support his surrounding community grew beyond his teaching. He eventually became a neighborhood liaison for the Baltimore City Council, where he continued advocating for and working with kids and families.
"In my role in city government, they did not have direct connections and outreach to Latino and immigrant communities, so I worked on building those. Now, neighborhood engagement involves everyone regardless of immigration status and language," says Davis.
Cohen feels a deep obligation to the city. After being elected to Baltimore City Council in 2016, he is focused on using his time in office to enact substantive change.
"For me, so much of our current moment we are in, with massive income inequity and reckoning of racial injustices, is reflective of failed governance and struggling democracy," he says. "In my mind, we have deprioritized civic education and teaching people how to participate in government. As a result, Baltimore is a city that is incredibly unequal and inequitable."
ENACTING REAL CHANGE
The scope of work varies wildly for the Baltimore City Council—from dealing with abandoned vehicles to passing the city's more than $3 billion annual budget. In addition to constituent services, the council is currently considering or has passed reform initiatives aimed at helping address water and municipal service billing issues, combat illegal trash dumping throughout the city, and dedicate resources to cleaning the streets and alleyways.
"After knocking on doors and talking to so many different people across the city, you see that everyone has a vision for the city," says Stuart-Sikowitz. "Working in a councilperson's office means that you can help make that happen, anything from getting a stop sign put in to working to pass legislation that a community member or community came up with."
The COVID-19 pandemic further exposed the digital divide plaguing underserved communities. The city council and mayor have prioritized improving access to affordable internet services for communities of color and low-income areas. The lack of accessible internet to the city's poorest residents has dramatically impacted students who needed to rely on it for virtual learning.
Muller Paz sees investing in education as one solution to curbing the violence that has plagued the city. Harnessing and supporting the energy and enthusiasm of the city's youth and the work of young leaders across Baltimore is a crucial priority of her efforts.
"The way that we can bring down the violence that has been hurting our city so much is by really investing in our young people and seeing how those opportunities could give them options," says Muller Paz.
Like many areas of the country, Baltimore's complicated history of race and class continues to contribute to inequities and disadvantages plaguing generations of residents. The current cohort of public servants recognizes the chronic injustice and prioritizes equity to help underserved communities in their work.
"To reverse the history of redlining in the city … we need the right tools to do it," says Ramos, referring to the practice that essentially barred Black people from getting loans to buy homes in certain neighbor­hoods. For her, that toolbox would include changes in taxation policies and redevelopment that would support often overlooked citizens and neighborhoods.
Former Morgan State University Associate Professor Lawrence Brown refers to the pattern of disinvestment in Black communities across the city as "the black butterfly" and recently released his book, The Black Butterfly: The Harmful Politics of Race and Space in America. He has highlighted how Black and poor communities have been fragmented across Baltimore's eastern and western halves through past policies and budgets, creating a butterfly-like shape in the city's geography.
In Alice Kennedy's role as acting housing commissioner for the Baltimore City Department of Housing & Community Development, she and her department are prioritizing ways to create affordable housing and home ownership opportunities for residents throughout the city.
"One of the foundational prescripts that I have embraced is the fact that equity in housing and community development must begin with acknowl­edgement that the history of slavery and institutional racism is undeniably woven into the fabric of present conditions within the City," says Kennedy. "There must be an understanding and commitment to redress the long-standing race-based barriers and policies that have devastated neighborhoods, concentrated poverty, and created an affordable housing crisis."
She hopes to make a lasting impact on the community by being part of "an equitable solution that changes the lives of our residents."
Ramos is also focused on reversing the housing impact from redlining in the city and on reforming predatory housing practices, procurement policies, and taxation policies that disproportionately affect the city's poorest and most vulnerable residents.
"If people do not have healthy and stable homes and live next to vacant properties and feel like no one cares about them—you are not going to prevent violence," says Ramos. "To me, transforming our city is actually about transforming our neighborhoods in an equitable and sustainable way."
While she is dedicated to serving all of her constit­uents and cultivating a list of micro-level issues that help shape policy initiatives, Ramos also acknowledges that "it doesn't escape me that I play a very important role as the first Hispanic elected official in Baltimore City. That is huge."
She says she believes that more people across the city are starting to pay attention to the needs of the Hispanic community, as they are the only population growing in Baltimore City. "Being able to lift those voices is important, and it is a role that I can play."
Transforming the city takes shape in many forms and programs.
For Cohen, the late Maryland Rep. Elijah E. Cummings was a source of inspiration and had an enormous impact on him. Cummings was one of Cohen's mentors and the only politician to endorse Cohen in his first campaign. He remembers Cummings saying to a group of young leaders, "I won't be here much longer. You need to pick up the torch and run with it."
Run, he did. In 2019, Cohen introduced the Elijah Cummings Healing City Act to help the city heal from ongoing racism and violence. The bill passed in 2020 and made Baltimore the first city in the country to legislate trauma-responsive care. Early in 2021, the Maryland General Assembly passed a similar bill to expand and implement trauma-informed care statewide.
"So much of what I have seen throughout my career—the violence, poverty—is tied to trauma," he says.
Cohen says that this legislation is what he is most proud of from his tenure in city government. He currently serves as co-chair to the Elijah Cummings task force charged with putting the act into action around the city.
While she lost her 2020 bid for election to the Baltimore City Council, Muller Paz's run as a Green Party candidate garnered much attention for its grassroots organizing and the momentum she built across her community and the city.
"The city needed to do its fair share in supporting our schools," says Muller Paz. "To see that become a narrative of the city, I hope that we played a small role in making sure that was an issue that was at the forefront of people's minds."
For those working in public service, the focus remains on the city and its people. To make positive change, they continue to work together and empower one another to create the community they each know is possible.
"The community leaders and folks who have been doing the work, in some cases for decades, and pulling their communities together—there are so many unsung heroes," says Davis. "The way [Baltimore] is going to come back is through these people who never left."