The next legacy of science innovators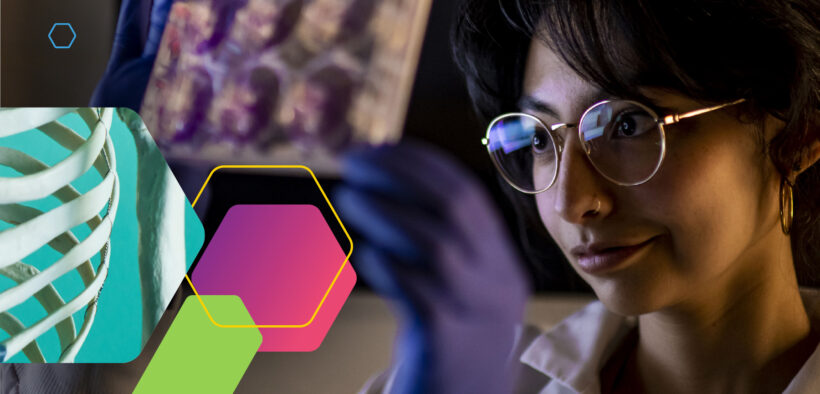 In an impressive range of scientific fields, Goucher College has graduated scholars whose contributions are as significant as they are numerous. Alumnae—like pediatrician and microbiologist Hattie Alexander, Class of 1923, who developed a treatment for the deadly influenzae meningitis; renowned molecular biologist Lydia Villa-Komaroff '70, who was part of the team that discovered how bacterial cells could be used to generate insulin; and biochemist Florence Barbara Seibert, Class of 1918, whose work enabled the development and use of a reliable test for tuberculosis, among many others—have advanced modern medicine. Standing on the shoulders of their predecessors, young alums are working in a wide range of STEM fields creating legacies of their own.
By Martha McLaughlin, M.F.A. '16
CAROLINA MEJIA PEÑA '16, BIOCHEMISTRY AND MOLECULAR BIOLOGY
In 1997, when she was three, Carolina Mejia Peña '16 and her mother came to the United States to escape civil unrest in Bogota, Colombia. Her father had already immigrated to Queens, New York, working so they could join him. They lived in a small apartment with relatives until the family of three moved into an Upper East Side apartment in one of the buildings where her father was superintendent.
When she was in middle school, Mejia Peña's outstanding academic performance got her invited to participate in an enrichment program. Among other subjects, the program offered training in study skills, etiquette, Latin, and admissions to prepare its participants for elite, private institutions; there, too, Mejia Peña excelled. In ninth grade, Mejia Peña enrolled at Groton School, a prestigious boarding school in Massachusetts. While Groton had incredible resources, providing Mejia Peña with numerous "soft skills," it didn't offer the kinds of support she needed to stay on track academically. Attaining admission into an Ivy League college seemed to be the definition of success, so Mejia Peña felt like she'd failed. She felt pressure to have one of those "perfect immigrant" stories—the ones "where a person comes from nothing and then they soar, but that was not happening," she says. "I was mediocre in high school." And with no tutoring program, she flailed academically. Still, she graduated in 2012.
As an incoming Goucher student, Mejia Peña expected to major in dance because she was confident she could do well. Not so with academics. At Groton she was strongly discouraged from taking the chemistry and biology AP exams because she was doing so poorly in those classes. But she loved and had always felt drawn to science. At Goucher, she took both chemistry and biology again. This time she excelled.
What was different?
"The teachers at Goucher have been the best teachers I've ever had, period. [They] were willing to meet me where I was at and try different methods to teach me," Mejia Peña says.
So instead of dance, Mejia Peña majored in biochemistry and molecular biology.
After graduating, she began a Ph.D. program in molecular biology, cell biology, and biochemistry at Brown University. "In a million years, I could never have imagined I'd end up as a student at Brown. I was convinced I did not belong," she says. She earned her Ph.D. from the Ivy League school in 2022.
But Mejia Peña still didn't feel like a success. In 2018, two years into the program, her father—in his early 50s—was diagnosed with dementia, thus altering the trajectory of both their lives.
After this diagnosis, while her colleagues were starting their thesis work, Mejia Peña was researching neurodegeneration. While her peers were publishing their research, Mejia Peña was learning how to be an effective patient advocate. While her colleagues were spending weekends in the lab, Mejia Peña was spending as much time as she could with her father. In addition, she was single-handedly supporting herself and her parents.
She resented it at the time. And she worried the disparity between her peers' many accomplishments and her relatively few would reflect poorly.
Based on her research, she expected her father to decline swiftly. In April, five years after his diagnosis, unable to feed, bathe, or do anything else for himself, he was moved into a nursing home.
While a Ph.D. student, "my work focused on ovarian cancer—not because I wanted to focus on that but because I wanted to be in a biophysics lab, and while I'd had a brief intro at Goucher and was totally intimidated, I found biophysics fascinating. I was super interested in the theories and methods they were using and thought the questions they were asking were good questions to address," Mejia Peña says.
Since graduating in May 2022, she's continued as a postdoc in that lab to tie up loose ends and finish her publications, and she completed a teaching certificate program at Brown's Sheridan Center.
So what's next?
"I'm at a crossroads," she says.
Instead of considering her father's diagnosis a detour, it's given her direction. "It's allowed me to live more in line with my values," Mejia Peña reflects. "I want to switch fields and start doing research related to neurodegeneration and aging. Brown has a world-renowned aging center, and now I have a fire under my ass to do this work. Hopefully I can find a post-doc position right here," she says.
Mejia Peña has also shifted her thinking about all she resented as a Ph.D. student. Instead of focusing on what she wasn't able to do and what she lacks, "I've recently been able to say, 'I think I'd be a pretty good candidate post-doc because of all the skills I've had to learn.'"
She goes on, "If it had been smooth sailing, I don't think I would have turned out like this. I had to reckon with the fact that even though I didn't go straight to an Ivy League college from Groton, it's made me a more authentic person."
The neurodegeneration and aging fields will certainly be better for it as well.
SAM SHAPIRO '19, PHYSICS AND MATH
When Sam Shapiro '19 came to Goucher, he knew he wanted to major in physics. And, while math came easily to him, "it was just a tool for doing for physics," he recalls. "And then I took Linear Algebra, and it really blew my mind. I was like, 'Oh, math is beautiful.'" So he dual-majored in physics and math.
After graduating, at the recommendation of one of his professors, Shapiro took a job at ARETÉ, a national and global security government contractor. He worked there for more than two years creating algorithms similar to those used in artificial intelligence face-recognition apps. "My physics background helped me, and I had actually had exposure to machine learning at Goucher," he says.
Through a fellow alum, Shapiro was recommended for a position at Northrup Grumman, another government contractor. In 2022, he joined their device theory team of the Transformational Computing Operating Unit, primarily doing simulation of quantum circuits. At Goucher, he studied with professors Nina Markovic ´and physics professor Sasha Dukan. "They both teach superconducting—the kind of circuit you need for quantum physics," he says. "I wasn't expert in the stuff we do here, but having as much background as I did in superconductivity, which is not standard in undergraduate, definitely helped."
Quantum computing is still in its research and development phase and will have significant reverberations. "Governments are interested in the encryption thing, but I think [quantum computing is] just generally considered such a game-changing frontier of technology that everyone wants to be the first to have it."
Shapiro considers doing a Ph.D. program and would love to teach, but he's enjoying doing what he does for now. "I just really care about physics, and I'd like to know it better," he says. "Northrop Grumman is pretty great to work for. I've only worked in this little corner, but my corner is pretty great."
When he's not doing physics and device theory, Shapiro plays music. "I continue to be in a band that is composed entirely of Goucher alums called Plastic Owl. We're kind of indie but maybe a little math rock—a little funky math rock."
JULIAN REES '09, CHEMISTRY
Since his senior year at Goucher, the behavior of metal atoms in the human body has captivated Julian Rees. Working with Professor Scott Sibley, Rees did his senior thesis on how metal atoms can affect the formation of amyloid plaque, a contributing cause of Alzheimer's Disease.
A few years after graduating, Rees returned to his hometown of Seattle, where he completed master's and Ph.D. programs in chemistry at the University of Washington. He then went to California for a post-doc fellowship at Lawrence Berkeley National Laboratory, where he studied the properties of radioactive metals in the body. "As a chemist, working with the elements at the bottom of the periodic table [i.e., heavy metals] is kind of unique, and [Lawrence Berkeley is] one of the few places in the country you can do that," he says. There, Rees worked on a government-funded research project born of the September 11th attacks. The project's goal was to develop a drug to treat plutonium contamination resulting from a nuclear disaster. What was created is a drug that is needed for an urgent and even more widespread use today. In the form of a pill one can swallow, the drug contains a chelating agent that absorbs the metals, which are then excreted from the body.
Lead poisoning, which comes primarily from lead paint and leaded gasoline exposure, is more prevalent in children because lead incorporates into bones, and kids' bones grow rapidly. According to the World Health Organization, one in three children worldwide has lead poisoning. Given lead's devastating and irreversible effects on humans, this is an alarming statistic. With the current treatment for lead poisoning requiring an IV injection, Rees says, "there is no easy, safe, affordable, accessible treatment available."
Enter HOPO Therapeutics.
Originating in the project at Lawrence Berkeley Lab, Rees cofounded this biomedical/pharmaceutical company, which, its website says, addresses "the most pressing unmet needs at the intersection of heavy metals and human health." Rees serves as its president and CEO.
HOPO is now in the middle of its first round of fundraising. "While it's a difficult time to be doing it," says Rees, "we've had success, which speaks to the quality of the mission and of the science. We've just enrolled the first couple of patients in Phase I of the clinical trial, which is a huge milestone for any drug development program. Phase I is the first time you try it out with actual people."
Running a startup might not be every chemist's thing, but between his expertise and personality Rees is finding it to be a good fit. The vast global need is certainly motivating. Plus, he says, "The science is really cool. The impact is amazing. It feels good to be doing it."
When he's not traveling to conferences, raising money to provide a cost-effective, accessible solution to a global health crisis, or educating himself on the legal aspects of running a business, Rees, along with a few other chemists, enjoys performing around Berkeley with his band Bad Dog Jump. The group's neoclassic rock can be found on Spotify.
REBEKAH TURK '06, BIOLOGY
Like so many biology majors, when Rebekah Turk '06 graduated from Goucher, she thought she'd go to medical school. Her path, however, led her to the field of CAR (cancer antigen receptor) therapy, which she describes as "an almost impossible feat of science."
As an undergrad at Goucher, Turk participated in the Summer Science Research Program and spent time during her senior year doing research with Professor Mark Hiller. "The opportunity taught me to be comfortable in the lab and provided me with a model of how to think about science," she reflects. After graduating, she did a stint as a veterinarian tech, then studied foodborne pathogens at the Center for Food Safety in Georgia.
Turk then ran bioassays on cell therapy treatments at Dendreon, which "manufactured the first FDA-approved cellular therapy," she says. She moved on to Juno Therapeutics, in Seattle, to work on the clinical trial for Breyanzi, the later-approved CAR-T cell therapy. She recounts her career trajectory: "I moved from the regulatory arm of Juno to the research department, because it was a closer match to my interests. In research, I worked on a variety of projects aimed to improve the ability of T cells to kill cancer cells."
Turk goes on, "I migrated to the Receptor Engineering group, the team responsible for discovering new CARs for Juno's immunotherapy pipeline. In that team I used automation to expand the throughput of CAR discovery and helped fill several drug discovery pipelines. A number of startups spun out of Juno after it was acquired by Bristol-Myers Squibb. One of these was Modulus Therapeutics, where I currently work in discovery developing and running large pooled screens that aim to improve the function of immunotherapy through gene editing and receptor engineering."
"Being around all the different arms that have come together to form the field, including immunology, virology, and genetic engineering, and being able to experience this assembly on a daily basis is pretty fun. Inventing things is fun. Taking something from concept through discovery and into preclinical development for therapies that are actually moving the needle in cancer treatment is one of the most rewarding things I have done," Turk says.
Turk also danced at Goucher. She is a founding member of Dance Conservatory Seattle, where she's learned from and performed with Goucher alum Mathew Heggam '06. She joined the conservatory's board in 2023.
KAMILAH LAMHAOUAR '16, CHEMISTRY
"There are so many things you can do with a chemistry degree," says Kamilah Lamhaouar '16. Her many experiences, both as an undergrad and since graduating, bear that out. As a student at Goucher, Lamhaouar interned with Associate Professor of Chemistry Ruquia Ahmed-Schofield creating in the lab things found in nature—flavoring for tea is one example—giving her experience with both synthetic and organic chemistry. Through the help of Professor Phaye Poliakoff-Chen, Lamhaouar also got an internship as a physical therapy tech. Also as a student, Lamhaouar worked in the burn intensive care and rehabilitation units at Johns Hopkins.
After graduating, Lamhaouar continued at Hopkins, but moved to a lab where she studied the effects of different medications on those with radiation exposure. In the fall of 2018, she made a shift to the more mathematical side of chemistry analyzing and evaluating chemistry-based research as a contractor for the Army.
During the pandemic, while still with the Army, Lamhaouar began a hybrid doctoral program in physical therapy at Tufts University. She expects to do her thesis work in the fall on either burn health or pelvic health and complete the accelerated program in December 2023, taking only two years instead of three. As a DPT, she'll likely continue doing research. Not surprisingly, "I'm researching my options," she says.
THE NEW SCIENCE INNOVATION CENTER
These are the journeys of alums whose impressive careers began in the labs and classrooms of Hoffberger Science Building. With the new Science Innovation Center—a 44,000-square foot LEED-rated annex to Hoffberger—one can't help but wonder what innovations, inventions, discoveries, and frontiers those trained in its advanced state-of-the-art laboratories and learning spaces we'll be reading about in 20 years.
To learn more about the Science Innovation Center, visit https://undaunted.goucher.edu.