Radcliffe "Ruddy" Roye '98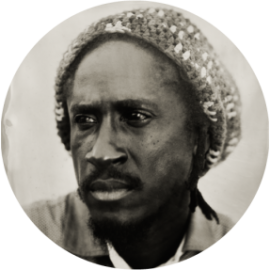 Photographer Ruddy Roye focuses on the hidden lives around him.
Radcliffe "Ruddy" Roye '98 takes pictures of people on the street, but he isn't a street photographer in the usual sense—a run-and-gun documentarian of random moments. Roye is more of a street portraitist, a mini-biographer who uses the caption field of his Instagram account to veer into the poetic.
In one image, a boy named Toe Tag lounges against a porch:
It's hard to look at him and not see the stories of loss that stain his young cheeks—like molting skin, it shimmers and tapers away from his face in the cool Jersey wind. His eyes do not betray the fact that he had recently lost his second brother in a year. Both of whom died violently by gunshot.
In another, 44-year-old Michael Terrent stares straight into the camera:
The Yonkers resident said that he was in Brooklyn a second time because he tried to commit suicide and so was admitted for three weeks in the hospital. In his frustration, because he could not drum up enough money to get something to eat, he looked out towards the street and muttered, 'Maybe I should just step in front of a car and end it.'
Roye studied writing at Goucher and worked as a journalist in his native Jamaica before taking up the camera full time. Since then, he's shot for the Associated Press, Vogue, Ebony, The New Yorker, and others, but the photos he posts to Instagram have garnered the most recognition. In large part because of them, he's been profiled everywhere from the BBC to Longreads.com, which posted a crowd-funded interview with him on its website.
Roye focuses on portraits of black life, from Dancehall culture in Jamaica, to the Black Lives Matter protests around the country. When he's not working, Roye shoots a lot around Bedford-Stuyvesant, the Brooklyn neighborhood where he lives, attempting to tell the stories of the disenfranchised.
"I hate the word 'vagrant,'" he says, "but I've seen it used so many times. Nobody's a vagrant. That person's a human being who is losing the battle. That's why I spend so much time with the people I photograph. I want to, through my pictures, change the way people see homelessness.
I want you to see a human being."
He says the values he learned as a child continue to shape his work.
"Growing up in a culture that was tight-knit, we tend to stress the community," he says. "I mean, everybody knew everybody on their block. And that's how I grew up, and I tend to move in a framework of communities. So I see everybody as a part of my community.
"I also see things differently. As an outsider, I'm able to see these things in a more stark way … so when I see elderly on the street, when I see homelessness on the street, it jumps out at me; it is so anti-community."
Roye uses Leicas—both film and digital—for a lot of his work, but his tools range from large-format cameras to smartphones. Where some pros shy away from Instagram, Roye has embraced it, using the format to broaden his audience.
"I've got 400 sheets of 4×5 film that I shot in Hurricane Katrina 10 years ago. The world has only seen 20," he says. "I shoot every day on Instagram, and I put them up and 185,000 people see them."
Follow Ruddy on Instagram at instagram.com/ruddyroye