Robert Welch (1944-2016)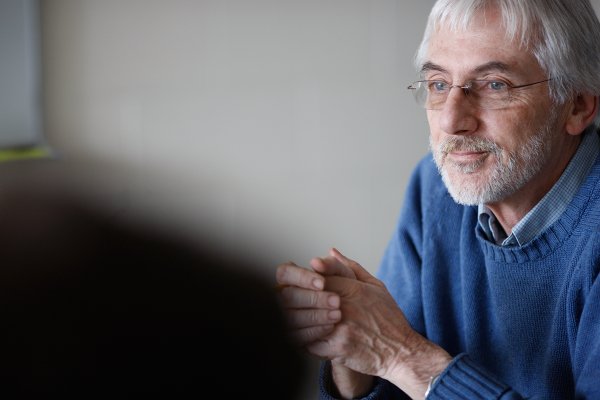 Bob Welch, former acting president, dean and associate dean of academic affairs, senior lecturer in philosophy, and dear friend of Goucher College, passed away February 28, after a two-year battle with cancer.
"The Goucher community has lost one of its treasures," said Goucher President José Bowen. "Bob loved Goucher deeply, and our community loved him just as much."
Welch devoted his life to serving students in pursuit of truth. He met his wife, Patricia "Pat" Farrell, during his undergraduate days at Brown University, and afterwards taught middle-school and high-school English for many years. He decided to return to school to earn a doctorate in philosophy from the University of Massachusetts, Amherst, and served in numerous positions there. He relocated to Baltimore in 1985 to serve as dean of Homewood schools administration at the Johns Hopkins University.
He arrived at Goucher in 1989 to serve as associate dean and then dean of academic affairs. Among his many accomplishments, he was instrumental in expanding the college's program of continuing education, and the Robert S. Welch Center of Graduate and Professional Studies was named in his honor. Together with other faculty members, he created the individualized interdisciplinary major and pioneered the Interdisciplinary Studies Program.
He was appointed acting president for the 2000-2001 school year, and then returned to the classroom, where he taught philosophy until his retirement in August 2014.
As former President Sanford J. Ungar said:
"Bob Welch led Goucher through an important transitional period with grace and skill. He was able to do that because he knew the college and its people so well and believed in its mission and its future."
Welch was a true servant to Goucher who always held the good of the students, the faculty, and the college foremost in his mind. A leader who led from behind, he created room for discussion and deliberation with those with whom he worked. He offered multiple solutions when approaching a situation, and allowed his colleagues to choose the best path for them. Anxious to get back into the classroom—to students—after his tenure as acting president, he taught until the day he was diagnosed. Even afterward, he hosted beer tastings faithfully every year for Alumnae/i Weekend.
Former Goucher President Judy Mohraz worked very closely with Welch as well: "Bob embodied the strengths of Goucher. He was smart, creative, committed, and most of all humane."
Welch is survived by his wife, Pat; their son, Ryan, and Ryan's fiancée, Lydiya Petrova; and a sister, Katherine Welch.
PLEASE SEND YOUR REMINISCENCES of Bob Welch to Goucher.Magazine@goucher.edu. We will publish as many of them as we can.