Research & rebounds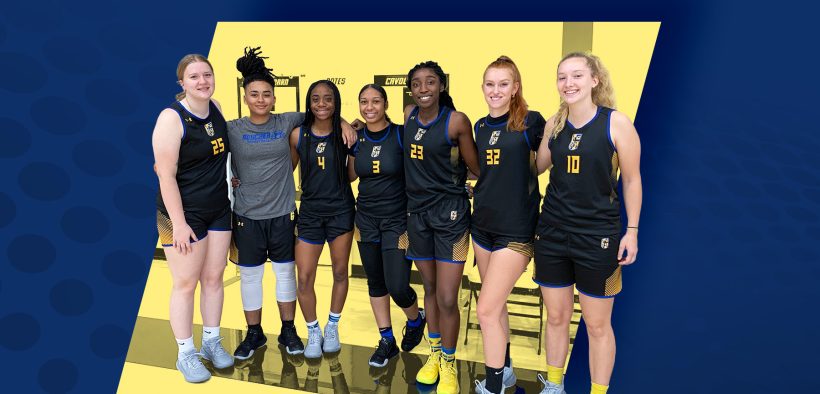 More than half of the women's basketball team is pursuing science degrees.
By Gregory Royce
For Kyani Quarles '23, it was growing up around animals. For Anise Williams '22, it was a passion for being able to assist wrongly accused criminals.
Quarles and Williams are two of the eight science majors on the 15-member Goucher College women's basketball roster this season. Quarles is a junior biology/pre-veterinary major from Houston, TX, while Williams is a senior chemistry major hailing from West Palm Beach, FL.
They are joined by Jorryn Avery '22 (chemistry), Alayna McFadden '22 (biology), and Lydia Bailey '24 (biology). Claire Flynn '23, Belle Carini '24, and Julia Cavoli '24 are all psychology majors.
"I've been interested in animals since I was young," said Quarles, who was the second-leading rebounder (7.7 rebounds per game) and third-leading scorer (9.6 points per game) on the Gophers in her first year in 2019-20. "My grandparents have land out in the country, so when I was little I would go out and feed the cows and things like that, so it's always been something I wanted to do."
"I'm really into forensics, but I knew that I didn't want to go into law enforcement," said Williams, who ranked seventh nationally in Division III in steals as a sophomore while being Goucher's leading scorer at 15.1 points per game. "I decided on chemistry to further my career in forensics. The main reason I wanted to do it is I have a soft spot for wrongly convicted people."
Williams has seen her focus shift during her time at Goucher. Originally a biochemistry major, she has grown more interested in toxicology during her time on campus and is now looking at getting her master's in forensics following graduation and potentially working in a drug lab.
"I wanted to be a biochemistry major, but I realized bio wasn't really my thing, so I just chose to stick with the chemistry part. I'm starting to think more on the toxicology side, drug-related crimes and things of that nature, but I'm not totally shutting off DNA analysis," said Williams.
While virtual learning for the final two months of 2019-20 and all of the 2020-21 academic year threw every student at Goucher for a loop, the shift was especially hard for science majors who missed key time in the lab during their classes. For Quarles, the winter storms that ravaged Texas in February 2021 and produced rolling blackouts added another wrinkle.
"I did fall behind in some of my classes during the winter storm, but I was able to make it work," said Quarles, who added that she would often text women's basketball head coach Andrea Preston with messages to relay to her professors when she did have power because she didn't know how long the power would last or when her professors would be able to get back to her. "The professors were really understanding and willing to work with me. Once we bounced back, they gave me extensions and told me where I was and what I needed to do to catch up."
"It was really hard not being able to be hands-on in the lab, which is what I love the most. I ended up taking analytical chemistry virtually, and the professor would give us the data and we would have to interpret it. The professors would also take video of themselves in the lab using all the techniques; we would watch that and interpret the data. It was difficult, but at least there was an option where they could walk us through everything," said Williams.
Both Williams and Quarles enjoy the small campus environment at Goucher, which drew them hundreds of miles from home, and the support that they have to balance their academics and athletics along with everything else that comes with being a college student.
"It can be really difficult balancing basketball and sciences, but the professors here are so understanding of that," said Williams. "They will give an extra push or extra help when I need it, and the relationships you build here will last. Some of my professors will come to our games and talk about the games in class."
"It can be difficult," said Quarles of maintaining the balance between her studies and athletics. "You have to have extreme dedication and time management and understanding that you might have to make sacrifices in order to make time to study or to finish an assignment to prepare for an exam, but fortunately everyone at Goucher is supportive of that."
"I know I'll have relationships with some of my professors here long after I leave," said Williams. "On a small campus like Goucher's, you get to know your professors more and they're more invested in your success, and I've really enjoyed that."
(Photo at top): Lydia Bailey '24, Alayna McFadden '22, Anise Williams '22, Jorryn Avery '22, Kyani Quarles '23, Claire Flynn '23, Belle Carini '24