Q&A with Provost Leslie Lewis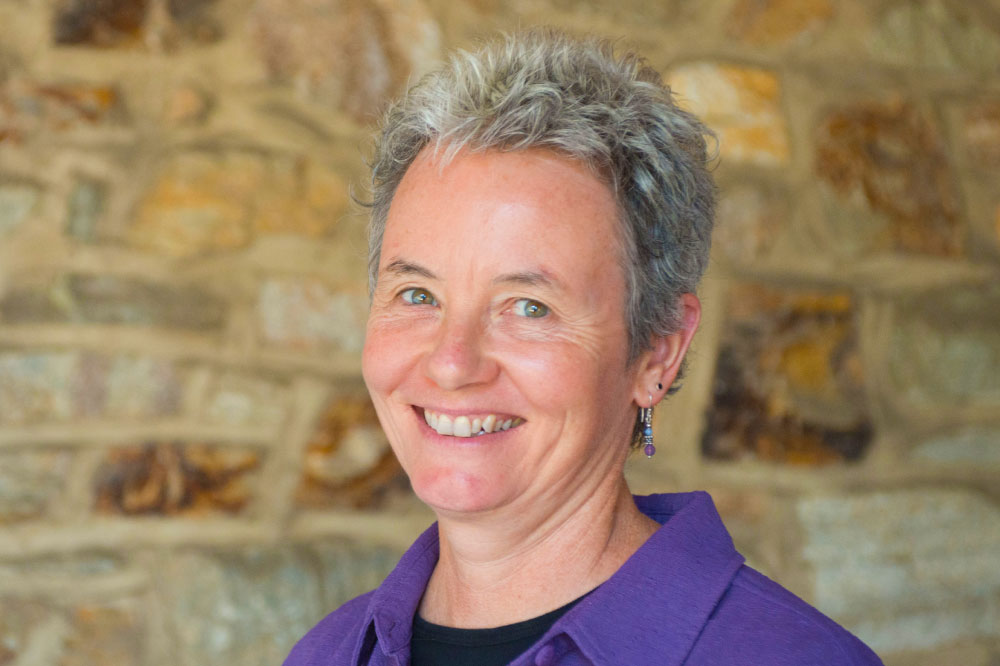 Leslie Lewis came to Goucher in July as the new provost and vice president for academic affairs. A big fan of the liberal arts, blues, and organic gardening, she calls Goucher "a college with a conscience." Here, the former dean of the School of Humanities and Sciences and professor of English at Ithaca College discusses her first days at Goucher, training for a triathlon, and hungry groundhogs.
Tell us a little about how you came to academia.
I'm from the eastern panhandle of West Virginia, but have lived in numerous small towns in the mid-Atlantic growing up, then went to St. John's College in Annapolis because I was enthralled by the curriculum there (a distinctive great books curriculum). After college, I worked for a couple of years in Washington, DC, in marketing and media research. Then I went to graduate school at the University of Virginia for a master's degree and Indiana University for a Ph.D. I began teaching there and have been some combination of scholar, writer, teacher, and servant-leader ever since.
What attracted you to Goucher?
Goucher is a terrific match for me because it's a very self-reflective liberal arts college with a history of inclusion. It's also a college with a conscience. I knew, too, that Goucher has a dynamic new president—and I wanted to work with him.
What do you like to do when you're not spending time making Goucher more excellent?
I have my eye on a triathlon that I'm working toward, so I swim, run, and cycle regularly. I also hike and kayak. I'm also a long-time, serious, organic gardener. We're still figuring out how to grow some of the vegetables we love; deer aren't so much the problem—it's the groundhogs. Somehow they find me wherever I garden.
What did you want to be when you grew up?
Well, I still want to be a truck farmer. I might do that next—you never know!
Any hidden talents?
In my early adulthood I lived in a series of houses that were, all of them, 1920s bungalows. I know how to renovate and fix things—and have a lot of tools.
Ithaca may be "gorges" but have you found anything in this area that is charming?
I appreciate the question on its many levels! I'm thrilled to be near the water again. When I was in college in Annapolis, I lived on the Severn River at the mouth of the Chesapeake Bay, and I have many memories of the beauty of that body of water. We've been taking advantage of the Bay's proximity and have started to explore Baltimore's waterfront. Fells Point is a favorite area so far. And Ithaca's gorges meant lots of hiking, and since we've been here, I've regularly walked the trails at Loch Raven Reservoir. I have a photo of the reservoir from a walk a couple of weekends ago that I've just made my new desktop background.
What's your favorite … book?
As an English professor, this is a very hard question. I have a long-term project that focuses on the science fiction of Octavia Butler. I've also written about John Edgar Wideman's novels. I would recommend Philadelphia Fire by Wideman as response to James Baldwin's The Fire Next Time.
… Musician/Band?
Anything blues based. I still have CDs (also vinyl and cassettes, too) and am listening to Cassandra Wilson at the moment in my car.
… Place in the world?
Marjorie, my spouse, and I keep going back to Santa Cruz, California.