Q&A with Jess Phoenix, M.F.A. '18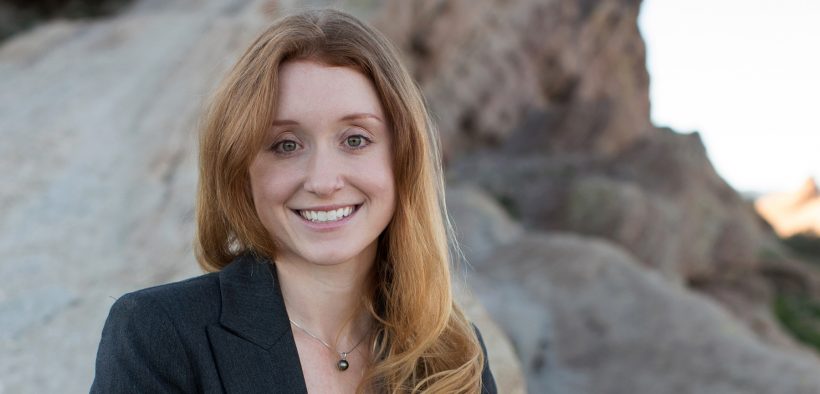 Jess Phoenix, M.F.A. '18, is a volcanologist, natural hazards expert, nonprofit founder, and author (and she has played them all on TV). We spoke to her about her career, her writing rituals, and the book that she came to Goucher's M.F.A. in Nonfiction Program to draft.
By Molly Englund
What is a volcanologist?
It's a scientist who, broadly speaking, is a geologist specializing in researching active or extinct volcanoes. There are tons of different sub-disciplines in the field.
Do you spend a lot of time in the field?
Yes. I'm very much a boots-on-the-ground geologist.
What is Blueprint Earth?
It's an environmental science research and education nonprofit that I cofounded with my husband, Carlos, in 2013. We take college and university and grad students out to catalog an environment. Right now, our first environment is in the Mojave Desert in California. We are attempting to see how the environment fits together by creating a blueprint of everything from microbes to the clouds.
We work with senior scientists with experience from all over the country and the world, and we provide the opportunity for students to learn how to do field research at no cost to the students, which allows us to really serve a diverse population that has traditionally been underserved.
Why did you go through Goucher's M.F.A. in Nonfiction Program?
It was suggested to me actually by Maddie Blais. Maddie had been teaching at Goucher for a long time, and I've known her since I was 14 or 15. I wrote to her and said, "Maddie, I want to write a book about what I've been doing because I think it could be valuable. We don't have women volcanologists writing memoirs about research in the field."
Maddie said, "Well, that's great. You definitely should, but why don't you just get an M.F.A. while you're doing it and then you'll also get input from really amazing writers as faculty mentors and from your peer group?"
I had never thought about getting an M.F.A. in writing. I talked to Leslie Rubinkowski, the program director, and she was just so encouraging and showed me, through a pretty long conversation, that the program was right for me with my weird schedule where I'm off in different parts of the world.
The fun thing is, I started the program in January of 2017 and four months later, I declared that I was running for U.S. Congress. I was running for Congress actively for 18 months while I was doing the M.F.A. program. Some of the time when we had the residency component, I would fly there and fly to Baltimore and I would be doing the stuff with the residency component, like going to readings and doing workshops with the mentors and the other students. Then I'd be driving frantically to DC to have meetings with Congress people.
I have to assume the M.F.A. felt a little more relaxing than your Ph.D. did.
Oh, my God. Yeah. I had a fantastic experience in higher education for my master's in geology, but my Ph.D. program was horrible. I had moved to Australia with my brand-new husband and my pets. A lot of the issues that women in science Ph.D.'s experience, I did. Not outright harassment but definitely misogyny and difficulty with my advisor not aligning with me.
The M.F.A., finding all of the Goucher faculty, like Jacob Levenson—Jacob is fantastic. He's a fantastic writer and a brilliant critic and a very tough mentor. He made my writing so much better, but in a way that was always supportive.
Having people who know how to be tough and push you to do your best while also bringing out the love you have for the craft of writing, that is really special. Jacob Levinson was my last mentor in the program and Jesse Holland was my second to last. I can't say enough good things about them and the program. I loved it. I wish everybody could do it.
Did your sense of humor help you get through your Ph.D. program?
At every point in my scientific career, I found that humor is absolutely essential to be able to deal with the unexpected events that come up in remote dangerous situations. Obviously, there's a time for actually cracking jokes and there's a time for just getting through it.
But if you do have a way to communicate humor and empathy during an experience, especially if it's super dangerous or everything has gone wrong, that is what will be your saving grace. When we take our students out to do research in the desert, I'm cracking jokes from the first couple of minutes because I want them to know that we're all out there together and they can come to me.
How do you bring science to life on the page and make it accessible for readers?
I tap into my roots in public speaking. I went to a high school where all of the students were required to take a speech and debate course. I was an introvert, which no one believes now. The teacher would terrify me. He was this enormous legend in the speech and debate world. He would thunder at us from the front of the classroom, but he was also funny and knew when to be supportive. I started out doing extemporaneous speaking, five-to-seven-minute speeches where you have only 30 minutes to prepare a coherent speech on [a topic] you pulled out of a hat.
You see it in the book—I will have a complex concept, something as out there as cosmogenic nuclide dating. I can say, "What's the heart of this? What is the hurdle of knowledge or experience I need to impart to the reader?" Then I break it down like I would an extemporaneous speech. People don't get to go to these places I've been. I want to take them there.
When I was doing this, was I cold? Was I tired? Did I feel the motion of the ship? Did I smell sulfur from the volcanic ash? These are visceral experiences. When you write about what happens in the field, you have body memory of that time and it's important to tap into that. I do the cerebral first and then the visceral.
Do you think science could use more storytellers?
Yes, science and every other discipline, too. Humans are hardwired to respond to stories. That's how we shape our own worldview, and it's present in every single culture.
It's just so fundamental to our nature that I firmly believe that all scientists, when they're going through undergrad and grad school, should take a science and media class that emphasizes how to communicate the value of your work effectively. I tell my students now, "If you can't, in under a minute, preferably under 30 seconds, explain why your work matters, then you're failing part of your job."
As an adventurer-researcher, is it hard to make yourself sit down to write?
Yes, but that is just me as a person. I haven't gotten any creative writing or writing for public consump­tion done since the pandemic started because I'm a big worker in coffee shops and libraries. I'm excited for the end of the pandemic because I'd love to get going on book #2.
Do you know what your second book is yet?
I have some ideas. I have a really supportive agent who I found via Goucher. I've been like, "Well, I'm interested in doing this book in this one cool neighborhood that was the foundation of modern Hollywood, but I also want to write about volcanoes and their unique personalities, but I also need to get more expedition stories."
Do you have any rituals when you write?
Stupid pop music. I am a punk and metal aficionado, and I used to hate pop music until I was in grad school and I roomed with undergrads. They all loved Katie Perry and Britney Spears and Lady Gaga. I was like, OK, fine. It's catchy. Now I will be writing something about some complex scientific topic, and I'll have Kesha on repeat. It's so weird because in my normal life—Bad Religion and Offspring. Then here I am, "The party don't start till I walk in."
Were you surprised that your book was blurbed by Patton Oswalt?
I asked him to. Patton helped me when I was running for Congress. He said, "Yeah, I'll do a comedy show fundraiser for you." He got a couple of his comedian friends and we did it at a community theater. He is just the warmest, nicest, caring person. You can tell he cares about science literacy and education and climate change and having people in office who represent the values of America as a whole.
You're very busy, so thank you for talking to me.
I loved my Goucher experience. I really did. It got me a culture. It got me a book deal. It's thanks to Goucher and thanks to Maddie Blais, who was fantastic. There wasn't a single person at the program who wasn't awesome. That is also mind-blowing, that the other students were all really great and were a community. I understood what it meant to be in a writing family, and that was because of Goucher.