Q&A: Phoebe Yeoh '15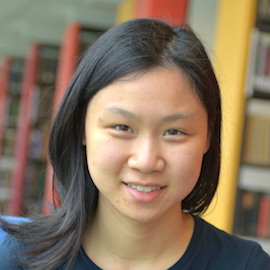 Graduate Student, Engineering
Goucher Magazine: Briefly describe your research (what you do, where you do it, why you do it).
Phoebe Yeoh: I am at Carnegie Mellon, doing a PhD in Materials Science and Engineering.  My project is to develop and understand the fundamental science behind resistive switching materials.   These materials can be used to create memory and storage for faster, more powerful computers, and are of great interest to companies like Intel and Micron.
How has the transition to grad school gone? What's different?
It's been relatively smooth, and Carnegie Mellon has tons of resources and support for graduate students.  However, there are lots of times when I miss the close-knit, quirky community at Goucher.
Are you doing anything fun in your spare time?
I write short stories, and explore the food and culture in Pittsburgh.  This weekend I'm going to see a classical Indian dance troupe.
What are you working on now?
Homework, as well as training on all the research equipment!  I am also applying for a graduate fellowship sponsored by the National Science Foundation, which I'll hear about in April.
How did Goucher prepare you for what you're doing now?
My physics and math classes at Goucher were rigorous enough for me to (so far!) survive graduate classes at one of the top engineering schools in the world.  I also met a lot of diverse people at Goucher, which really influenced my personal growth.
What is your most vivid Goucher memory?
On Halloween during my senior year, I dressed up as a bearded nun and scared all my professors, as well as some city folk in downtown Baltimore.
How do you stay connected to the college?
I keep up with my friends in the class of 2016, and follow This is My Goucher on Instagram and Facebook.