Q&A: Paul Des Marais '07 M.Ed. '10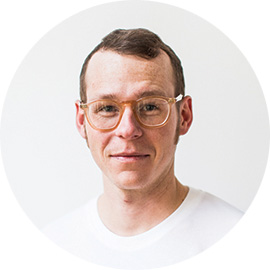 Creative asset manager at Optimist, a Los Angeles-based, full-service agency specializing in experiential branding
Please describe your career (what you do, where you do it, why you do it).
I manage a creative team at Optimist. We specialize in experiential branding, working on anything from animation, graphic design, and event design to packaging or virtual reality design. It's really a full-service agency. I've been with Optimist for about two years. I began as a freelancer and then last fall was hired full time.
Some of our clients include Google, Nike, and L'Oreal. My specific job begins with helping them to organize their thoughts and come up with a vision, and we work to make their vision come to life.
For example, for Nike, we curated a running experience on a curved LED wall so it was an immersive 3-D experience for runners to try out new shoes. This particular event was for professional runners to try the shoes before the launch. And the media could come to cover the event and write about the shoe. And in September, we'll be going to Tokyo to produce a design conference. I am very lucky to work on these kinds of projects.
At Optimist, there's big group of creative people: designers, animators, producers, videographers, video editors. It is a really diverse group of people who come from all kinds of backgrounds. It is similar to Goucher in that way—a little, miniature, liberal arts campus that's based in LA but has offices in Portland, Chicago, and New York City.
What led you to this profession?
It's a strange path to where I am now. It was completely unexpected. I have degrees in education and English—a master's in education. I taught at Annapolis High School for three years, and then I moved to LA and taught.
I took on a job writing and editing an art history catalog (but I still tutor just for fun, and I love it). Then I moved into producing online content for Major League Ultimate (a professional ultimate frisbee league) and began working at Optimist as a free-lancer. My first project was a Google design conference.
I never really decided to leave teaching, and I wouldn't be surprised if I return to it, but I saw this path, and I took it and am very grateful.
What initially caused you to move LA?
I was looking for a change. I grew up in Baltimore and went to college and lived there, and had never really lived in another part of the country. And, truthfully, I was dating someone and, though we're not together anymore, I am glad that I moved out here. I stayed for different reasons. LA has lots of opportunities, and it's a really fun place.
What attracted you to Goucher?
Well, my mom works in admissions, and I knew that I was interested in teaching. I am the youngest of five and the first of us to come to Goucher. I have four older brothers and sisters who went to Villanova, Temple, and Towson.
What do you do for fun?
I was the captain of Goucher's Ultimate Frisbee team for two years while I was there. I remember being able to throw a Frisbee from a very young age. My brother, Pat, taught me. We took to ultimate frisbee really quick and never really looked back.
My brother-in-law is the president of Major League Ultimate [a semi-professional Ultimate Frisbee league]. I help edit and write their online content at MLUltimate.com. I also spend a lot of time on my bicycle, riding through the hilly streets of LA.
What professional accomplishment are you most proud of thus far?
No one single thing: Constantly adapting whether going from teaching to writing to working at a creative agency and having the opportunity to adapt based on where I am and what interests me. One of the best skills I took from Goucher was being able to adapt and to apply what I learn quickly.
You mentioned that you work with clients to help them develop a vision. Do you play other roles in creative process?
Eventually, I end up producing the show. I work with the show team, designers, animators, videographers to create all kinds of different graphic elements. If there is digital stuff happening onscreen, I make sure it is working the way it should. I make sure the story we are trying to tell is true to the client's vision; basically, I help to make the client's vision come to life.