Q&A: Kimberlee Van Newkirk Shaffir '83, P '15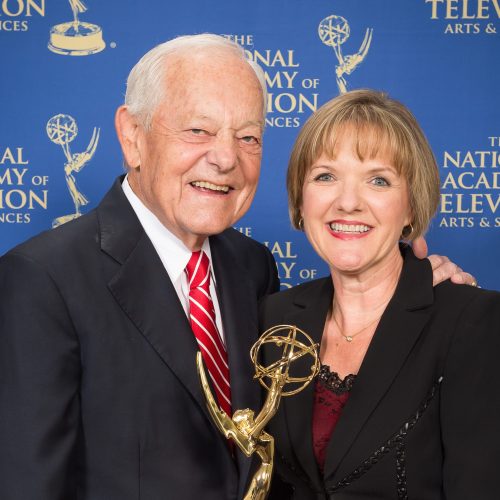 Briefly describe your career (what you do, where you do it, why you do it).
I am a producer/editor for the CBS News broadcast Face the Nation which airs every Sunday morning from the CBS News Bureau in Washington, DC. When I say producer/editor the "editor" part means video editor not like a book or newspaper editor. I produce and edit the open of the broadcast, long pre-taped interviews like with the President, and any other pre-taped segments. I also book guest, do research, work with the graphic artist on the "look" of the show, and log lots of video for use on the show. During the time the show is on the air, I'm responsible for making sure any video elements get aired at the appropriate time and if there are any updates or "fixes" to the broadcast for the west coast feed of the show, it is my job to oversee the various people and moving parts it takes to get that done. A big project I have at the moment is to help our Executive Producer and Senior Producers plan and produce our remote broadcast which will air from the site of the second Presidential debate in October.
I got bit by the news bug in my first job out of Goucher when I did studio camera for WMAR in Baltimore. It was fun and they paid me! In my current job, I get to have an input in what and how we cover the news which is basically history as it happens. No day is the same and trying to figure out how best to inform the public of what the news is can be challenging but that's what I like about it.
What has been your biggest professional accomplishment?
Probably winning the Emmy for Best News Analysis and Discussion in 2014 was the biggest visible accomplishment but being a part of the team that in the past five years took FTN from a third rated half hour broadcast to the first rated hour long HD show it is today is something of which I'm even more proud.

What has been your biggest personal accomplishment?
That's easy: my 30 year marriage to my husband Greg and our two (now grown) children, Kira and Mason.
How did Goucher prepare you for your career?
I think my time at Goucher didn't prepare me for my particular career per se, it instead gave me a strong foundation for any career I would have chosen and for life itself. I learned to juggle a multiple variety of topics, to voice my opinion, to speak up, to dig deeper and to ask questions beyond the obvious. I left Goucher thinking that I could do practically anything if I just put my mind to it and I still feel that way today. No challenge was too great and no problem too difficult, that's the confidence Goucher instilled in me.
What is your most vivid Goucher memory?
Oh boy, there are many but I'm sure you'd prefer one that was acceptable to print! I decided rather early that I wanted to major in Communications but didn't take an actual class with Brownlee Corrin, the head of the department until sophomore year. I had written a paper for the first class I took with him and I was anxious about doing well since he was the head of the department and would be my advisor once I declared my major. Back then, with no email, papers were typed and turned in and then would be returned to you via the Goucher mail system. I remember anxiously checking my mailbox for several days after turning in the paper and my trepidation when finally, I opened my mailbox and discovered the paper had been returned. I quickly unfolded it to look for my grade only to find one word written at the top: Lovely. No grade, just the word lovely. I was so astonished and outraged that I raced over to Brownlee's office in Van Meter, burst through he door of his office waving the paper and demanded to know what lovely meant, was it an A, a B, what? Brownlee gave me that wry smile of his and said to me, "it means lovely, what's wrong with lovely? What grade do you think it should be?" I was flustered, exasperated and, for a moment, speechless. No educator had ever asked me that before and at first I didn't know what to say. We ended up having a long and, yes, lovely conversation about not just my paper but about learning and life. It was the first of many such thought provoking conversations with Brownlee, both in his office and in the classroom. Brownlee became not just my advisor and mentor but a friend as well.
How do you stay connected to the college?
I always come back for reunion and stay connected with numerous Goucher friends via Facebook and by attending alumni events in Baltimore and Washington. I now have my favorite Goucher connection with my daughter, Kira who graduated in 2015.