Q&A: Dr. Elizabeth Rhudy Austin '60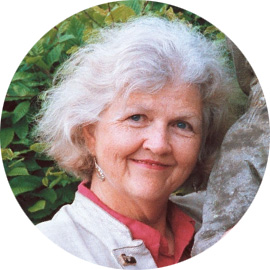 Composer and teacher of piano and music theory and the 1998 winner of the first prize in the International Alliance for Women in Music's Miriam Gideon Competition
Briefly describe your career (what you do, where you do it, why you do it).
I really don't use the word 'career' because it implies a constant ascent, seeming related only to the working portions of life. I would rather use the word "calling" or "vocation"—these words fit what I do, which is write music. And I usually write my scores here in the music room at home. This is my retreat, and my muse is a pet canary.  I also teach piano and music theory.
I write music—I started when I was 7: a lullaby for my newborn brother. I would think that painters see visual images in their minds; composers hear aural patterns. We seem subject to unrelenting centering, a drive, a focus. Sometimes I feel I should be doing something practical and useful, like being a nurse/caretaker instead of composing, but then I realize that the arts humanize us during our time on Earth, against so many dehumanizing forces.
What has been your biggest personal accomplishment?
I can't really pin down one particular accomplishment, but I hope that I have been leavening for the bread of learning! I have taught music theory to hundreds of students at the pre-college level. It is vital for younger students to receive a good foundation in music theory. I also was very happy recently to spend time as the composer-in-residence at Vanderbilt University in Nashville. The residency is sponsored by BMI (Broadway Music, Inc.), and I was very impressed with the student composers with whom I worked.
I hope a 'big personal accomplishment' lies ahead: My husband, Gerhard, and I have written a full-length opera. Gerhard adapted the libretto from a novella by Heinrich von Kleist. The story is The Marquise of O. We have a German and English version.
What has been your biggest personal accomplishment?
That's a tough one. But I feel very happy and honored that we have seen our children through both happy and sad times. (I have three adult children and one stepson.)
How did Goucher prepare you for your career?
There are so many ways that Goucher has stayed with me. I always knew that I would write music, and, as a teenager, I knew that I would need a very broad liberal arts background to be a composer.
I had great mentors at Goucher. I feel very strongly that one of the goals at Goucher was to make me—and all the students—aware of and receptive to developing our own gifts…to tune my own instrument, as it were. In hindsight, Goucher really taught me to focus on finding my own rhythm, and to trust it.
What is your most vivid Goucher memory?
Goucher had (and continues to have) a wonderful music faculty. When I was a junior, Elliott W. Galkin, who was the chair of Goucher's music department [as well as music critic for The Baltimore Sun and director of the Peabody Institute], brought Mademoiselle Nadia Boulanger [an internationally renowned French composer, conductor, and teacher] to campus.
That evening in 1958, we sat in an audience listening to Mademoiselle Boulanger speak. Then, since she had heard one of the song cycles that I had written, Mademoiselle Boulanger offered scholarships to me and to Ruth Aiken Inglefield, a harpist, to study at the Conservatoire Americain in Fontainebleau, France, that year. We left to study at Fountainebleau in mid-May, and we studied there for four or five months. We came back unwillingly, but we had to return for our senior years!
Another vivid memory involves Professor Ernst Feise, who was a well-known scholar in German.  I minored in German, and I took his course in Goethe's Faust. That year, Dr.Feise broke his leg, and he was in traction and had to stay in bed. For the whole semester, the entire class went to his home, gathered around his bed, and read Faust. This was a memorable experience!
During my junior year, my father died. Goucher was magnificent—the college sponsored me in my senior year. So I have much to thank Goucher for.
To learn more about Elizabeth Rhudy Austin '60 or to hear her music, visit http://elizabethaustinmusic.com.