Problem-solvers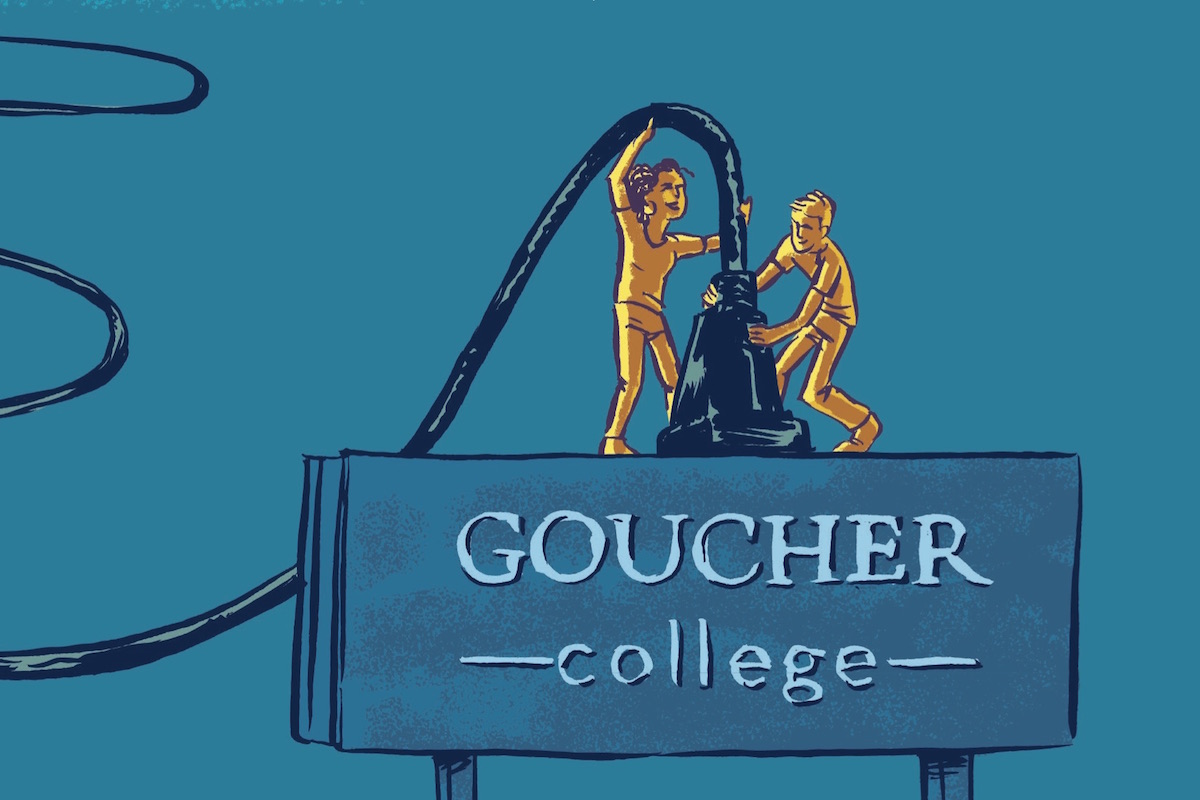 One of the most common charges leveled at liberal arts colleges in recent years is that they don't prepare students for the real world. That the philosophy major doesn't stand a chance against the engineering school grad in today's tech-driven economy. But more and more people are realizing what businesses have known all along: It all boils down to solving problems, and the more diverse knowledge you bring to the problem, the better equipped you are to solve it. By adding a set of interdisciplinary courses focusing on problem-solving to the curriculum, Goucher fosters the type of creative thinking that can lead to changing the world, but as these alumnae/i show, Goucher has never been short of creative thinkers looking for problems to solve.
The Coder
Some people run from problems; Julie Hubschman '16 goes looking for them.
"I joke that there's an addiction that comes with coding that no one tells you about," she says. "When you solve a problem correctly there's such a high you get, like, 'Oh my God, it works!' And that's the feeling I wanted."
Hubschman is feeling that way a lot lately, as a new engineer at Microsoft. She entered the tech giant as part of its college hire program, which rotates her through different programs as preparation for a job there. At her first posting, she worked in the company's security division, making their internal systems more accessible to disabled users. It was a response, she says, to a video made by a deaf woman, "basically tearing our product apart," she says.
Working with disabled employees—one blind woman in particular—Hubschman tested, coded, and retested solutions. Rather than bother someone every time she had something new, she would navigate the web with her screen turned off, listening to the prompts of a screen-reader program.
"Imagine a screen where you're just saying 'next,'" she offers. "Next means a lot of different things. Does it mean next page? Next line? Is something going to happen? Is the page going to change? There are all these connotations that people with vision just take for granted because they're able to get the context."
One of the steps in the employee system required registering a phone. Instructions were given over the phone, but deaf employees missed them. By adding a prompt on the screen to let them know what the instructions were, it allowed people with hearing difficulties to participate.
An unanticipated side effect of all the accessibility work, she says, was that it made the experience easier for sighted and hearing people as well. Employee training went faster all around with the added on-screen instructions.
At Goucher, Hubschman was an interdisciplinary major, concentrating on computer science and mathematics, so moving from discipline to discipline is a familiar path. In her other preparatory role at Microsoft, she worked with a team of psychologists, examining the user experience of Xbox gamers.
"I worked on a bunch of different things at Goucher," she says, "and I think all those different things make me more appealing."
Hubschman's interest in coding came early. Her father worked at Microsoft, and she was surrounded by technology.
"My parents always let me do whatever I was interested in," she says. "I will admit that coding is not for everybody. I have seen people who just can't grasp the concepts, but I think a lot of people would be shocked to know coding is about understanding basic concepts and then applying them. It's kind of like a puzzle, or a pattern."
Hubschman is transitioning to a new job with the company now that the college hire training has ended, and it's one she's excited about. She'll be working as a software engineer for the prototype and incubation team.
"This is the team that works on all the super-cool, super-secret stuff," she says, "where some see the light of day, but most do not."
If it sounds mysterious, there's one thing that's certain. There will be problems to solve.
The Businessman
Jorge Eduardo Castillo '99 gets to pick and choose which clients he'll work for. As a marketing consultant specializing in the Hispanic population, he's always in demand, and as the chairman and president of the Maryland Hispanic Chamber of Commerce, he keeps his schedule full.
"I like to get involved in things that matter," Castillo says. "I like to think that I do more than just a job. The job is just a title."
Born in Peru, Castillo moved to Bethesda, Maryland, when he was 12, slowly working his way up I-95 to his present home of Baltimore, where he runs his consulting firm, ¡Onward! Estrategias. He's recently received a nod for "Very Important Professionals Successful by 40" from The Daily Record, a "Veinte Excellence Award" for service to Washington, DC, and Greater Baltimore's Latino community for more than 20 years, and the NFL's Hispanic Heritage Leadership Award for 2017.
Castillo can't talk about his current clients, but he says people come to him with a few different types of problems.
"Typically, it falls into three camps," he says. "Either something very broad, like 'How do you penetrate the Hispanic market?' or something very specific, like 'What would be a marketing strategy to launch this product?' The other one is 'Who can I talk to?' or 'Who needs to be my friend, because I'm trying to achieve A, B, and C?'"
Having that network is a big part of his job, and it's easy to see that the affable Castillo, who can range over a variety of topics over the course of a conversation, has no difficulty making connections. One organization he has no problem discussing is the There Goes My Hero Foundation, which he stumbled across at a networking event.
It was a charity kick-off event, held on the one-year anniversary of Erik Sauer's bone marrow transplant, without which Sauer would have died. Castillo's father died of leukemia, and Sauer asked him to join the foundation's board.
Castillo soon realized that there was a lack of awareness about bone marrow transplants. For most people, it presented the fear of a painful procedure. Castillo and the group's board set out to educate them further.
"You just had to get out there in the community and market the heck out of it and have a clear message," he says. "My strategy was to basically demystify what a bone marrow transplant is and what a bone marrow donation is. Slowly but surely we started showing people how easy it can be, and the fantastic potential that they have to save someone's life."
Castillo remains a board member of There Goes My Hero, and he's taking on consulting clients, but his focus right now is the Maryland Hispanic Chamber of Commerce. He's dealing with a few issues in the statehouse—the lack of minority representation in medical marijuana licenses for one—and he also hopes to continue to expand the chamber with regional offices in Maryland's counties. In the meantime, he's still available for marketing, just don't come to him with a bad idea.
"I don't mess with things that don't resonate with me," he says. "If you hire me to sell a bad product, I'm just going to pass. It has to be something I can legitimately feel passionate about. [Otherwise] I'm not even going to bother with it. Because you can't fake passion."
The Healer
Ronnie Klein '68 was on vacation in 2011 when she made the connection that would mark the next phase of her life.
The mostly retired professor of bio-ethics and her husband, ophthalmologist Richard Klein, were on a vacation to Myanmar, near Inle Lake in the eastern Shan State. Just months before, the military junta that ruled the country for almost 50 years was dissolved, and a 1992 tourism boycott called by then-imprisoned opposition leader (and current state counselor) Aung San Suu Kyi was lifted.
"We had gone just as it opened up," she recalls. "Partly out of academic interest, I guess you could say, but in the back of our minds we wanted to do a project."
A few weeks into their visit, their guide, whom Klein had befriended, made them an offer—they could skip the day's tourist attraction and "meet someone interesting." The Kleins chose the latter, taking a boat up a series of small rivers to a medical clinic on Inle Lake. There, they met a doctor who had set up the clinic, which treated about 100 people a day from the remote mountain region around the lake. In the basement of the clinic, he pulled back a curtain to show them what Klein estimates was $500,000 in ophthalmological equipment, top-of-the-line, but unused.
The seed of an idea was planted, and it grew the following year when they visited a small eye hospital in central Myanmar. It also was beautifully equipped, but open only two days a year.
The Kleins learned that an influential monk in Mandalay had set up 28 eye clinics around the country, but they were staffed only by a small team of traveling volunteer doctors who visited the clinics for a few days each year. Under the monk's auspices, they gained access to the hospital system, which had been largely off-limits to foreign doctors.
A separate conversation between Richard Klein and an ophthalmologist working at a refugee camp revealed another surprise. Cataracts are a common cause of blindness, in Myanmar as elsewhere. They occur mostly in elderly patients, and were the main type of blindness being treated in the clinics. However, diabetic retinopathy, a separate type of blindness caused by diabetes, was unknown in the refugee clinic, according to the doctor, despite high incidences of diabetes.
To retina surgeon Richard Klein, that didn't make sense, worldwide, around a third of people with diabetes show signs of diabetic retinopathy. But unlike cataracts, diabetic retinopathy takes time to develop, and where cataracts cloud the lens of the eye, diabetic retinopathy, as the name suggests, works on the retina. Klein believed the overworked local doctors were missing something. So the Kleins, with a team of doctors recruited from around the world, started looking, visiting Myanmar every year, screening for diabetic retinopathy and treating it with a portable laser.
In June, the Kleins coauthored the results of a pilot study in the journal BMJ Open Ophthalmology. They found that a third of the diabetics they screened over a one-month period in Myanmar showed signs of diabetic retinopathy. Ronnie Klein, who takes the patients' case histories, says the situation is far different from the U.S., where doctors can easily schedule follow-up visits to monitor their patients.
"We've got to do a bigger epidemiological study just to see how big the problem is," she says. "One of the first years we did the screening program, I was taking case histories and someone said 'Oh, I've had diabetes for six months.' Then the doctor examined them and they'd had it for 20 years."
Because of the scarcity of doctors, and the distances people need to travel to see them, it's imperative to treat them when they come. "With some of them, you really only have one shot," she says. That's also why she's been reaching out to general practitioners, who give the diabetes diagnosis. "Each of us adds a piece, as we understand a little more of a complex situation," she says.
Myanmar is composed of 135 recognized ethic groups with a history of conflict, and even the name of the country is in dispute for political reasons. (Some areas prefer the colonial "Burma.") Even now, the United Nations is currently investigating accusations of ethnic cleansing against the government for its treatment of its Rohingya minority. In 2014, the government ordered Doctors Without Borders to cease activities there. It is, in short, a daunting place for an outsider to wade into, even with the best intentions.
While Dr. Klein handled the clinical aspects of the project—surgery, screening, laser treatments—Ronnie Klein handled the arrangements for the group they started, SaveSightMyanmar. That meant arranging to borrow a portable laser from the nonprofit See International for the one-time procedure to fix diabetic retinopathy, talking foreign eye surgeons into volunteering their time, and generally arranging the logistics of a medical mission to the other side of the world.
"As we got in there and started making connections," Klein says, "there was a lot of political finesse to get around things, but I feel like we're in a good place now."
In the near future, the Kleins hope to focus more on training, transferring the treatment to local doctors, possibly through a connection their team made with a woman who heads an eye hospital in Mandalay. She says they have some younger people on board now, and they're "laying the groundwork for a project that will grow well beyond our contribution."
This wasn't how the Kleins imagined their retirement would go, she says, and they weren't consciously looking to fill their time, but there was a serendipitous quality to their meetings early on in Myanmar. They spend about a month there every year.
"I didn't see myself in some little village trying to help people," she says. "I don't think my husband did either. I guess when your kids are out of the house, and you have more time, we decided to find something that was going to be fulfilling for the next couple of years."
Goucher has always been home to creative thinkers and people who solve complex problems with peers from different backgrounds than their own. Goucher's new curriculum is devoted to continuing that tradition, with special emphasis on working together to answer the world's biggest questions. It's a tradition that began with John Franklin Goucher in 1885, and that innovative spirit continues into the 21st century and beyond.