President Bowen to receive national award honoring contribution to higher education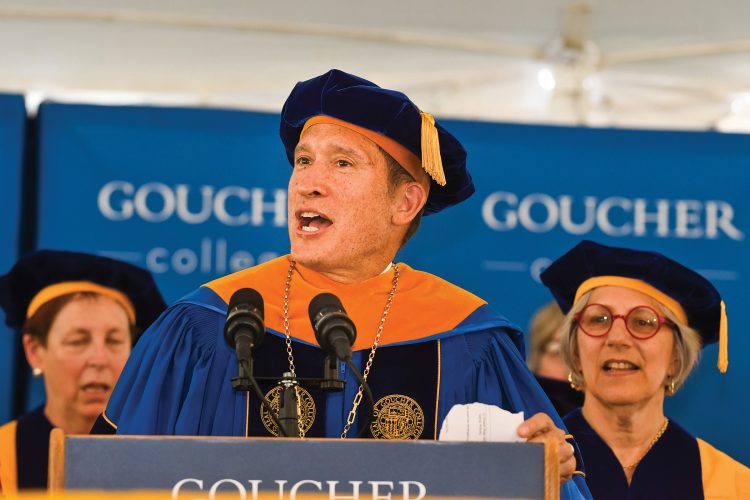 This fall, the New American Colleges and Universities (NAC&U) announced that Goucher College President José Antonio Bowen will receive the Ernst L. Boyer Award. This prestigious national award honors those who are making a significant contribution to American higher education. Dr. Bowen will receive the award on January 25, 2018, at the NAC&U national meeting in Washington, DC, where he also will deliver a lecture titled "Technology, the Liberal Arts, and the New Learning Economy."
"It's a great honor to be selected by my distinguished colleagues at NAC&U as the 2018 Boyer Award recipient," says Bowen. "I am a steadfast advocate of the liberal arts and Goucher's new curriculum is a testament to that commitment. Preparing students for the jobs of the future, where they will need to solve complex problems in diverse groups, has always been central to the liberal arts, but it also requires constant innovation in a rapidly changing world."
Before joining Goucher, President Bowen began shaping the innovative teaching methods for which he is being honored at leading colleges around the country. He was the dean of the Meadows School of the Arts at Southern Methodist University, dean of fine arts at Miami University, and taught at Stanford and Georgetown. He is the author of the award-winning book Teaching Naked: How Moving Technology out of Your College Classroom Will Improve Student Learning and its sequel, Teaching Naked Techniques: A Practical Guide to Designing Better Classes. Bowen has written more than 100 scholarly articles and is an accomplished jazz musician.
"As an advocate for the value of liberal arts and a proponent of innovative teaching strategies, José Antonio Bowen has directly helped institutions nationwide to improve the ways in which they help students become informed, productive citizens as well as ready for careers in the 21st century," said Nancy Hensel, president of NAC&U. "These contributions strongly reflect Boyer's view of higher education's role in our society."
The Ernest L. Boyer Award honors Ernest Boyer's impact on how society understands undergraduate education. Boyer's work gave rise to NAC&U when like-minded private colleges, grounded in the liberal arts tradition, came together to define their distinctive mission and contribution to higher education in the early 1990s.
President Bowen will be the 10th recipient of the award. Previous recipients of the Ernst L. Boyer award include Beverly Daniel Tatum, the ninth president of Spelman College; Cathy Davidson, founding director of the Futures Initiative and a distinguished professor in the Ph.D. program in English at the City University of New York; Ira Harkavy, associate vice president and founding director of the Center for Community Partnerships, University of Pennsylvania; Edward Ayers, president emeritus of the University of Richmond; and other notable scholars.