Porscha Burke M.F.A. '17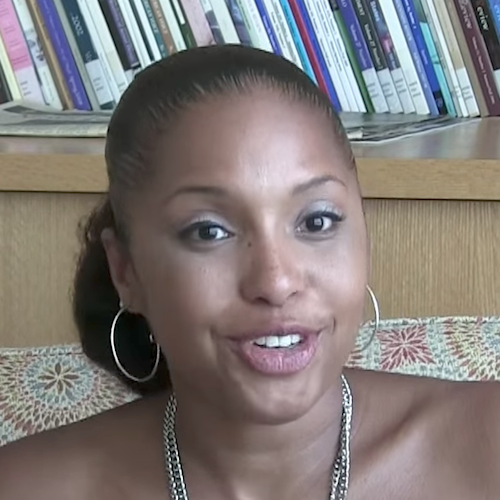 By Chris Landers
Porscha Burke M.F.A. '17 has a simple answer for how she became a publishing manager and associate editor at Random House 13 years ago: prayer.
The self-described "unapologetic Christian girl" isn't exaggerating. She did pray for direction. Three years out from the University of Virginia, she was working in the music business, but she didn't think she was cut out for that world.
"I realized my purpose was to help people, and my passion was grammar and writing," she says. "When I pulled those together, the answer to my prayers was to use my love of grammar to help people who have important things to say, say them in a way that will expand their audience, expand their reach. "
The best place to do that, she figured, would be Random House, one of the largest book publishers in the world. So she applied. And kept applying. In fact, she never applied anywhere else.
"I applied to Random House every day for months before they called me in," she says. "When HR called me, I didn't know what job they were calling for. At that point, my cover letters were opening with 'Please let this be the one.'"
The one turned out to be a position as executive assistant to the president of the company, Gina Centrello. Burke says Centrello was a godsend. Realizing quickly that she wanted to become an editor, Centrello sent Burke out of her office to study under established Random House editors. She also became known in the company as a good assistant, and it was in this capacity, working with storied editor Bob Loomis, that she answered a call from Maya Angelou's office.
"I saw the name and thought it was going to be her assistant," Burke says. "I answer the phone, thankfully very politely, and I hear her voice. I almost burst into tears."
Burke and Angelou developed a rapport, so much so that when it came time to edit the famed poet's second cookbook, Loomis recommended Burke for the job.
Burke says, "Dr. Angelou would call me to go through her copy edits by phone instead of returning them on the page. Over that time, she would just stop and tell me stories about her mother, about experiences cooking for people, to the point where sometimes we didn't get any edits done because she was just telling me stories."
Burke continued as Angelou's editor—a role that inspired Burke to consider a return to graduate school, in pursuit of an MFA. "I realized that if I wanted to get better as an editor, I needed to do a little brushing up on certain skill sets, because most editors in this business move up the ranks by working directly underneath another editor," she says. Because her path was more circuitous, she wasn't going through the same learning process. At the same time, she was already working her dream job, so she wasn't about to quit to go back to school. Goucher's low-residency Creative Nonfiction Program topped her short list, and she asked Angelou if she would write her a recommendation letter.
Angelou agreed, and wrote the letter. In an odd twist of fate, Angelou's assistant dated the letter June 6, since Burke wouldn't be applying until August of that year. Angelou passed away May 28.
"'I don't know what to do about this,'" she recalls thinking. "Here I have this letter written to these schools with her original signature, but this has got to look crazy to people. How can I use this? Is anybody going to believe me? Then I realized [this story would be] my personal statement: the experience of working with her and having this almost priceless item with a little mistake on it. That's just very timely. She gave me that gift."
When Burke's grandmother passed away just three months after Angelou, Burke found solace in Angelou's words. As she compiled a collection of quotes titled Rainbow in the Cloud, published later that year, Burke felt buoyed by fond memories of playing Boggle with the family before dinner at the poet's home, doing the newspaper jumble with her over morning coffee. Scenes much like those she shared with her own grandmother.