Planting empowerment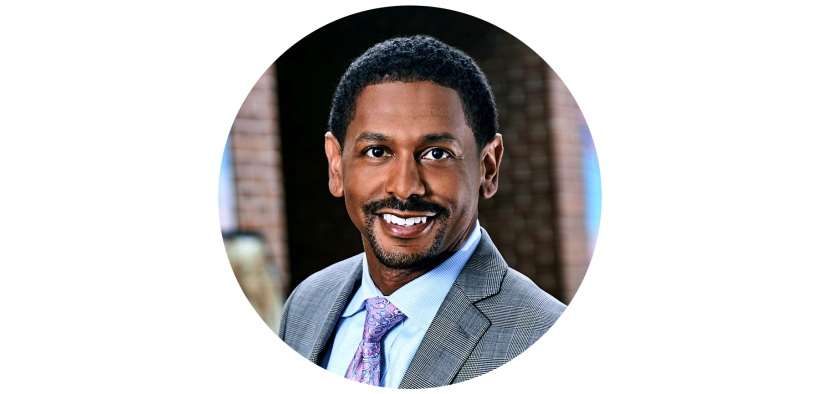 Logan S. Herring Sr. '04 is the recipient of the 2022 Marguerite Barland '60 Merit Award, which celebrates Black alumnae/i who have significantly contributed to equity on and off campus.
By Molly Englund
In 2006, Logan S. Herring Sr. '04 was approached by his older brother with an offer. How would you like to start an organization to help kids and make $40,000 a year doing it? he asked.
"Back in 2006, as an early twenty-something, $40,000 annually sounded like a lot of money," Herring said. The idea was that Herring, his brother, and Herring's friend Eugene Young Jr. would start a nonprofit in Wilmington, DE, where they were from, offering mentoring and basketball for young men, particularly for young Black men in need of holistic support. They named the organization Delaware Elite and went all in.
"I'm still waiting on that 40,000," said a smiling Herring. They put all the money they raised right back into the program. It was hard work, and they each felt their sacrifice. Herring's brother, who was already established in business, had put up a lot of the seed money, and Herring and Young devoted much of their 20s to supporting kids through the program, at times feeling like they were raising kids themselves. Altogether, several hundred boys attended the program.
"Some of it was really heavy emotionally," Herring said.
Starting out, Herring didn't know just how much they would have to sacrifice, but he knows it was worth it. "We learned so much from this journey, and there were so many seeds planted," Herring said. They made connections with major funders and absorbed every lesson they could.
Today, Young is the head of the Delaware State Housing Authority, and Herring is the CEO of The WRK Group, an organization of three nonprofits, The Warehouse, REACH Riverside, and Kingswood Community Center. In 2021, Herring was named Delaware Business Times' CEO of the year.
Herring was first tapped in 2016 to take over as the interim director for Kingswood, which was struggling to stay afloat. It didn't have any services for teens, and Herring saw an opportunity. The CDC had published a report the year before declaring that gun violence in Wilmington had reached the levels of an epidemic.
After securing funding for Kingswood and turning its finances around, Herring and his team proposed taking over a nearby warehouse and bringing in all the local teen-service providers under one roof. Soon, the Warehouse was born, albeit in a school building instead. They hired teenagers to take part in the design and programming, which is part of the ethos of The WRK Group. "Sometimes all they need is a little bit of support, encouragement, to empower them to control their own destiny," Herring said.
REACH Riverside followed in 2018, which works with the residents of Wilmington's Riverside neighborhood to build it into a thriving community. The donors he met through Delaware Elite are some of his group's biggest funders today.
"Those seeds have been planted for a long time," Herring said, "and are now starting to flourish."
Herring will be recognized at the February 18 Jewell Robinson Dinner. For more information, contact the Alumnae/i Office at alumni@goucher.edu or 410-337-6180.