Our (non)essential guide to Baltimore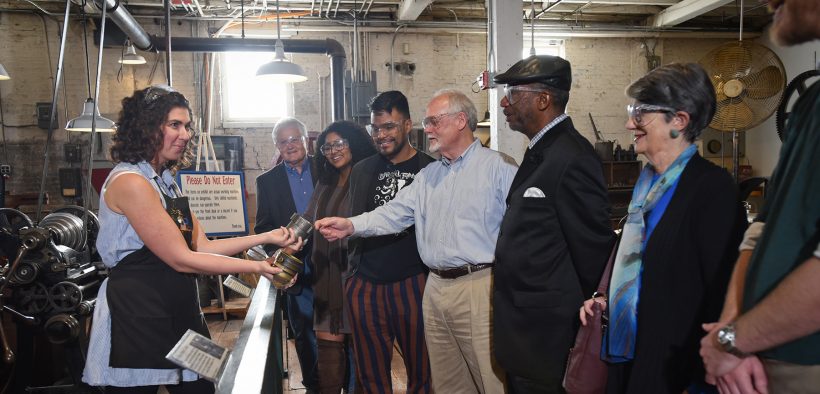 By Melissa Simmons
If you're traveling to Baltimore, chances are walking the waterfront and dining on seafood are in your plans. But a trip to Charm City could include so much more. Musical performances, museums, and new food halls are awaiting your visit—and you might run into Goucher alumnae/i as you explore. While there can't be just one definitive guide to Baltimore, we've covered a few of our essential activities you can explore in Baltimore.
Baltimore Farmers Market and Bazaar
Baltimore Farmers Market and Bazaar is one of the most popular Sunday-morning experiences in the city. Hundreds of locals shop for farm-fresh groceries, listen to live musical entertainment, and enjoy delicious made-to-order items. Favorites include fried oyster mushrooms, falafel wraps, avocado toast, and freshly squeezed orange juice. Handmade clothing and accessories, woven baskets, natural body products, and original artwork are also great finds.
Baltimore Museum of Industry
The Baltimore Museum of Industry is often described as the connection factory. Visitors feel a connection to the city as they learn about oyster shuckers, garment makers, and steel workers' contributions to Baltimore's development. Exhibitions across the museum include the 1865 Platt and Company oyster cannery, a circa-1929 garment loft, and a print shop featuring a working 1936 Linotype machine.
Joseph Meyerhoff Symphony Hall
Listen to one of the world's finest orchestras at the Joseph Meyerhoff Symphony Hall in Baltimore's Mt. Vernon neighborhood. Since its opening in 1982, the Baltimore Symphony Orchestra has become an internationally known music venue for its pursuit of artistic excellence, innovative education programs, and community outreach initiatives. Shows range from Mozart piano concertos to the movies with orchestra series (The Wizard of Oz and Star Wars are on tap for spring 2020).
R. House
R. House is a community and food hall that started from 10 chefs' desire to open restaurants in a united space. Korean street food, tacos, pizza, and poke bowls are some of the many items you can choose from, and the hall hosts pop-up kitchens to give new chefs and their teams a chance to bring unique flavors to the hall. At R. House, locals are neighbors and they make themselves at home by using the space to collaborate on projects, spend time with family, and celebrate life accomplishments.
Verde
Dine on some of the city's finest Italian specialties at Verde in Baltimore's Canton neighborhood. Verde is owned and operated by a husband and wife team that prides itself in providing quality food to every guest. Locals pack the restaurant for their half-off pizza night, brunch, and evenings where a portion of their proceeds are donated to local nonprofits. Favorites include classic margherita, crab Benedict, and Nutella pizzas.
(Photo at top): Machine shop teacher and tour, courtesy of the Baltimore Museum of Industry