New & Notable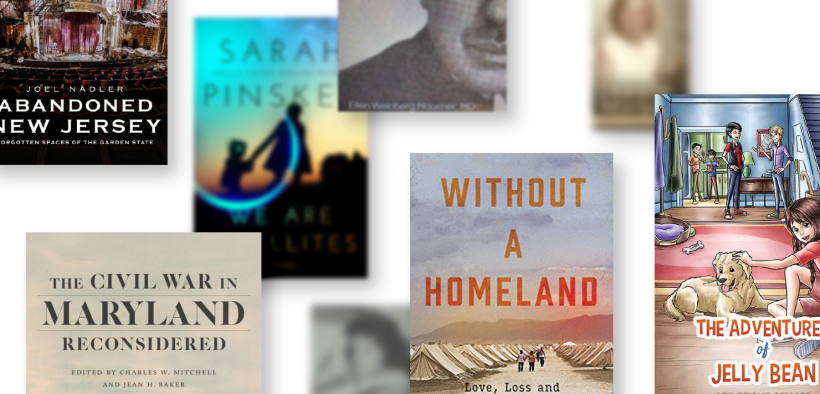 The Forgotten, by 
Rosalind Fox Solomon '51
Mack Books
The latest book by photographer Rosalind Fox Solomon begins by meditating upon the differences and regularities that shape lives around the world. In a Brazilian favela, a man daydreams while holding a reproduced painting of French royalty. In New York, a mother beams at her daughter who wears a Statue of Liberty Crown. In a school in Guatemala, young children pretend to make music with paper instruments. As the sequence progresses, a darker story emerges: one shaped by the violent events of recent global history. Through powerful black-and-white photographs, Fox Solomon offers a reflection on the evils of war.
We Are Satellites, by 
Sarah Pinsker '99
Berkley
From award-winning author Sarah Pinsker comes a novel about one family and the technology that divides them. Val and Julie just want what's best for their kids, David and Sophie. So when David comes home from school begging for a new brain implant to help with his studies, they're torn. Soon, everyone at Julie's work has the implant. But Sophie can't shake the feeling that something sinister is going on behind the scenes and she's going to do whatever it takes to find out—even if it pits her against a powerful tech company and the people she loves most.
The Civil War in Maryland Reconsidered, edited by Charles W. Mitchell and
Professor Emerita Jean Harvey Baker '61
LSU Press
A collection of 13 essays, co-edited by Professor Emerita Jean Harvey Baker '61, that uses new research and focuses on Maryland's unique role in the Civil War as a border state and adds "new dimensions of the American Civil War," according to the book's subtitle. The essays cover topics like Dred Scott, Baltimore's secessionist movement, emancipation, the failed promise of Reconstruction, and more.
The Adventures of Jelly Bean, by 
Amy Meislin Pollack '74
Austin Macauley Publishers
What if the start to your day was falling into the toilet, that caused you to miss your carpool, that in turn caused you to get to school late, that ultimately caused you to miss getting one of the decent parts in the upcoming Thanksgiving play? That is exactly what happens to fourth-grader Jelly Bean on the day we first meet her. Things only go downhill from there and no one at home seems to have much time for her. Except Roger-Over, her beloved dog.
Abandoned New Jersey, by
Joel Nadler '20
Arcadia Publishing
Readers are invited to see behind some of the closed doors of abandoned buildings throughout New Jersey, such as old houses, hospitals, movie palaces, and more. The spaces, many beautiful, if decaying, have been left on the wayside and forgotten. Some continue to disintegrate and others have already been demolished. Follow Joel Nadler on a photographic journey of these lost places. He shares some untold stories and makes readers aware of the issues surrounding these hidden gems. In addition to photographs of extraordinary places, this book offers readers insights to help them appreciate and preserve these important buildings.
Jacob Weinberg, Musical Pioneer, by 
Ellen Weinberg Mausner '74, M.D.
Independently published
This is a biography of Jacob Weinberg (1879-1956), a brilliant Russian-Jewish composer and concert pianist. Born in Odessa, he trained at the Moscow Conservatory of Music (1901-06) and became a concert pianist and prolific composer. He wrote the first Hebrew opera, The Pioneers of Palestine (aka Hechalutz). He emigrated to the U.S. and settled in New York with his family. His works were performed in New York at such cultural landmarks as Carnegie Hall, Town Hall, City Center (formerly the Mecca Temple), and the 92nd St Y. This book is written by his granddaughter, Ellen Weinberg Mausner.
Without a Homeland: Love, Loss and Resilience at Qatrom Refugee Camp, by 
Bobbie Lord '62
Seascapes Press
In 1999, Bobbie Lord headed to the Qatrom Refugee Camp to assist the Kosovar Albanians who fled ethnic cleansing. She had been assigned the job of camp manager at Qatrom and its 3,000 refugees. Despite her experience in humanitarian work, Bobbie was uncertain. At 60, was she too old to handle the pressure? How could she ensure the refugees' health and safety while also helping them deal with trauma and boredom? Without a Homeland recounts the courage and resilience of a people facing unimaginable obstacles, and one woman's mission to give them hope that someday, they would return home.
Doctor Miriam, by
Miriam S. Daly '46, M.D.
Independently published
Doctor Miriam is the true story of a small-town physician. Television portrays women doctors as sacrificing their personal lives for their careers. Miriam Shamer Daly's life was far different than the doctors' portrayed on TV. She married a classmate as a 23-year-old medical school student, practiced medicine, and had four children. On television, each episode involves new patients whom the doctor meets for the first time. Practicing medicine for 44 years, Daly sometimes met her patients as toddlers, delivered their babies, and knew them as grandparents or even great-grandparents. Daly's stories are amazing, and they are all true.