New & notable books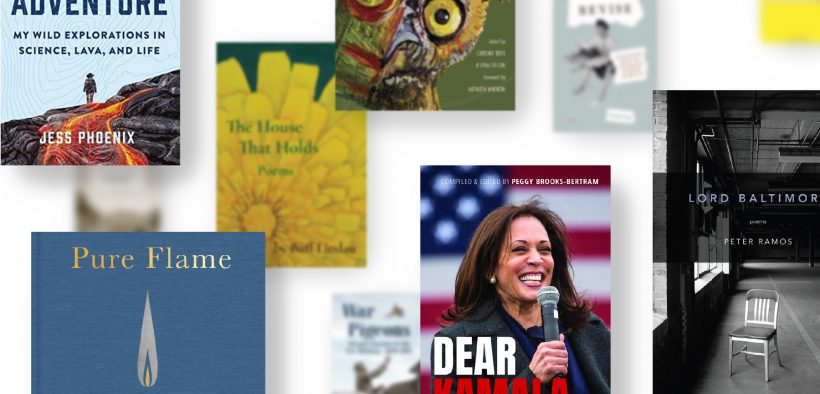 Recent books in fiction, nonfiction, and poetry from the Goucher community
Where the Red-Winged Blackbirds Sing
Jennifer Bess
Assistant professor of peace studies
Jennifer Bess examines the ways in which the Akimel O'odham, or River People, and their ancestors, the Huhugam, adapted to economic, political, and environmental constraints imposed by federal Indian policy, the Indian Bureau, and an encroaching settler population in Arizona's Gila River Valley. Drawing directly on Akimel O'odham traditional ecological knowledge, innovations, and interpretive strategies in archives and interviews, the book highlights the adaptation, innovation, and co-creation fundamental to Akimel O'odham lifeways and chronicles the contributions the Akimel O'odham have made to American history and to the history of agriculture.
How to Measure a World? A Philosophy of Judaism
Martin Shuster
Associate professor of philosophy
What does it mean to wonder in awe or terror about the world? How do you philosophically understand Judaism? Martin Shuster makes sense of Emmanuel Levinas' claim that Judaism is best understood as an anachronism by considering questions of the inscrutability of ultimate reality, the pain and commonness of human suffering, and the ways in which Judaism is entangled with the world. Drawing on phenomenology and Jewish thought, the book looks at classic figures of Jewish philosophy while inserting other voices into the tradition, from Moses Maimonides to Stanley Cavell.
Pure Flame: A Legacy
Michelle Orange
Adjunct lecturer
"During one of the texting sessions that became our habit over the period I now think of as both late and early in our relationship, my mother revealed the existence of someone named Janis Jerome," writes Michelle Orange. Jerome is one of her mother's many alter egos: the name used in a case study about her choice to leave her husband and children to pursue a career. The decision forms the heart of an exploration of the mother-daughter bond, told through a blend of memoir, social history, and cultural criticism.
The House That Holds: Poems
Buff Lindau '66
According to the back of the book, The House That Holds, written over the past dozen years, is about living in Vermont. These poems celebrate home, family, art, and gardens as these subjects come to us, as they are experienced within the context of alived life, and not in the context of "poetry." They engage in everyday life instead of passing over daily life to prematurely philosophize. There are depths to these poems, but what we confront daily is never ignored, rather celebrated for being the life we have.
Kintsugi: The Poetic Mend
Bonnie Kemske '80
Kintsugi is the Japanese art of repairing broken pottery with lacquer mixed with a precious metal, usually gold, silver, or platinum. The technique, rather than disguising a repair, highlights it and makes it beautiful. This book explains what traditional kintsugi is and how it is done. The underlying concept of kintsugi, which encompasses the wabi aesthetic of accepting the imperfect, has struck a chord in other fields. The book discusses how it's being used in music and literature, with the inclusion of short works of fiction or poetry separating chapters.
Reflections of a Decade: My Facebook Wisdom and Humor
Heidi Klotzman '06
After social media erupted, Heidi Klotzman '06 began using Facebook statuses as a form of expression more than poetry. In her second book, she shares statuses from 2009-19 in which she found the most meaning and humor. "Compile yours, and see a journey of perspective unfold," reads the back copy. "They shed light on the state of mind we were in at the time—similar to how we measured our height each year with those marks on the wall. Moments of joy, hope, frustration, repeated habits, silliness, searching, and peacefulness."
Lord Baltimore
Peter Ramos '92
The Literary Review's Lisa Low wrote, Lord Baltimore "offers a dark vision of mid-to-late twentieth-century America as a lonely urban and suburban, post-industrial wasteland. The poems … teem with images of a hard-working, hard-knock America, where depression, job loss, alcoholism, drug abuse, racism, alienation, loneliness, and violence all grind and spew out disappoint­ment and decay. In these seemingly autobiographical poems, Ramos—a first-generation U.S. citizen born … to a bilingual family of Venezuelan descent—charts the course of a young man trying to establish himself as a poet in Baltimore."
Watching in Tongues: Multilingualism on American Television in the 21st Century
James G. Mitchell '96
This book explores second language (L2) speakers and L2 use as portrayed on American television. It examines television depictions of L2 speakers and L2 use from the first decades of the 21st century, told in four sections: Humor and Homicide, Language Learning, Subtitles and Stereotypes, and Language Attitudes and Mediation. This work asks questions about L2 use on television, and it provides answers that shed light on issues of the representation of language learning and use and constitute a lens through which American society as a whole might be understood.
This Is What America Looks Like: Poetry and Fiction From DC, Maryland, and Virginia
Jona Colson '01 and Caroline Bock (co-editors)
Jona Colson '01 co-edited an anthology of new fiction and poetry from Washington Writers' Publishing House, a 47-year-old cooperative, all-volunteer press based in the nation's capital that hasn't published an anthology in 25 years. In This Is What America Looks Like, 100 writers and poets from DC, Maryland, and Virginia draw a portrait of the creative state of our union. This diverse and inclusive anthology features 111 works of poetry and fiction. In addition to featuring 100 writers, the cooperative awarded three fiction writers and three poets for their work.
The Architecture of Downtown Troy: An Illustrated History
Diana Steck Waite '65
Winner of the Society of Architectural Historians' 2021 Antoinette Forrester Downing Book Award, this book tells the forgotten stories of the many handsome and significant buildings in downtown Troy, New York, which was once an industrial giant. Stores, banks, churches, firehouses, and schools sprouted up in the latest architectural styles. By the mid-20th century, however, downtown stagnated, leaving building facades and interiors untouched. Today, reinvestment is accelerating, and Troy now boasts what The New York Times has called "one of the most perfectly preserved 19th-century downtowns in the United States."
Dear Kamala: Women Write to the New Vice President
Peggy Brooks-Bertram '70 (editor)
As the first woman of color elected vice president of the United States, Kamala Harris broke through many barriers, energizing many women. Seeing a model of themselves filling the second-most powerful office in the Free World, women began writing to the new vice president. Dear Kamala showcases a selection of these heartfelt and moving letters. Girl Scouts confide their fears for a future ravaged by climate change; a business owner in Harlem offers unflinching advice about the need for investment in inner cities; and civil rights activists share their stories.
War Pigeons: Winged Couriers in the U.S. Military, 1878-1957
Elizabeth G. Macalaster '73
For more than seven decades, homing pigeons provided the U.S. military with its fastest, most reliable means of communication. These birds carried messages in and out of gas, smoke, bombs, and gunfire. This is the first complete account of the service homing pigeons provided for the American armed forces, from its beginnings after the Civil War to the birds' role in the U.S. military through both World Wars and beyond. Personal narratives, primary sources, and news articles tell of the pigeons' training, deployment abroad, and use on the home front.
Southern Ground: Reclaiming Flavor Through Stone-milled Flour
Jennifer Lapidus, M.F.A. '10
In Southern Ground, Jennifer Lapidus, M.F.A. '10, celebrates craft bakers from all over the South. With detailed profiles on top Southern bakers and more than 75 curated recipes arranged by grain, Southern Ground harnesses the wisdom and knowledge that the baking community has gained. This love letter to Southern baking is a call for the home baker to understand the source and makeup of the most important of ingredients: flour.
Revise: The Scholar-Writer's Essential Guide to Tweaking, Editing, and Perfecting Your Manuscript
Pamela Haag, M.F.A. '08
Many scholar-writers know how to write, but fewer know how to revise their own writing, spot editorial issues, and transform a draft from passable to great. Drawing on examples from more than a decade as a developmental editor of scholarly works, Pamela Haag, M.F.A. '08, tackles the most common challenges of scholarly writing, demonstrating how to reconcile clarity with intellectual complexity.
Ms. Adventure: My Wild Explorations in Science, Lava, and Life
Jess Phoenix, M.F.A. '18
As a volcanologist and natural hazards expert, Jess Phoenix, M.F.A. '18, has walked into Hawaiian lava fields, glittering cocktail parties, and numerous pairs of Caterpillar work boots. It has also inspired her to devote her life to making science more inclusive and accessible. Ms. Adventure blends personal memoir, daring adventure, and scientific exploration, following Phoenix from reality television sites in Ecuadorian jungles to Andean glaciers, from university classrooms to Death Valley in summer.
Black Panther: Tales of Wakanda
Jesse J. Holland, M.F.A. '12 (editor)
This anthology of 18 tales celebrates Marvel's superhero Black Panther and his home of Wakanda, penned by an all-star cast of authors such as Sheree Renée Thomas and Nikki Giovanni. T'Challa faces the gods of his parents. Vampires stalk Shuri and a Dora Milaje in voodoo-laced New Orleans. Erik Killmonger grapples with racism, Russian spies, and his own origins. These are stories of yesterday and today, of science and magic, of faith and love. These are the tales of a king and his country. These are the tales of Wakanda.
Into the Loneliness: The Unholy Alliance of Ernestine Hill and Daisy Bates
Eleanor Hogan, M.F.A. '09
Daisy Bates and Ernestine Hill were bestselling writers of life in the Australian interior. They collaborated on the 1938 bestseller The Passing of the Aborigines, informing popular opinion about Aboriginal people for decades. From today's perspective, their outlook seems dated, paternalistic, and racist. Yet they took a genuine interest in Aboriginal people long before they were considered worthy of the Australian mainstream. With sensitivity and insight, Eleanor Hogan, M.F.A. '09, reflects on these women.