Mind shift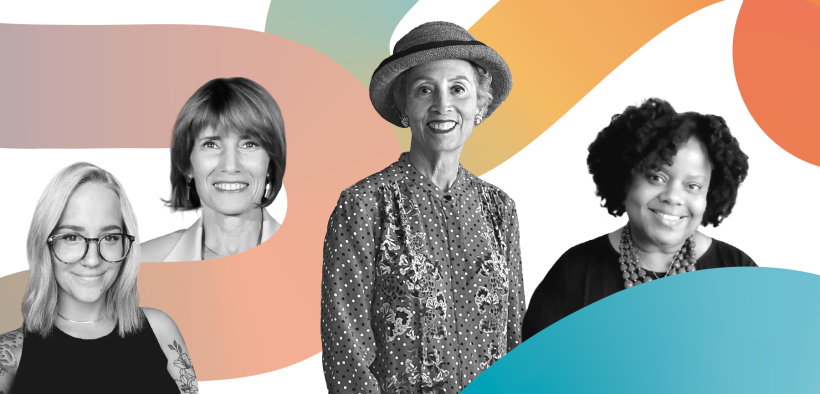 The rise of mental health awareness during the pandemic has spurred a transformative transition to teletherapy for both practitioners and patients.
By Martha McLaughlin, M.F.A. '16
"We've learned from mental health professionals that the social isolation many people experienced during COVID increased levels of anxiety and depression," says Ellie Hart '68, a mental health first aid (MHFA) instructor living in South Palm Beach, FL. She describes MHFA as being "like CPR for mental health. It teaches people how to recognize the signs and symptoms of someone having a mental health or substance use challenge—[a skill that] became even more important during the pandemic."
It's true. Treatment for anxiety and depression has increased since the pandemic began. As have reports of everything from sleep disturbances and stress-related illnesses to rates of substance abuse, opioid overdoses, and suicide.
According to Nyasha Grayman, Henry S. Dulaney Professor and associate professor of Africana studies and psychology at Goucher, "the pandemic instigated a next-level mental health crisis in the country."
In his March State of the Union address, President Biden echoed Grayman: "Our country faces an unprecedented mental health crisis among people of all ages. …The grief, trauma, and physical isolation of the last two years have driven Americans to a breaking point."
"Teletherapy has been a critical tool in addressing [this crisis]." says Grayman. And teletherapy—the provision of mental health services online or over the phone—has grown exponentially since the pandemic began.
While the technology to provide teletherapy has existed for many years, Frontiers in Psychiatry found it was only "used sparingly" before March 2020, for significant reasons.
"It's not real therapy," Grayman would have told you five years ago—she also maintains a private practice providing grief therapy.
Psychologist Sharon Churnin Nash '69, who has worked in the field more than 30 years, only used teletherapy here and there to accommodate a client unable to get to her office. Nash works predominantly with Silicon Valley professionals—her office is just a stone's throw from the world's center of technology and innovation. Yet her clients rarely requested remote appointments.
Even millennial Hannah Rose '12, who "put a lot of emphasis on the cathartic and connecting power of in-person counseling," wouldn't use it for her own therapy practice before March 2020. "Teletherapy was pretty stigmatized before the pandemic," she says. "None of my clients would have been comfortable meeting via teletherapy even in weeks that they had to miss a session."
But with COVID-19 came "stay-at-home" orders. If these therapists wanted to continue seeing clients—they did—they had to be willing to try teletherapy. They were willing.
Before she started her private practice in January 2020, Grayman had the prescience to choose an electronic health records software with a HIPAA-compliant teletherapy feature. She had no idea how well—or how much—it would serve her.
In February 2020, when the Santa Clara County public health director mandated a stop to in-office visits, Nash couldn't believe it. It seemed so "extreme," she recalls. But her four adult children helped her set up Zoom access at her home office with a large screen and a camera, "and I have been seeing my clients that way ever since," she says.
Rose, a licensed clinical professional counselor who is also an adjunct psychology professor at Goucher, started using telehealth the week after Maryland's governor issued a stay-at-home order. "We all thought it would be super temporary and just sort of leaned into the awkwardness of it," she reflects. "Now, it's the norm."
In the two years these therapists have been using teletherapy, they've all had their share of technology glitches and pivots to plans B and C, but they've also experienced improvements in telehealth as it's risen to meet the needs of its users. Nash notes "tremendous improvements with Zoom in confidentiality critical to the therapeutic alliance with clients."
And Grayman has "been pleased to see health insurance companies get on board through a newfound willingness to pay for therapy delivered online. Pre-pandemic, only [in-person] therapy was covered."
For Grayman, the "transition to providing therapy online was seamless from a technological and administrative standpoint." Her challenge was "recreating a therapeutic environment" in two discrete spaces—her clients' and her own. She describes her practice as "boutique" for both its size (she takes on only one new client each month) and its laser focus (African Americans living in Maryland who have experienced traumatic grief). She provides an intimate and highly personalized experience—not the stuff of cameras, computers, and cords.
"Inside a brick-and-mortar office, the client and I are immersed within the same sensory container," she says. "We experience the same soft lighting and take in the same aromatherapy scents and healing sounds. These are important backdrops to my approach." But to recreate this for a client doing therapy from their home office, their bedroom, or even their car, Grayman had to get creative. She now sends care packages to her clients "that include essential oils and a plush throw, among other items."
For Rose, an unexpected advantage of teletherapy is that "counseling is so much more accessible now." And she's gotten to be a stay-at-home dog mom. "That helped with puppy training a lot," she says. "It's also super convenient. I have never had a work-from-home job before, and I love it. I also really love being able to be in the homes and cars and personal lives of my clients; they can move the camera around to show me things they want to that they wouldn't be able to in my office."
"After two years of telehealth," Nash says, "the most striking reality is that introverts really prefer and flourish with online therapy. In contrast, my extraverted clients cannot wait to get back to in-person sessions." She anticipates adopting a hybrid practice o accommodate both types of personalities, as well as her own. She expects it will "invigorate her practice."
Grayman, who gave teletherapy the cold shoulder pre-pandemic, says, "Necessity has opened my eyes to a way of doing effective therapy from which I doubt I will depart. Teletherapy allows me to work with individuals across the state without consideration for transportation, traffic, or weather. Current teletherapy applications allow you to maintain the privacy of your home environment with virtual or blurred backgrounds while engaging from the comfort of your home. Those working outside of the home can sign up for sessions during lunch breaks, take advantage of walk and talk therapy outdoors—a personal favorite—or cozy car cabin therapy inside."
"More people are willing to seek counseling, more clinicians are willing to provide teletherapy, and virtual sessions are more of the norm than in-person sessions," says Rose. To her point, Nash's "caseload intensified during the pandemic." And she's not unique. "Most therapists in the area are fully booked—with a waitlist," she says. "It's actually difficult to find colleagues with openings and availability."
Cognitive and Behavioral Practice Journal describes teletherapy as "perhaps the field's largest and most abrupt transformation in scope of practice. … It has launched into the clinical mainstream and has become a dominant mode of outpatient mental health care delivery." In other words, teletherapy's here and it's not going away. And "with interstate provider licensure on the rise, the use of teletherapy will only continue to grow," predicts Grayman.
While greater access and convenience are definitely advantages of teletherapy, it is not a cure-all. The technologically challenged and those without a computer or smartphone or internet access can't connect so easily. And while research shows that teletherapy is just as effective as in-person therapy for many diagnoses, not every person or every mental health issue responds to remote treatment. And even for tech savvy people without access concerns, finding a private place in their own homes or someone to watch their kids while they step away for a therapeutic hour can be its own challenge.
The pandemic has made clear the importance of tending to one's mental health. In Rose's personal and professional experiences alike, she says, "I have come to learn that prioritizing one's own mental health is more than just a luxury; it is a necessity. If we do not work to heal our unresolved wounds, practice taking care of ourselves and rewriting our narratives, if we do not mend our broken senses of self-worth and self-efficacy, we are most likely going to continue to exhibit the same maladjusted and self-sabotaging behaviors long into our lives. The pandemic has illuminated many of our preexisting mental and emotional wounds, but also added layers of grief, trauma, and isolation. Now, more than ever, seeking and accepting help for our mental health is of the utmost importance."
Goucher is on board. In September the school hosted Fresh Check Day—"an uplifting mental health promotion and suicide prevention event … to create an approachable and hopeful atmosphere where students are encouraged to engage in dialogue about mental health." Through the gift of an anonymous donor, the college launched the inaugural Goucher Advocates for Emotional Wellness Lecture this spring with Sonja Lyubomirsky, one of the world's leading happiness researchers.
There's no question the pandemic brought many mental health challenges with it. The silver lining is that the importance of tending to one's mental health is finally getting its due.
And while there have been advances in teletherapy in the past two years, perhaps the greatest advances weren't in the technology as much as in the willingness of therapists, who were practically forced to adopt a method of doing their emotionally demanding jobs with no reasonable notice—a method they had no training in, little to no experience with, and, especially, no interest in using—and they not only stepped up quickly, they did what they help their clients do each and every day: They kept an open mind, adapted, noticed what was working, tweaked what wasn't, and adjusted to what is. Ultimately, they've all embraced it for the ways it's allowed them to continue doing the work they've been called to do.