Margaret Grun Kibben '82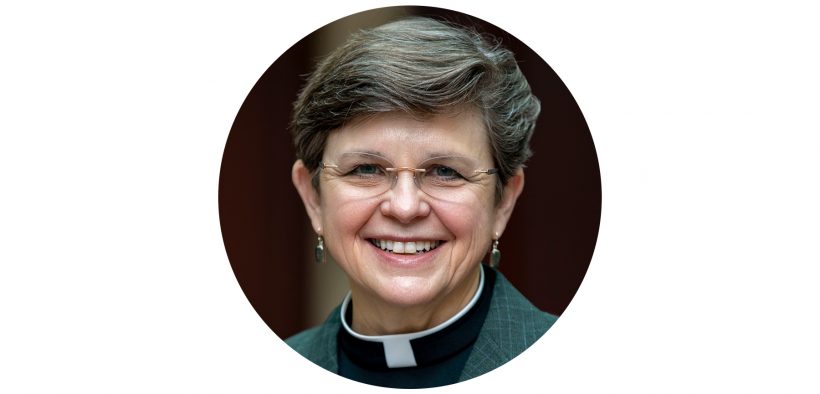 Called to service
By Tara de Souza
More than 230 years ago, Benjamin Franklin had a realization. There was so much contention in the United States House of Representatives that the chamber needed to "reorient" and ensure that a chaplain was assigned to Congress. Now, retired Rear Adm. Margaret Grun Kibben '82 is the 61st chaplain of the U.S. House of Representa­tives and the first woman to hold that role in its history.
Kibben prefers not to dwell on being the first woman to hold that role or the several other "firsts" during her military career. Instead, she likes to think that now "the office is available to those who are qualified," she says. She reflects on how that same philosophy is also paramount in Goucher's legacy. The college was founded with the acknowledgment that women have ability, just like men, and that opportunities should be afforded based on capabilities, not gender.
Kibben is also quick to acknowledge the optics and inspiration of being the first. "When people see me, it reflects on the possibility, and doors do open. I appreciate the fact that people do face barriers, and it is uncharted waters," she says.
Uncharted waters are a hallmark of Kibben's more than three-decade career in ministry. Kibben entered active duty in 1986 and retired as the Navy's 26th chief of chaplains, after serving as the director of religious ministry for the Department of the Navy and advising the secretary of the Navy, the chief of naval operations, the commandant of the Marine Corps, and the commandant of the Coast Guard on all matters pertaining to religion in their respective services.
In her current role, she leads the daily prayer as part of the opening proceedings for the U.S. House of Representatives and works with members of Congress and their staff. She works to be with the representa­tives while they are in session, regardless of the day or time.
"It is an honor and a privilege," she says of serving as chaplain of the House. "This is the leadership of our country."
Kibben recognizes both the challenges and opportunities she has in her position as chaplain of the House of Representatives and tries to offer inclusive prayers that appeal to those from other faith traditions.
"Here, I am praying on behalf of individuals, and I hope they would be able to open their hearts," she says. "It takes care and compassion. I need to do that from a position of love."
She relies on her intuition when praying with people, and she is sensitive to listening to underlying issues or concerns someone may be experiencing. When profiled by Goucher Magazine in 2013, Kibben discussed the humility it takes to be a leader. In her new role, she continues to rely on that virtue to build trust and be a good facilitator.
"[Members of Congress] are represen­tatives of our American society," she says. "What does their moral compass look like, and where is it pointing? That is what spirituality is all about. Humility is to step back and listen to other voices that need to be heard and amplified."
Through those important conversa­tions and connections, Kibben continues to use her work to make an impact.