Maleke Glee, M.A.C.S. '20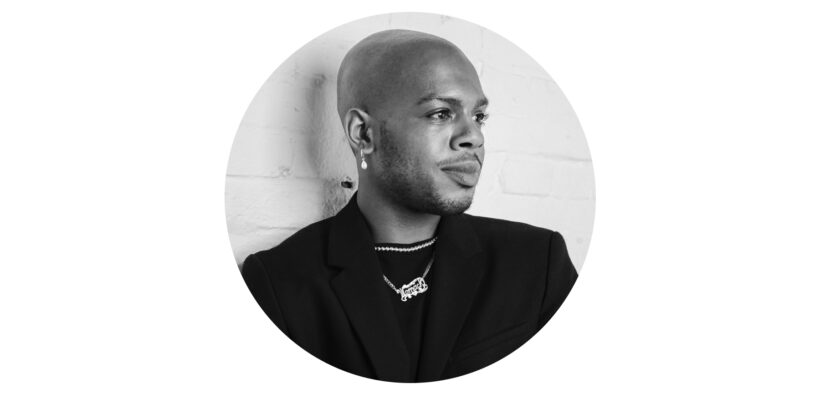 By Lillian Snortland
Equity through the arts
For Stable Arts' fifth anniversary in 2024, Maleke Glee, M.A.C.S. '20, is planning a slate of celebratory programming. Glee, the inaugural director, says he is a "team of one, board of 10" at the largest art studio in Washington, DC, which provides critical space and freedom for local artists and creatives.
Glee, who graduated from Goucher with an M.A. in cultural sustainability in 2020, has always been quick to respond to urgent needs and inequity through the arts; when he and his friends graduated from Howard University, they rallied together to grapple with the massive wave of gentrification in DC, a town long known as "Chocolate City." In 2016, they founded a nonprofit called Chocolate Redux, whose mission was to "sustain the Black Washingtonian experience through community service, cultural sustainability, education, and entrepreneurship," says Glee. Engagements included afterschool events with Prince George's African American Museum and Cultural Center, and the institution sparked Glee's curiosity about arts and museum management, historic preservation, and documenting living cultures, leading him to pursue an education at Goucher College.
Goucher's curriculum gave him new lenses to view and arrive at a concept of equity he applies in his work today. "As a Black queer person, I move with an equitable lens in the work I do by trying to emphasize the multiplicity of experiences. I'm thinking about opacity, allowing individuals to be as specific in their experiences as possible without requiring that there is something legible for every single person—whether that be Black, white, gay, straight, nonbinary, trans," Glee says. This perspective allows his curation to circumvent the art world's history of limiting narrative expression to be in contrast to, or relationship with, whiteness.
Glee humbly hesitates to label himself as an artist. However, with a robust curatorial and writing practice, his impact on the arts ecosystem of DC speaks for itself.
While juggling his responsibilities at Stable—scheduling visits with collectors and curators, doing professional development, speaking to resident artists, coordinating the installation of exhibitions, reviewing copy for grants and collateral, and more—in the next year, he hopes to advocate for broader thinking around what it means to be diverse, equitable, inclusive, and accessible to others.
"How do I distill all of the information provided to me at Goucher for my industry and colleagues?" Glee says. Even as we speak about his work, Glee has a tab open about "cultural voyeurism"; he only knows this language and these theories because of Goucher, he says. "My industry doesn't relate to the humanities and cultural studies as much as the Goucher program did. The cultural sustainability M.A. being multidisciplinary really was beneficial because I'm wearing several hats when I'm receiving information."
No matter what position Glee fills, his focus always circles back to uplifting people in his community and facilitating difficult conversations. By breaking down barriers and demystifying his profession, Glee will surely leave a mark that will resonate far beyond the gallery space.