Lola Laubheim '42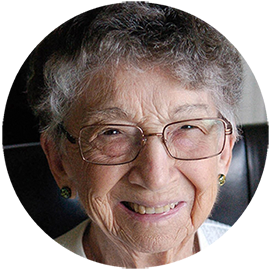 Teacher, activist, and pride of the Women's Army Corps
The United States entered World War II just months before Lola Fivel Laubheim '42 graduated, so when she began looking for a job, "a lot of jobs were related to the war." She joined the Women's Army Corps (WACS), the women's branch of the U.S. Army.
"They put me in recruiting because they told me I was a model, but I think it was [because] I had a good vocabulary," the English major recalls, laughing.
Now living in a retirement community in Sarasota, Florida, Laubheim spends her time teaching Shakespeare and memoir writing to fellow residents. She and her husband of 66 years, Charles Laubheim, who recently died, were always active and involved, she says.
As a recruiter for the WACs, Laubheim and the other members of her team put on parades and musical performances. At each stop, they performed songs with lyrics such as: "I used to pose as a model at Saks, but now I go as the pride of the WACs."
Later, she was transferred to Binghamton, New York. She often escaped the summer heat at the USO, where she practiced archery—a skill she had honed at Goucher. One day, a soldier criticized her aim, telling her, "You're not very good" and demonstrating his own prowess.
"Well, he was not as good as I," she says, describing how he sent an arrow through a nearby kitchen window. But what Charles Laubheim lacked in archery skills, he made up for in other ways.
The two married and eventually moved to Baltimore. There, they raised three daughters, taught in the city public school system, and were "very political," Laubheim says. Among other things, Charles Laubheim helped start the Baltimore Teacher's Union, and, together, the couple joined an experimental, integrated community in northern Baltimore.
In the 1950s, when Baltimore integrated the school system, Laubheim volunteered to teach in a historically black school. "I really believe it was something we had to do," she says. "I co-taught with a black teacher. We taught each other so much and became close friends." Her actions, she says, felt more like doing the right thing than being part of a historic movement. "I will do anything to promote racial equality, any equality."
Although she loved the city schools, she found teaching there tough. "I learned racism can work both ways," she says. "It got more and more difficult." She eventually transferred to Baltimore County, where she became a specialist and trained other teachers.
Laubheim is a second-generation Goucher alumna: Her mother, Blanche Fivel, graduated in 1919. Her sister, Hilda Goodwin '43, also attended the college. "I'm very proud of my family," she says. "They were immigrants, and they worked hard, and they valued education."
Laubheim, who attended Goucher when its campus was located in downtown Baltimore, described herself as "not good" at school. Despite that, and despite the fact that, as a Jewish student, she experienced some discrimination, she loved college. "I had some wonderful professors, and I made wonderful friends, in fact, some lifelong friends," she recalls.
"I think there has been progress in the world," she says. "It's far from perfect, but there's been great progress."