Living lives of purpose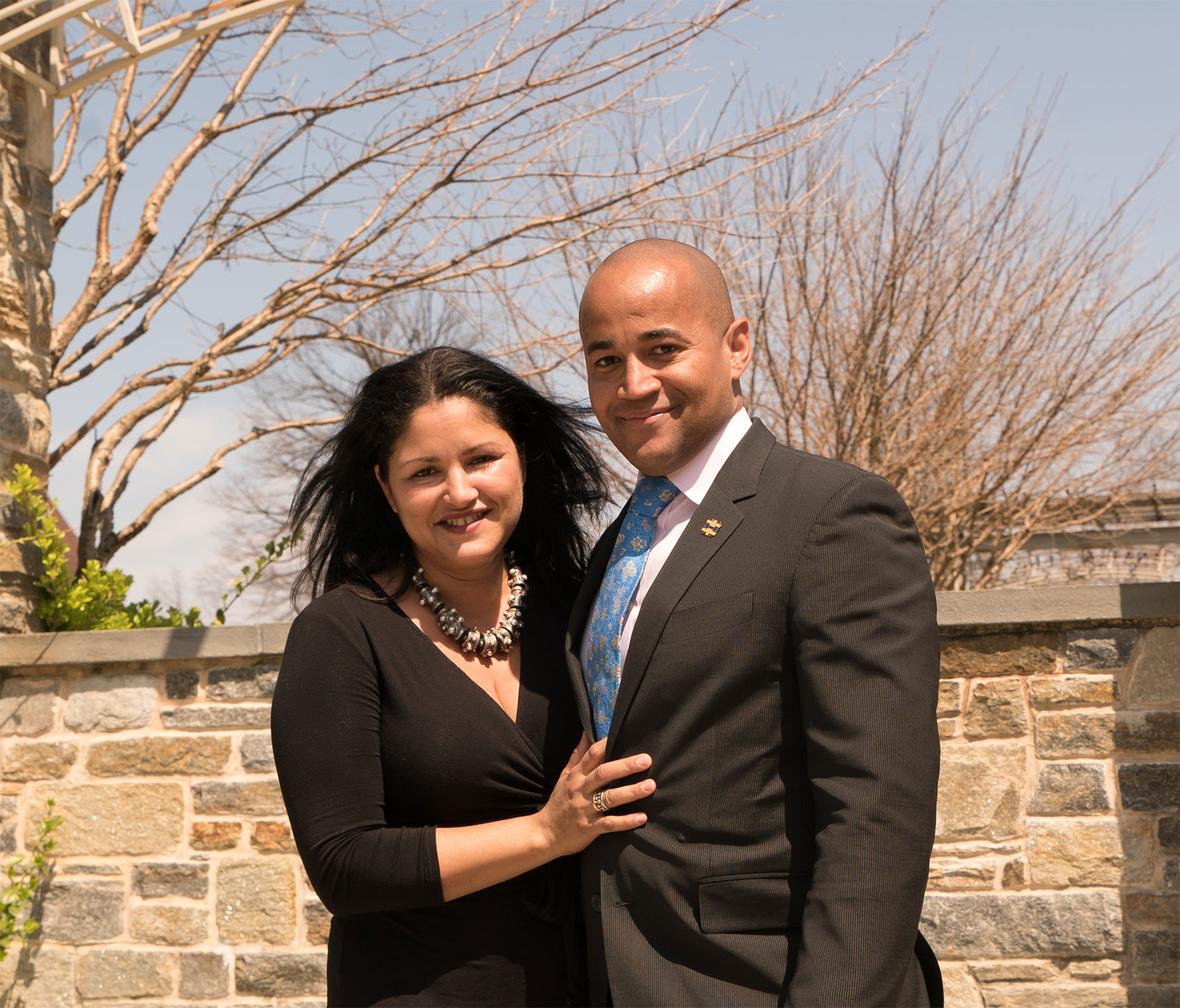 Dante Disparte '00 believes "that the most important thing people need to learn is to learn how to learn," a skill he said Goucher gave him.
Dante earned his degree in international and intercultural studies and is the founder of Risk Cooperative, a specialized-strategy risk and insurance advisory firm in Washington, DC.
He was inspired to launch the company in what he called a "classic Jerry Maguire moment" during his days running Clements Worldwide, a large international insurance brokerage.
"I realized that every time we had an idea that required imagination, creativity, or had a clear social impact, such as insuring U.N. staff around the world, 'preserving status quo' won the day," he said.
He faced an internal struggle: simply be entrepreneurial, or actually be an entrepreneur and take risks of his own.
"Risk Cooperative was born out of this dilemma."
Four years after its inception, Risk Cooperative—one of the few minority-owned firms of its kind—is a pioneer in the risk and insurance industry. In 2017, it was named one of two Lloyd's coverholders in Washington, DC—authorized companies able to design unique insurance programs in the 330-year-old Lloyd's insurance market.
Dante said his goal was to "bring imagination to an otherwise 'pale, stale, and male' industry."
Challenging the status quo wasn't exactly new to him—he is the first person in his family to graduate college, or even high school. Still, he said, "It took a while for me to find my voice and begin appreciating risk-taking in our daily lives and how risk aversion blocks most things from happening."
"I realized that insurance and mitigating downsides is not merely a cost of doing business, but can serve as a catalyst," he said, adding that Risk Cooperative strives to enable calculated risk-taking and help creative processes take root.
"In all things that we do, we try to frame our work around the 'upside' or the things that would not happen in the world, but for a fixed price and understanding of risk and uncertainty. In short, we want to promote risk-taking at scale. We want to get people and businesses off the sidelines and create a more resilient world."
But while he embraces risk in his profession—undauntedly ("I couldn't help that word choice," he noted), Dante said he is "ironically somewhat risk averse in my personal life."
As a child in Puerto Rico, he lived through Hurricane Hugo, which obliterated thousands of homes, destroyed crops, and caused more than $1 billion in damages in 1989, according to a 2107 Washington Post article. He grew up, he said, with both personal and financial uncertainty.
First at Goucher, and then in his work, Dante said he has nurtured an ability to "run to places, projects, and ideas where others dare not tread," an attribute that began developing during his undergraduate years.
"To have the temerity to start a business and feel confident in our ability to make a difference in the world has been greatly aided by the same creative process that underpins a liberal arts education," he said.
He has also been undaunted in love.
Dante is married to Amal Ponasik Disparte '00. They began dating during their senior year and married in 2003.
They met in 1996, at a gathering in Dante's dorm room during their first week at Goucher. To say the least, it wasn't love at first sight.
"We disliked each other immediately," Amal recalled. "I thought he was stuck-up and unpleasant, and he thought I was abrasive and rude."
They didn't speak again until senior year, when she returned from her study abroad, and they found themselves sharing most classes.
"Within months we had fallen for each other," she said. "We've been inseparable since."
Eric Singer, professor of political science and associate provost for external and experiential programs, who served as Amal's academic advisor, recalls the two interacting in his classroom, sitting on opposite sides of the room.
"Some of the interesting exchanges in the class ended up being repartee between them," he said, "and it was humorous for all of us."
Today, the couple lives in Northeast DC with their 12-year-old daughter, Andalus, and two sons, Messina, 11, and Nero, 5.
Of the origins of their romance, Dante—wisely—said only, "What she said."
Amal, a social entrepreneur and community activist, is the co-founder of the GrantEd Foundation, a nonprofit organization that strives to help struggling educators in DC's underserved communities bypass the traditional lengthy grant process.
"Our goal is to provide teachers in the most vulnerable communities in DC a fast and easy way to get funding in less than 30 days using their smartphones," Amal said.
The idea was born out of volunteer work at their children's school, which eventually led to establishing the well-known fundraiser Taste of H, and, in an effort to expand the sphere of aid to area schools, to the creation of GrantEd.
Part of the inspiration, she said, came from Goucher, specifically the college's innovative spirit.
"When I read all the articles about Goucher allowing students to apply via video," she said, "I was so inspired that I called my partners and said, 'We could do this for teachers!'"
The couple works hard to demonstrate a spirit of empathy, gratitude, and openness to their children.
"Wherever we've lived, our house is the center of our community. It's always filled with friends and family members from all over the world. It's where neighborhood parties and meetings happen, it's where people come to celebrate milestones or mourn losses," Amal said. "We make it a point to always have good food, good wine, and spare beds. Our children have grown up thinking of our neighbors as family members and expecting a house full of people."
They both come from humble beginnings—she grew up in Morocco and lived all over the world with her parents, who were in the diplomatic corps; he in Puerto Rico. Both are first-generation graduates and say much of the success they have achieved has been due to the kindness of others. And so they want to pay it forward.
Their work is born out of the stories they hear, the people they've met along their travels, or the struggles in the communities in which they've lived.
"I think that our kids are watching us very carefully," Dante said, "and what they're seeing is their parents actively trying to make the world a better place than they found it."
Eric Singer said the work the Dispartes are doing "embodies the Goucher ethos" of intellect and passion, asking questions and exploring global issues that manifest themselves locally, like the struggles faced by public school teachers or developing insurance programs to protect diaspora populations. "It's a wonderful combination in young people to be both curious and smart," he said.
Singer, who says his interactions with the couple has been mostly limited to social media and the occasional run-in on campus, nonetheless speaks proudly of the growth he has seen manifest from what was cultivated at Goucher, not only their commitment to social justice within their community, but their continued friendships and relationships with Goucher friends, nearly two decades later. Of his former advisee's student days, Singer said:
"It was clear she wanted to be challenged on things she held fast. It was an opportunity for her to rethink as well as solidify some of the intellectual and political commitments she had adopted."
While Goucher indeed sees Dante and Amal Disparte as credits to the school, they in return credit Goucher with helping them to become the people they are—helping them learn how to form arguments, support their positions, and to not be limited by opinions, especially their own.
"Goucher's professors challenged me and stretched me," said Amal, "but they didn't do it by being condescending or breaking my spirit—it was more like, 'OK, so you've voiced that very strong opinion and I respect it, but now support it—and don't use emotion, use logic and facts.'"
Even having gone on to postgraduate studies at Harvard Business School and NYU's Stern School of Business, Dante says, "Liberal arts more generally, and Goucher especially, are the unsung heroes of thought and personal preparation for a world in flux."
At Goucher, Dante and Amal learned and were encouraged to be a part of that world in flux, to participate, to be in the world and of the world, to be protagonists, to shake things up. They are reminded of it in their day-to-day life, in their community, and even in the motto of their children's school: "We are crew, not passengers."
And so, to paraphrase F. Scott Fitzgerald, Dante and Amal Disparte, and their family, beat on, boats sometimes against the current, sometimes with, but rather than being "borne back ceaselessly into the past," they propel themselves, and those around them, into the future—undaunted.
– Holly Leber Simmons