Like father, like daughter, three decades later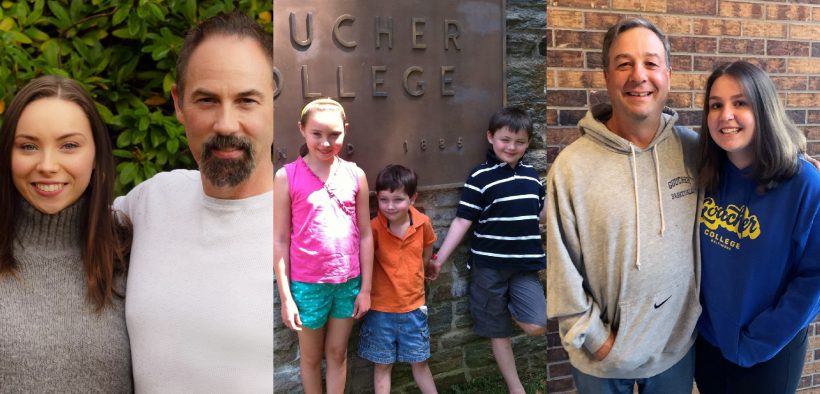 Children from Goucher's first classes of male alumni now enrolled as Goucher students
By Tara de Souza
Bill Connolly '91 never intended to go to Goucher. A New England native, he planned to attend a school in the area until his family received a brochure from Goucher College. When his dad suggested his son take a tour of the women's college in Baltimore accepting its first class of men, Bill asked his friend Andy Kollegger '91 to join him on the road trip. When he arrived, he was struck by Goucher's 287-acre campus and by the poster on his admissions tour guide's wall: Better Dead Than Coed. He was unfazed and joined the first class of men admitted to the college in 1987.
More than 30 years later, his daughter, Julia Connolly '23, would also have a unique first-year experience as a Goucher student. As part of the "COVID class of 2020," she began her Goucher experience virtually from home in Portland, OR. Julia remembers visiting campus with her parents as a child (her mom is Jennifer Rocks '96), and in Spring 2020, she planned to make her first visit to campus as an accepted student, but the trip was canceled due to the COVID-19 pandemic. She has only stepped foot on campus once—when she was eight years old.
Ilan Waskow '91 also first heard about Goucher from his family. His mother, aunt, and stepmother are alumnae. Ilan was a member of the inaugural class of male students to attend the college, and he recalls the experience as "humbling."
"My mother once told me that when she had three sons, she thought that none of her kids would be able to attend Goucher," says Ilan. "In the end, it was my father who recommended I select Goucher, saying, 'I was always jealous of your mother's education.'"
Emily Waskow '22 is continuing the family tradition of attending Goucher. Still, she is quick to point out that the tradition is not what ultimately made her decide where to go to college.
"I was drawn to the friendliness of the students and staff and the tight-knit nature of the community," she says. "I've heard stories about Goucher that wouldn't have been possible if it was a larger school, so I also applied to Goucher because I was interested in attending a small university."
Shared among each of these fathers is the common thread of strong relationships that they made with classmates and professors. The dads and their daughters acknowledged that Goucher's small, engaged community appealed to them in their decisions to attend. For the alumni, those strong relationships have continued throughout the decades since their graduations.
Bill Connolly recalls the outpouring of support from fellow alumnae/i when they heard the news that Julia would also be attending Goucher, nearly 3,000 miles away from their home. Classmates in the Baltimore area reached out to invite Julia to dinner and to be a remote support system for her while she was away at college.
Ilan Waskow echoed that sentiment and said that he, too, has loved staying in touch with his friends from Goucher and getting to meet their children over the years. As a veterinarian, he has also returned to Goucher to meet with pre-veterinary students and offer them support as they explore veterinary school.
While these parents said they left the decision of where to go to college up to their children, and they did not attempt to sway them to attend Goucher, many of these first-year students heard stories about Goucher firsthand from their parents.
"As I got older and started to talk about schools, my mom continued to get the alumni news, and she kept reading about the new curriculum and the focus on social justice, and that really appealed to me," says Julia on her reasons for attending Goucher.
During the fall virtual semester, all students needed to learn how to build relationships with classmates and teammates in a new way online. Instead of meeting up for lunch in Mary Fisher Dining Center or bumping into a familiar face on Van Meter Highway, students had to be intentional about connecting and reaching out to people over Zoom or attending online social events organized by Student Affairs.
And while this new group of first-year Goucher students hasn't yet been able to experience the typical residential college experience like their parents, they are eager for the future and the opportunity to experience all that college has to offer when they return to campus.
(Photo at top, from left): Julia Connolly '23 and her father, Bill Connolly '91, in 2020; Julia Connolly and her family visiting Goucher when she was a child; Ilan Waskow '91 and his daughter Emily Waskow '22.