Liberal arts education unlocks tech jobs for Goucher grads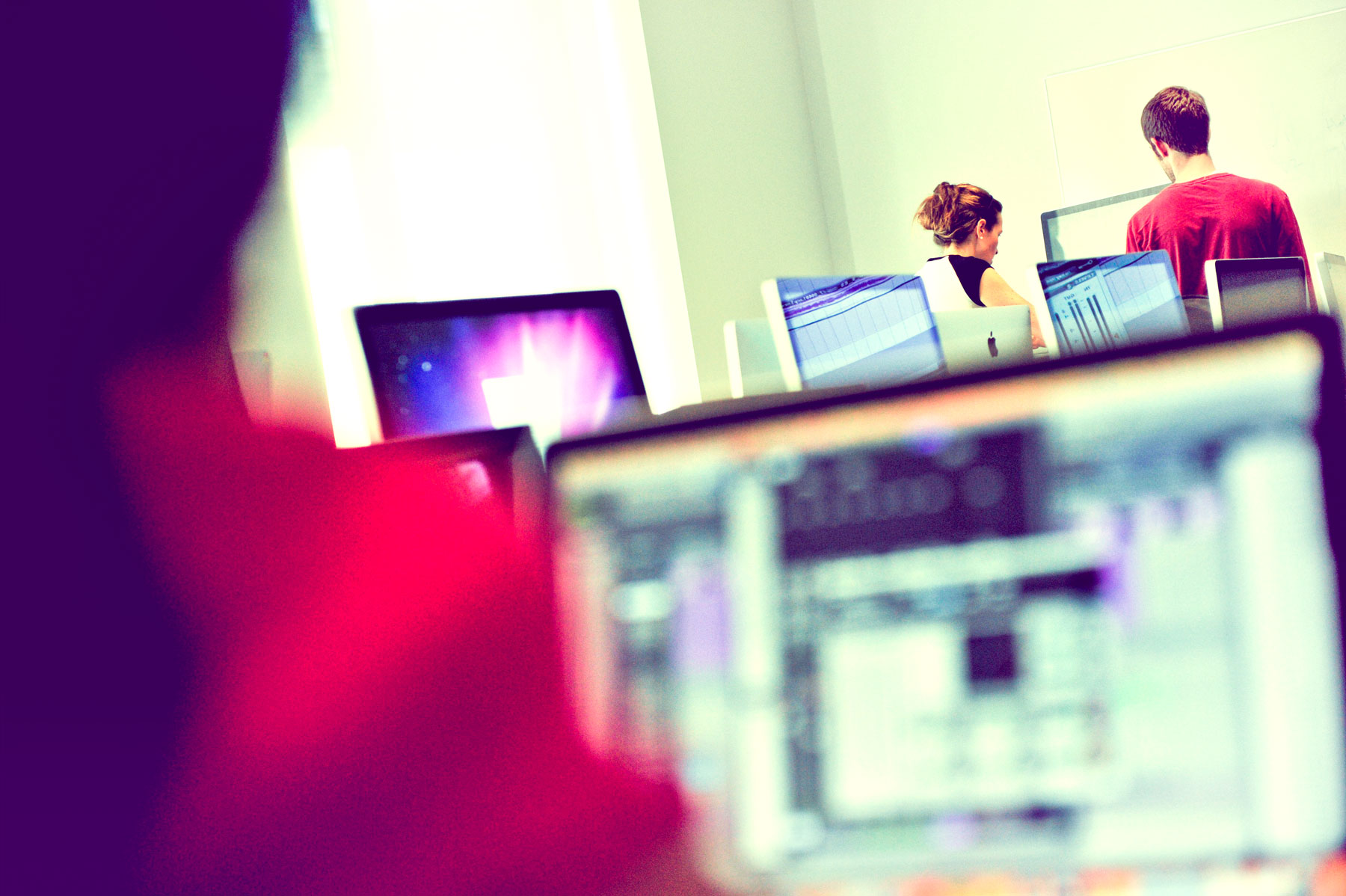 The tech world has a problem: It needs more employees with liberal arts degrees. As U.S. News and World Report explained it, hard skills help with job preparation but not much else. Creativity, critical thinking, empathy—these are soft skills that will be needed in a world increasingly reliant on technology, and these are just the kind of skills taught in the liberal arts.
Kyle Williams '12 knows this story. He works for Box, a content management platform based in the Bay Area, as a product manager focusing on the company's desktop apps. (Goucher College employees use Box to share and store files.) Product managers are often described as mini-CEOs, overseeing the monetization, strategy, growth, and road map for their products. They also work closely with sales. "[The job] spans from designing UI (Ed. Note: user interface) with our design team to working with product marketing and how we want to position this in the marketplace—what's the message we want to send to end users, how do we want to message this internally to our sales team," Williams says.
Williams had an unusual path into tech. A chemistry major and swimmer at Goucher, he joined DuPont after graduation to do chemical research. But he also began developing a startup with his brother to make a digital platform for coaching swimming and a wearable device for swimmers to accumulate data for analytics.
"It went nowhere," he says, "but I learned a lot."
He moved to California and Box hired him in an IT/enterprise systems role. With the startup, he'd gotten a taste for working in product development, and he wanted to do the same at Box. Williams took initiative, talking to many people at the company, asking too many questions, and finally started getting side projects before moving over to product altogether.
The soft skills he used to put himself out there? They were cultivated at Goucher. In fact, he never would have founded a startup if it hadn't been for his study abroad experience. While studying pharmaceutical design at Cambridge, "One lecturer was describing how they had an idea and created a company around it. I was like, 'Wow. Creating a company sounds really, really cool,'" he says. After the summer program ended, Williams continued to travel around Europe with his brother. That's when they came up with the swim analytics idea.
"Study abroad was a completely eye-opening experience for me," he says. "Being out of my element, in an uncomfortable situation like that, I stepped back and was able to really focus and listen." It seemed to Williams that anything was possible.
A liberal arts degree continues to serve him. "You're utilizing all these different spots in your brain that you may not develop if you just focused on one place," he says. "That was the biggest factor in me being able to pick up coding, being able to pick up this entirely new industry, and having the self-confidence that I can figure out a way to teach myself."
Williams emphasizes that finding Silicon Valley-type jobs can be immensely challenging. His own path was unique, having come up through IT and systems analysis. But perceptions about who is hirable are changing, and he points to the value of the Goucher network and being able to articulate your career story to a recruiter.
It's a different story, however, for tech grads who want to stay in the Mid-Atlantic region. Here, the companies are the ones who face stiff competition for employees, in no small part because of the large demand for workers with those skills at government agencies.
One of the companies competing for skilled graduates is idfive. Located in Baltimore and co-founded by Andres Zapata '98, the integrated marketing agency works with a range of national clientele, but also puts a particular focus on working with local institutions. Every group they do business with must possess a good mission; they frequently work with nonprofits and in higher education. (idfive worked with Goucher to help launch the new [UNDAUNTED] comprehensive capital campaign.) While they can't always compete with salaries offered by the security and intelligence communities, "At the end of the day," Zapata says, "you feel good when you go home and when your kids ask you questions about what kind of stuff you're doing."
And idfive could use more workers. Zapata says that while they hire nationally, their preference is to find candidates in Baltimore first. "But many of the [tech workers] in Baltimore or even Maryland don't ever hit the job market," he says. "They have their next job lined up." His company does a couple of things to attract workers: They hire new graduates and train them extensively. They emphasize mentorship. And many young people find working with mission-oriented clients appealing.
Zapata points out that as a marketing group, about 50 percent of the work they do is technology-based. "I think that's a big reason we've been as successful as we've been," he says. He notes how crucial data analytics is to providing an optimization strategy to their marketers. That kind of collaboration is why Goucher made data analytics a required area of study for all undergraduates starting in 2017.
Interestingly, the same concept came up as both Williams and Zapata described their careers: the power of storytelling. "In regard to Goucher," Williams says, "storytelling and writing are probably the biggest [takeaways]." At the time, he hated that he had to take humanities classes, not seeing the value as a chemistry major.
Now, he realizes, "being able to tell a story to my end users, give a thoughtful presentation to a 15,000-person room—that is a power you need to have."
Zapata agrees: "I learned to write and think at Goucher, and those are the two things I cherish the most about who I am today as a person and a professional. They're the two things that projected me into this role…I write all day long, I do a lot of critical thinking, and I solve problems." Zapata boils down the Goucher mindset to having the intellectual ability to have a strong opinion, the intellectual flexibility to have a discussion and change your mind, and the courage to do something about it.
There's something else vital that liberal arts grads bring to technology: context of the larger picture. As technology takes on a larger role in people's lives, we as a society need those creating these products and services to consider history, access, equity, systems of power, and privilege—to consider human behavior. And in this world, where change is the only constant, the people who are flexible, who are adaptable, who open their minds, these are the people who can help us build a better future.