Learning behind bars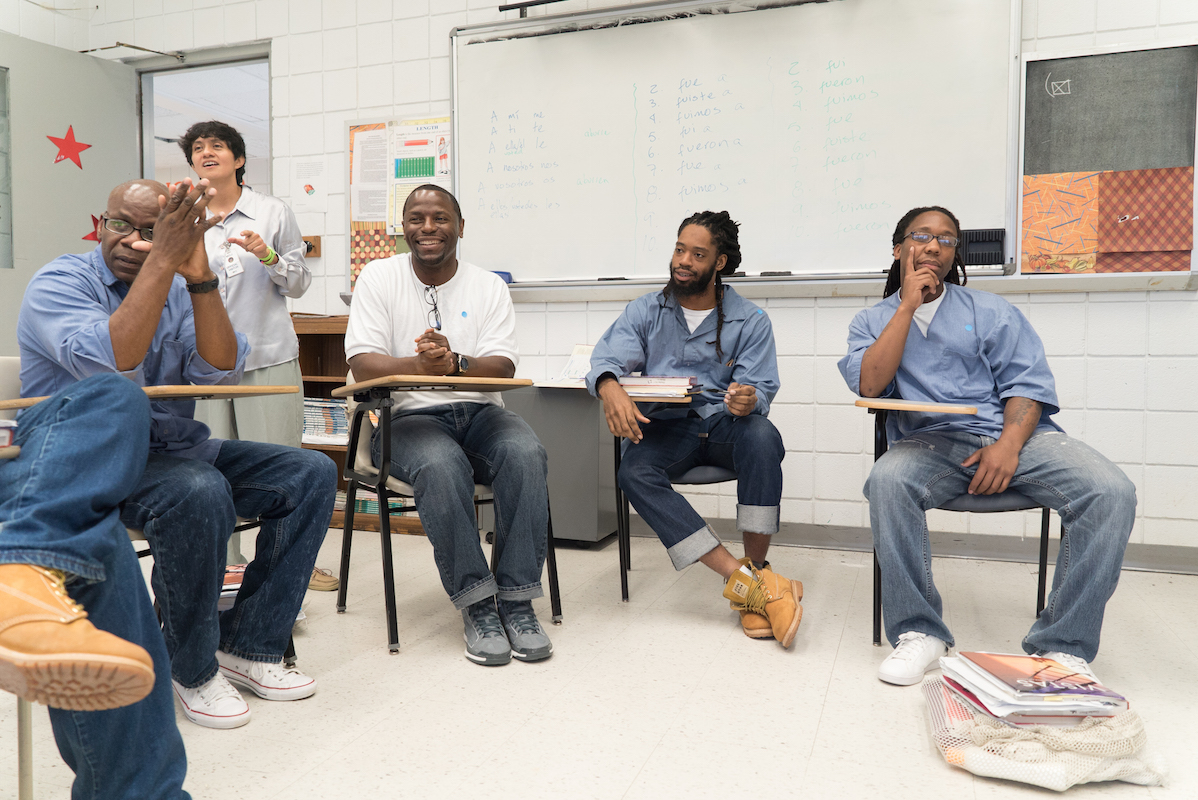 Meet the Students of Goucher's Prison Education Partnership
By Molly Englund
Joel Moreno's day goes like this: Wake up at 4 a.m. One thousand sit-ups. One thousand pushups. Breakfast at five. Study until seven. Make calls to family, then work from nine until two. Shower, rush to get to class by 2:30 in the afternoon. Classes until nine at night. Study until one in the morning. Go to sleep. Wake up. Repeat.
Work out and go to school, those are Moreno's driving forces inside the walls of the Maryland Correctional Institute-Jessup, or MCIJ, the medium- security prison southwest of Baltimore. Moreno is enrolled at the college through the Goucher Prison Education Partnership (GPEP), now in its fifth year.
He does his time by managing his time, and sleep is too much like laziness. If someone expresses shock at his three-hours-of-sleep schedule, he shrugs.
"Being in this environment for so long, eventually you condition yourself on it. You have nothing better to do. Why not study? What else can you do?"
Moreno, now 22, didn't come to Jessup with this laser focus. As a kid growing up in Hyattsville, in Prince George's County, MD, he'd always done well in school without trying. And to his mom, who always worked late, education was everything. She didn't let him do anything after school—no job, no chess club— except come home and study. At one point she drove a cab, and sometimes Moreno rode with her while he did his homework. His mom wouldn't drop him at home until he'd finished. Before bed, Moreno would leave the assignments on the table and his mom would wake him up at three in the morning to tell him what he got wrong. It was strange for Moreno, to have a mom who puts education above everything, but isn't home much at all. He did appreciate her work ethic, even if he didn't apply it to the schoolwork that came too easily to him. No, the problem was never school. The problems came after school.
Guns. Drugs. Shoes. Rims. That was the culture Moreno grew up with in Prince George's County. That was the only kind of life he knew about.
"I've just always hung out with the wrong crowds," Moreno says. He's quiet for a moment. "Now I see what else is out there—life is bigger than rims, shoes, and everything else."
First incarcerated at 16, he came to Jessup two years later. He was arrogant, and wouldn't listen to anyone.
"I was always loud and obnoxious," he says. But some of the lifers, older guys, started pushing him in another direction.
You have a chip on your shoulder, they told him. You have to realize that everybody is not out to get you. You have to remember you have a gift, and you're not using it.
"They just stuck on me, always forced me to read different books," Moreno says. They told him not to come back without a one-page essay on what he'd read. They kept on him. "One day one of the lifers came to me and was like, 'You know we got a college program here?'" Moreno was starting to open up. He figured, why not? The older man showed him a box where he could put a letter asking to apply to the college. But it wasn't as simple as that, Moreno explains.
"Understand that it's just simply a box and understand that we're on a compound with over 1,000 inmates. Everybody's writing."
"We have a lot of interest," says GPEP Director Amy Roza. She was working for a similar program at San Quentin State Prison, north of San Francisco, when Goucher came calling, interested in starting its own official academic division. Prior to the Fall 2016 semester, more than 600 people wrote asking to apply. There are only 100 spots at the men's and women's prisons combined, most of them already filled with current students. The division is popular among faculty, main-campus students, and the greater Goucher community, as well.
"I probably get five emails a week of people expressing their interest," says GPEP Assistant Director Jennifer Munt. "Sometimes that's people who want to teach, sometimes it's people who want to volunteer." GPEP is currently funded by private donations; Goucher provides only in-kind contributions like office space. However, the U.S. Department of Education recently announced the Second Chance Pell Pilot, a program that will allow, for the first time since 1994, incarcerated people to apply for federal grants for college. Goucher is one of 67 schools partnered with the program. Pell Grants are expected to cover about 10 percent of GPEP's expenses this year. Private grants and individual donations made specifically to support GPEP cover the rest.
When it comes to applications, Goucher doesn't just consider the best-prepared students. Roza and Munt, along with other Goucher faculty and staff members, review written applications and conduct individual interviews. They look at motivation, and commitment, and persistence. If students aren't ready academically for college, then first they go through college-preparatory classes.
Over the next year, Moreno kept writing and writing to the box. During that time, he became a GED tutor helping Spanish speakers. Finally, his persistence paid off. He's now in his sixth semester at Goucher, taking two classes at a time. This fall, he's taking American Religion and Social Reform with Brad Stoddard and Theater with Brian Francoise. Classes take place in the education building at MCIJ, where you can almost forget you're in a prison. The classrooms have no bars on the windows, just a blackboard, desks and chairs, posters on the wall, and rows of eager students.
Before, nobody could tell Moreno anything. College made him start to see the world differently.
"I hunkered down, I settled down, I got involved in the books and it was a completely different me. Everybody was like, 'You're two different people.'" Now, as long as it's something interesting he can store away to use later, you can talk to Moreno about anything. There are others in MCIJ won't even look at those outside their group. They freeze out guys who've told on someone else, or who are gay, or who have the wrong sort of friends. Moreno doesn't care about any of that anymore. "What I want for myself, I want for everybody," he says. "What can you say that can elevate me mentally? How can I respond to help you grow mentally, as well? That's all I care about. If we can't have a conversation besides something more than a pair of Jordans, I don't want to talk to you." Knowledge is the currency he values most.
Moreno has started to think about life after Jessup. He's an artist at heart. When he gets home, he foresees doing tattoos—which decorate most of his forearms— to make money the first six months. It's something he's good at. He's interested in music, too, he could always sing well. But he knows you have to have something to fall back on. One of his longtime dreams is to become a mortician.
When Moreno was young, he saw one of his friends die. It didn't affect him as badly as he thought it would, but it made him realize that somebody needs to speak for the dead. Plus, he liked the idea of doing something that mixed science and art. He's looked into it, there are mortuary science schools at the University of the District of Columbia and the Community College of Baltimore County, Catonsville. He wants to learn it all—the anatomy, putting people back together, and doing their makeup, since everybody wants to look good. "If they're getting buried, it's their special day," Moreno says. "They came, let them depart in a peaceful way as well."
Up the street from MCIJ, on another compound, is MCIW, the prison for women. Janet Johnson is a few minutes late for her interview—she's about to be filmed, and wanted to brush her hair. Johnson has been enrolled at Goucher for two years.
Her dream is to be a private investigator for the public defender's office. She was in a gang before coming to prison. "The only reason why I was involved is because I felt like they were the only people that loved me or wanted to know my version of who I was," she says. On the streets, Johnson got good at finding people. Now she wants to use that skill for something better, for people who aren't getting fair representation from Baltimore City's overworked and understaffed public defender's office. She also wants to start recreational centers or counseling services for people like her, who never had anyone care about them.
Johnson begins to cry silently, wiping away tears as she talks about other people out there who need someone like her. "Offering that outlet to youth, it could deter them from committing crime, deter them from being a part of something they don't want to do. I wouldn't wish this on anybody…If I give somebody else an opportunity to vent while I listen, maybe that'll help them. A lot of people really need it."
Johnson, 29, has been at MCIW for almost 11 years. She has a big smile and a bubbly energy that's difficult to reconcile with how she says she used to be. Johnson kept getting in trouble when she first got to prison, an angry teenager becoming an angry adult. Then she enrolled at Anne Arundel Community College, which for a time offered classes at the prison before Goucher started GPEP. Johnson lacked confidence, though, and was soon overwhelmed. She dropped out, but she was starting to look at her life differently, and knew that she had to be better prepared for when she returned home to west Baltimore.
"I can't live off of eight dollars an hour. There's no way. I can barely live off the money I get in here," she says. (Workers in MCIJ and MCIW earn between one and eight dollars a day.) Johnson knows that she'll have to pay rent, bills, car payments, and more, and college credits could help leverage her into a better job while she finishes her degree.
After sitting on the waiting list for a couple of years, she enrolled at Goucher. She loves being in school, but even if it does get overwhelming, she won't drop out again. "You can't drop a course because…that's somebody's spot. I had to respect the process," she says. Also, the support system is stronger. Students regularly meet with Roza and Munt, who run the division, and the professors have office hours every month, some making time every week.
The classes are as challenging as they are on the main campus, a point of pride for the students in Jessup. And the professors see them engaging deeply with the texts, often more than the students in Towson. Professor Jamie Mullaney teaches sociology, a popular class. She remembers a class discussion at the men's prison on Annette Lareau, a sociologist who studies class and race. One student referenced a footnote to make his point. "I thought, 'That's it,'" Mullaney says. "You just devoured the text. It wasn't enough to skim what was assigned, but you've gone and read all the extra material that a lot of people overlook."
Johnson prides herself on being a good student. She has always loved math, excelling in pre-calculus at the college and eager to take statistics. Writing was tough, though, especially with a learning disability. In an English class, her professor taught her the work didn't need to be perfect right away. The class calls them "shitty first drafts," giving themselves permission to write as much as they can, without fear of how good it is. Then, you have something to work with, something you can keep making better.
Johnson no longer has time to get in trouble, between school, studying, and her job in mail and distribution, dealing with orders for vanity license plates. (A recent one included a shortened version of I HATE CANCER, which made Johnson laugh.) She's glad the 1812 license plates are done—upon seeing the new "Maryland Proud" plates, she exclaimed, "That's what's up!"
The once-angry young woman finds small joys where she can. At one point, friends in her housing unit begged her to sign up to get a cat; only people who were infraction-free for a year could do so. Johnson hadn't had a ticket for two years. She didn't want a cat, but relented. McKenzie, a California Bengal, has been with Johnson for a year now, and she is dearly loved and looked after by her human companion.
A lot of people at the prison talk about moving from a fixed to a growth mindset, a concept that comes from Stanford psychology professor Carol Dweck. To oversimplify, people with a fixed mindset believe their traits are set, and those with a growth mindset believe they can learn and improve from failure. Johnson and Moreno are teaching their minds to become the latter.
Every little bit counts when it comes time to leave the prison. They are given very few resources, with high expectations placed on them. Says Roza, "Many of our students might leave with a couple hundred dollars in their commissary account and have to pay on an ankle bracelet or pay on parole against that money and have to find a job and have to find a secure place to live. It speaks to how motivated the students are, to see them leveraging what they have learned inside and turning that into a successful life outside."
The students are proud to represent Goucher. They may be asked to partner in class with someone they have problems with—sometimes for seemingly insignificant reasons that have a bigger resonance in the confines of prison—but the students feel a responsibility to forget their differences and not give the college a bad name. That can lead to two people who dislike each other becoming friendly, saying hi around the compound, and even discussing their homework.
College has also changed students' relationships with their children. Seventy percent of GPEP students had children under the age of 21 at the time of arrest.
"The way that they're having conversations with their kids completely changes," says Munt. Sometimes they call home for help on their calculus homework, or to discuss what they're learning. GPEP students push their kids to do well in school. Munt believes it can be "very transformational for communities."
As at any college, the students are gaining confidence as they learn how to manage their time and challenge themselves to see the world from different perspectives. It's made Citlali Miranda-Aldaco, professor of Spanish, think about those of us on the outside in a new light. "We need to re-learn so many things," she says. "We need to break our ideas that we are different to them. We are just the same. Some of us have more opportunities than others. Some of us take advantage, some of us don't. We are not different."