La Jerne Terry Cornish '83, M.Ed. '94, P '18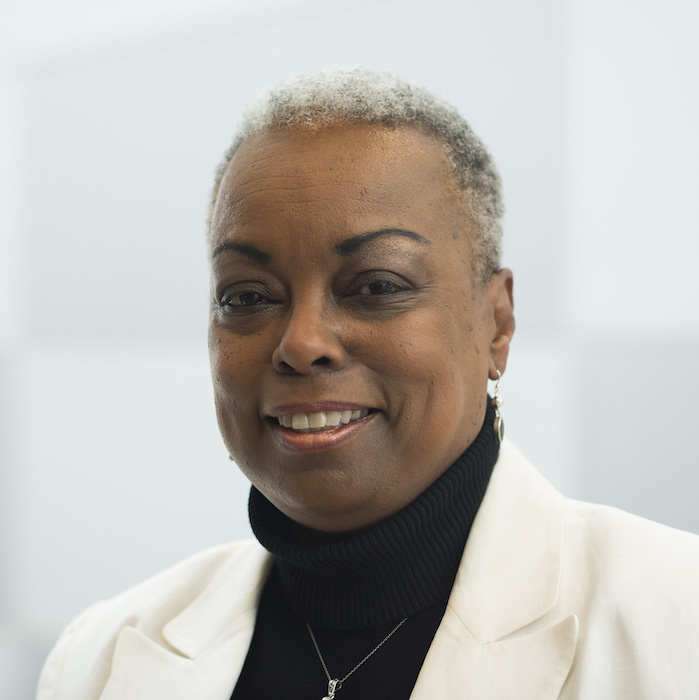 La Jerne Terry Cornish—who in 1983 and 1994 earned bachelor's and master's degrees, respectively, from Goucher and now has a son attending Goucher (Class of 2018)—knows the potentially transformative power of a Goucher education. She also knows firsthand that good academic counseling can reorient a young person's outlook and aspirations.
She initially didn't intend to attend college at all. During Cornish's senior year at Baltimore's Western High School, her mother fell gravely ill. Rather than go to college, Cornish planned to care for her. When a teacher at Western, Goucher alumna Deanna Miller '61, heard about these plans, she arranged an interview for Cornish with Goucher's Admissions Office. Cornish was awarded a scholarship.
Later, when her mother died during her second semester at Goucher, Cornish struggled to cope. She also felt alone: When she graduated, she was one of only nine students of color in her class, and there were no faculty or staff members of color. "The only people who did look like me cooked the food, cleaned the rooms, and cut the grass, but these people were very supportive of me and other students of color."
Much of Cornish's professional life has been dedicated to ensuring students have the support they need for success. After college, she accepted a job in Baltimore City's public schools, taught for nine years as a middle school English teacher, and worked as a project coordinator for at-risk students. She also piloted the Maryland's Tomorrow Program, an initiative that for years has offered at-risk eighth-graders paid summer internships as a way of encouraging them to stay in school. In 1996, she became an assistant principal at Canton Middle School.
Two years later, "Goucher called," Cornish says, smiling. At the time, the college was having trouble attracting professors of color—and she was offered a teaching position. She knew that if she accepted the position, she'd be the only full-time, female, African American professor. She hesitated.
"I thought about how hard it was going to college when there was no one in the classroom who looked like me," she says. "And then I knew I had to return to Goucher; I wanted to be for others, that which was not here for me."
She took the job. While teaching full time, she also earned her doctorate in language literacy and culture from the University of Maryland, Baltimore County.
Until last year, Cornish taught undergraduate and graduate education classes; this year she is not teaching so she can spend more time with students in her role as associate provost for undergraduate studies. And since 2004, she has led an Intensive Course Abroad in which Goucher students spend three weeks during the summer in Grahamstown, South Africa, teaching English and reading skills to middle schoolers. She also became Goucher's first African American alumna to be awarded tenure and first African American to serve as both chair of the faculty and associate provost for undergraduate studies.
In Cornish's office hangs a small painting she brought home from South Africa. It shows neat rows of township homes painted in bright colors, linked by a road made of real dirt and gravel.
"Every time I look at it, I am reminded of my personal privilege," she says. "I watch my son attending college, and I see Goucher doing for him what it did for me, and that is wonderful. And I also look around and see Goucher doing the same thing for each of our students. I see such potential in them, and I delight in playing a role in helping them walk in their gifts and their power. Really, there is no limit to what they can do."