Jean Perez brings the balance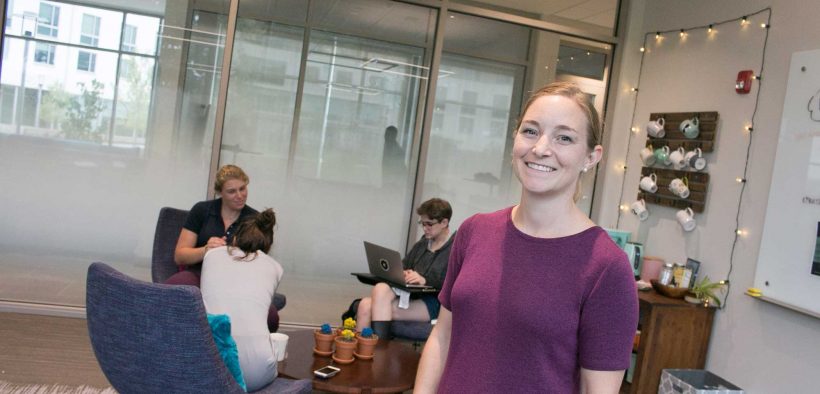 Jean Perez is thinking about outlets. The new director of wellness sits in the new Wellness Center, and someone from Facilities is asking where to put a desk. The space, on the first floor of Trustees Hall in the First-Year Village, is bright and open, with a glass wall separating it from the students walking by to their dorm rooms. It's late August, and the first-years have just started to move in.
With the electrical decisions out of the way, Jean Perez turns her attention again to outlets, but now, she's talking about creating opportunities for students to bring down their stress levels.
"I know wellness is such a hot phrase right now," she says. "But thinking about healthcare more holistically—and thinking about how physical activity can really play into that, and how you eat plays into that—and teaching students how to be more proactive about their health is something that I'm passionate about."
The title is new, but Perez has been a beloved part of Goucher for 11 years, first as an athletic trainer, then as the senior woman administrator, part of an NCAA initiative to get more women involved in athletic departments.
She's bringing that expertise to her new role. "My approach when I was an athletic trainer here was to offer student-athletes education on a variety of topics, including proper sleep, nutrition, and emotional wellness. It was not just about treating injuries or getting stronger," she says. "I am excited to share this integrated view of well-being with the entire student body."
The Wellness Center combines sports medicine, campus recreation, and the Health Center (although the Health Center will physically remain in Heubeck Hall). The center was put in the First-Year Village as a way to engage students from the moment they get to Goucher. Trustees Hall is well suited for the Wellness Center, as Perez and her team will be using the building's rehearsal space for fitness classes. They also expect the First-Year Village's courtyard and stadium seating to generate a lot of spontaneous games and activities.
But Perez emphasizes that the Wellness Center does not focus only on the first-years. "We want to get them interested in their health and well-being right off the bat and sustain that relationship for all four years," says Perez.
The Wellness Center has many initiatives planned for students. There will be cooking demos in the new demonstration kitchen (which has a video camera above the stove to stream the chef), open houses, and speakers on various topics. They're building a campaign around SWEET—President Bowen's strategy for successful learning: sleep, water, eat, exercise, and time management. The office is co-sponsoring Fresh Check Day on September 21, a mental health/activities expo with games and booths. And the college has added positions for a campus recreation coordinator and a strength and conditioning coordinator.
The point isn't to get every student to the same place of fitness and health. Perez simply wants to help students find what works for them. "It's really about balance," she says.
Perez has just spoken about a camping trip the Wellness Center is sponsoring when a student walks by outside. "Can I say hi?" she mouths to Perez, who waves her in. The student hugs Perez, exclaiming, "I can't wait to go camping!"
– Molly Englund