Jacquelyn Leary Toton '63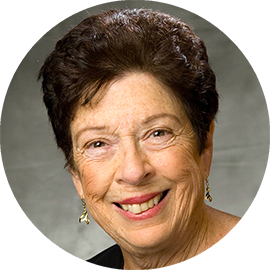 Long-time OB/GYN talks about giving life and seeking wisdom.
Some people count sheep when they're trying to fall asleep; Jacquelyn Leary Toton '63 counts the babies—more than 4,000 of them—she delivered over her long career as an OB-GYN. She says the thrill of bringing a new life into the world doesn't wear off.
"It never gets old," she says. "There are some theories about how the hormone oxytocin bathes everybody in that warm, wonderful feeling. Maybe that's why I kept doing it," she laughs, "even after common sense told me to stop."
She still remembers the first baby she delivered, as a medical student at Temple University. Her class was just 5 percent women—"One forgets," she says, "that one is part of history." That was before she married a fellow student three days before graduation, before they drove across the country to start their residencies at the county hospital in Oakland, California, and before she had five children and eight grandchildren of her own.
After a stint in Okinawa (where her husband was stationed during the Vietnam War), she returned to California, this time to San Francisco to finish her residency before opening a practice in Marin County, where she stayed for 30 years. Toton retired in 2010, but spent the last five years of her career traveling.
"I worked for various companies that would send me to places like Hawaii, where they had a need for an extra doctor," she says. "I spent the last five years between working in Sacramento and doing that."
One of the trips to Hawaii was nine months long and would have been longer, but she had to return to the mainland for a special delivery: One of her daughters was having a baby.
Toton hasn't slowed down much since retiring, taking up the things she didn't have time to do as a doctor and mother. She's been writing, painting, and playing golf—a sport she took up in high school, playing for the boys' team. She was active at Goucher, too, serving as president of the athletic association and playing on the field hockey and lacrosse teams. Now, writing
and art provide her with a creative outlet.
"I find that writing, drawing and watercolors, and golf provide me with a meditative state, which allows my inner thought and feelings to express themselves," she says.
Toton's been doing a bit of globe-trotting, as well. "Compared to Goucher people I haven't been doing much traveling," she jokes. "Compared to most people I'm on the road all the time."
Through a friend of a friend, she attended a 2014 conference of Eastern and Western medicine in Dharamshala, India, the seat of the Tibetan government-in-exile. As part of the small conference, she was among the attendees who got to see a speech by the Dalai Lama, followed by a question-and-answer session.
"He's so intelligent, so well-read, so up-to-date," she says. In answer to one question, she recalls, the Dalai Lama spoke about the importance of women's education. "I was really so impressed with his humbleness and the breadth of his knowledge," she says. "It was amazing."
Toton laughs again, "Then we all crowded around and got our pictures taken."