Goucher professor makes 3D printed face shields for Baltimore hospitals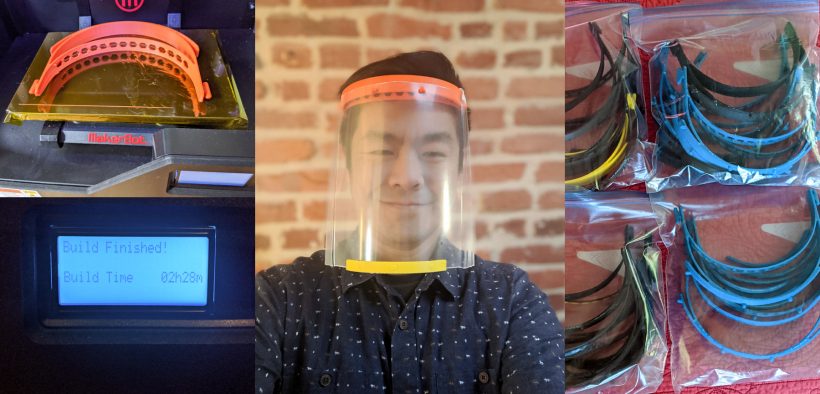 By Molly Englund
If you have a sewing machine at home, you've probably already started to make masks for family, friends, or as donations to health care workers. But some people are finding other ways to help—with 3D printers.
In late March, Open Works, a nonprofit makerspace in Baltimore, received calls from local hospitals looking for more personal protective equipment (PPE) supplies. Open Works, which has machines like 3D printers and laser cutters, partnered with two other groups to create face shields. They quickly figured out how to pack and distribute the shields, but the problem was the printing: Open Works only has 13 3D printers, and it became a bottleneck. They put the call out—anyone in the Baltimore area with access to a 3D printer could help.
Associate Professor of Mathematics Phong Le '03 was ready. Le is the founder and co-director of Goucher College's makerspace, where students learn and practice with art, design, and manufacturing. When Goucher instituted distance learning in mid-March, "I took the 3D printer home to mess around with it and do some maintenance," Le said.
A friend from Open Works sent Le the file they were using to print part of the face shield, a design created by the 3D printer manufacturer Prusa. A 3D printer can make two sections of the design, the frame and the chin brace. The face shields are then assembled at Open Works: The frame has a band that fits to your head, and a sheet of plastic is put over it. The chin brace then holds the shape.
Le and his fellow printers are making the frames and chin braces, and Open Works uses a laser cutter to make the plastic face covering. While Goucher has a laser cutter, it was too big to bring home. The 3D printer "runs in my guest room during the day while I work," Le said, "and now that's all I'm doing with it."
Goucher's 3D printer, which (along with the laser cutter) was donated by Margaret Warden '66, is a little larger than a toaster oven. With the original file, Le could make a frame every three hours. Prusa, as well as a community of online makers, is continually fine-tuning the design to make faster prints. A second design reduced the print time to two hours, but the frames had hexagonal holes that cause 3D printers to stop and start—"It gets kind of herky-jerky," Le said.
Prusa then released a third version without the holes; the frames use more plastic but are faster to print. The 3D printer can make these frames in about 1.5 hours.
"We can make these very quickly," Le said. "I'm sort of stunned that we have to—the need can't be so high that we need to make [PPE] that fast, but that's absolutely the case."
Even still, "there's something very cool about being a part of this," he said. "I've talked to my colleagues and students about what I've learned through this process, and how agile this community is. There's an online discussion of thousands of people talking about how they can figure this out."
When Le has five frames printed (sanitizing the machine between each use), he dons gloves, puts the frames in a plastic bag, tags them, and drops them off outside of Open Works. The staff leaves them sealed for three days, the time it would take to be confident that the coronavirus had become inert. Once Open Works assembles the face shields, they send them to hospitals in the Baltimore metro area.
Le is still experimenting. When something goes wrong during printing, the frames come apart like spaghetti strands. Over the first weekend in April, Le tried to use a modified design that would let him print four frames at once, stacked like pancakes. "It was a disaster!" he said. "The tower fell over pretty quickly into the second set." But the online 3D printing community is hard at work: "They are revising the model to make an even faster less error-prone version soon."