Goucher days, continued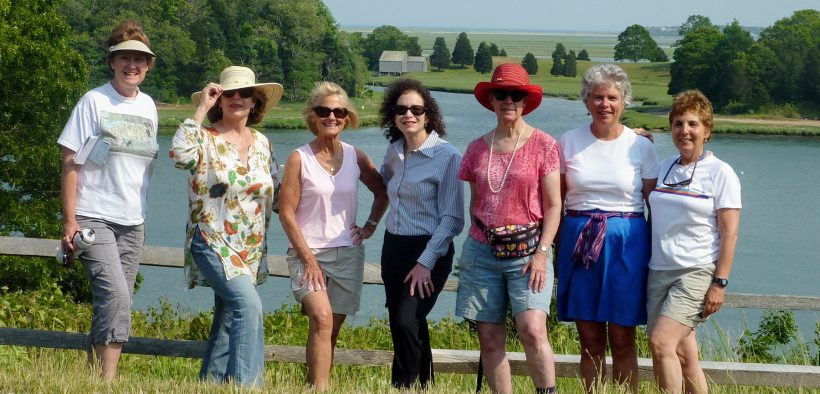 By Natalie Eastwood
In 1963, when a group of seven Goucher women still had curfews, met their dates in parlors, and drank in the Stimson parking lot, they had no idea that those experiences would help create something wonderful and unexpected 30-some years later.
In Heubeck Hall's Jeffery House, Sara Maher Atherton, Natalie Kramer Shawn, Betsey Craig Drollett, Patti Newmen, Sally Campbell Haas, Lois Vederman Purgalis, and Jeri Spann—all of the Class of 1967—lived on different floors, but all knew each other, some better than others. It wasn't until a class reunion in 1992 that several of the women reconnected and realized they have so much fun together it would be "ridiculous" not to get together more regularly, Spann says.
And so, a new era of friendship was born. They make up the Jeffery Seven, who have been meeting every two years since 1995. They had missed the busiest years of marriage, work, and childrearing, and found themselves on the cusp of 50.
Now turning 74, these women have taken 14 trips together, spanning 24 years and some of their most significant milestones. The conversations have shifted over the years to work, menopause, retirement, aging parents, losing family members, and even celebrating the wedding of one of their members, says Shawn, calling these trips a "chronicle of our life story."
"My sense is we are helping each other understand what it means to be mortal and to be aging," Spann says.
What started as long weekend trips at members' houses has evolved into weeklong vacations in Maryland, Massachusetts, Maine, California, Colorado, and late this spring, Richmond, VA. They try to visit places no one has been to before, says Atherton, but that proves difficult since they are all so well-traveled.
They never have any problems deciding what to do on their trips, Atherton says. They go hiking and take long walks, tour museums and art galleries, and visit unique shops. They eat at great restaurants and supply their egg breakfasts and nights of wine and cheese from local farmers' markets. Everyone has specific roles on these trips, Atherton says—someone makes the coffee every morning, someone else fries the eggs, another is the unofficial photographer. When they go grocery shopping, no one needs to ask what types of milk to buy. They are cohesive, picking up where they last left without pause.
The best part, Spann says, is the conversation. "We just talk endlessly. There's all this catching up. It's really quite self-revealing, and it's good for us," she adds. "This is the only group of people who have remained important in my life who are also my age mates and have gone through the same formative college years. Here we are about to turn 74, and this group has stuck. I can't imagine us ever stopping this because it's become more important to us as we've gotten older, rather than less."
The last day of every trip, the group sits down and drafts a list of places they might like to visit for the next reunion. And so, it begins again.
(Photo at top): (From left) Sara Maher Atherton, Jeri Spann, Betsey Craig Drollett, Natalie Kramer Shawn, Lois Vederman Purgalis, Sally Campbell Haas, and Patti Newmen.