Goldrich '17 and other athletes earn accolades on and off the field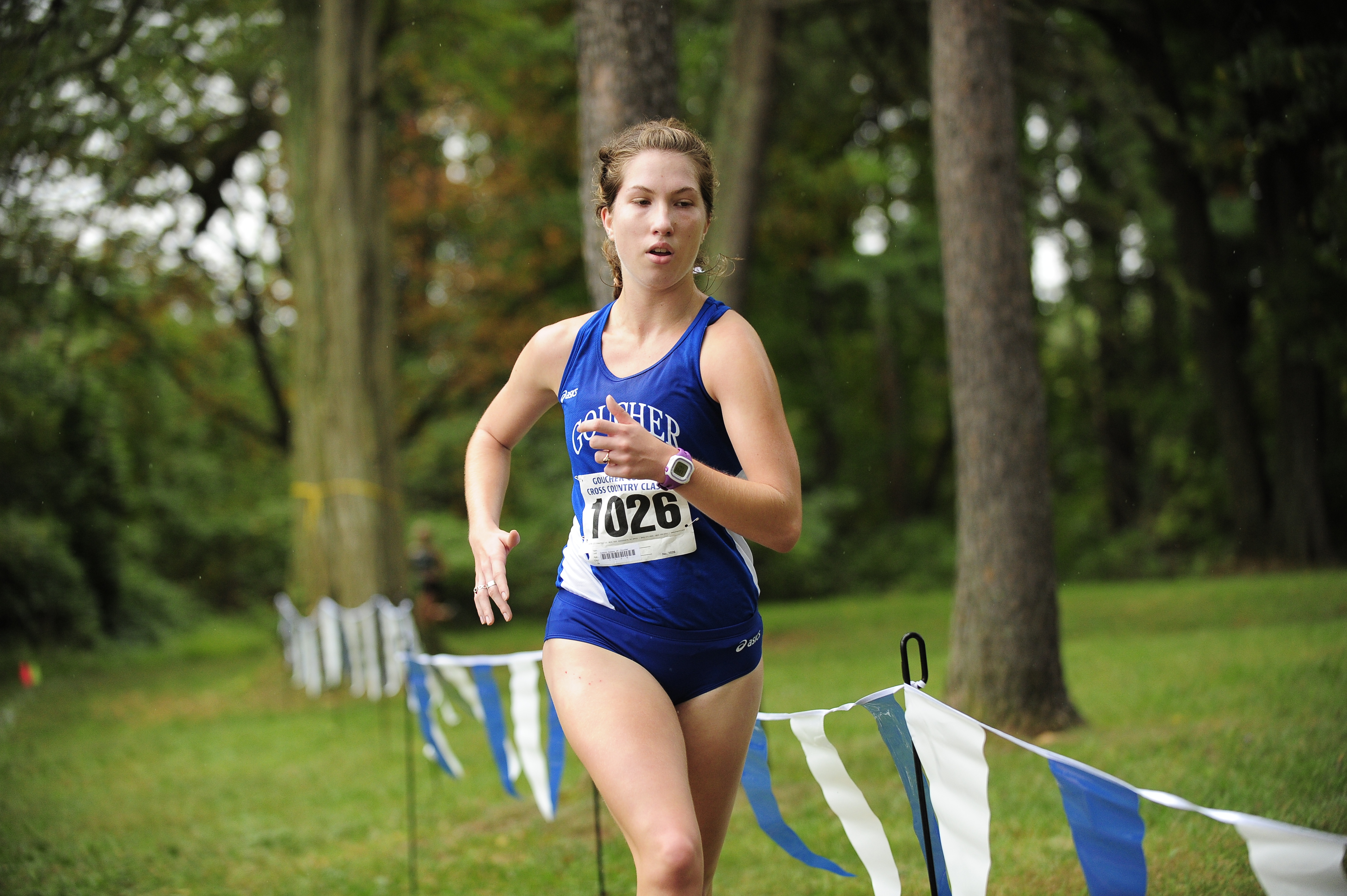 The first portion of the 2017-18 athletics year for the Gophers has come and gone, and several student-athletes were honored for not only their prowess on the field but their commitment to excellence off of it.
The standout was then-senior Soliana Goldrich '17, of the women's cross country team, who in early November was the recipient of the Landmark Conference's Academic Senior Scholar- Athlete award for the sport.
Each year, the Landmark Conference selects a student-athlete from each championship-sponsored sport for the Senior Scholar-Athlete award. To qualify, the senior student-athlete must have a GPA of 3.2 or higher.
"Being able to see both athletic and academic achievement meshed together in an award is very important to me," said Goldrich. "I'm really passionate about both, and to be recognized for it is really exciting."
In competition, she served as the team captain for the Gophers in 2017, recording the first top-20 finish for a Goucher women's runner at the Landmark Conference Championships since 2013, finishing 16th on a challenging course at Juniata College. She also captured the Goucher Cross Country Classic earlier in the month, finishing in 25:32.
In the classroom, Goldrich recorded a 3.74 cumulative grade point average as a psychology major and graduated magna cum laude with honors at the conclusion of the fall term.
In addition, Goldrich was a member of PSI Chi (the International Honors Society for Psychology) and presented at the Eastern Psychological Conference in Boston and the Psychonomic Society in Vancouver. She also made Goucher's Dean's list each semester since Fall 2015 and was inducted into Chi Alpha Sigma (part of the National College Athlete Honor Society) last spring.
"In my four years [at Goucher], there's been a lot of improvements athletically, and I think I've learned a lot mentally on how to focus in on a race, which is something that really applies to everything in life," continued Goldrich. "It's cool to see how far I've come."
Goldrich will now embark on a Ph.D. program next fall for neuroscience with a focus on psycholinguistics.
On the field, five Gopher student- athletes in three different sports earned All- Landmark Conference honors, led by senior Sarah Shklanko of the field hockey team, who earned First Team honors at defender.
Also earning All-Landmark honors for the fall were seniors Kristen Shklanko (field hockey), Scott Mt. Pleasant (men's soccer), and Drew Phillips (men's soccer), along with sophomore Isabel Suazo (women's soccer).
Off the field, the Gophers shined bright in the fall. In all, 34 student-athletes were named to the Landmark Conference's Academic Honor Roll, signifying that they have earned at least a 3.20-grade point average.
For more on the Goucher College Athletics Program, please visit the official home of the Gophers—athletics.goucher.edu—and sign up for "The Gopher Report" newsletter.