Giving Goucher students a career advantage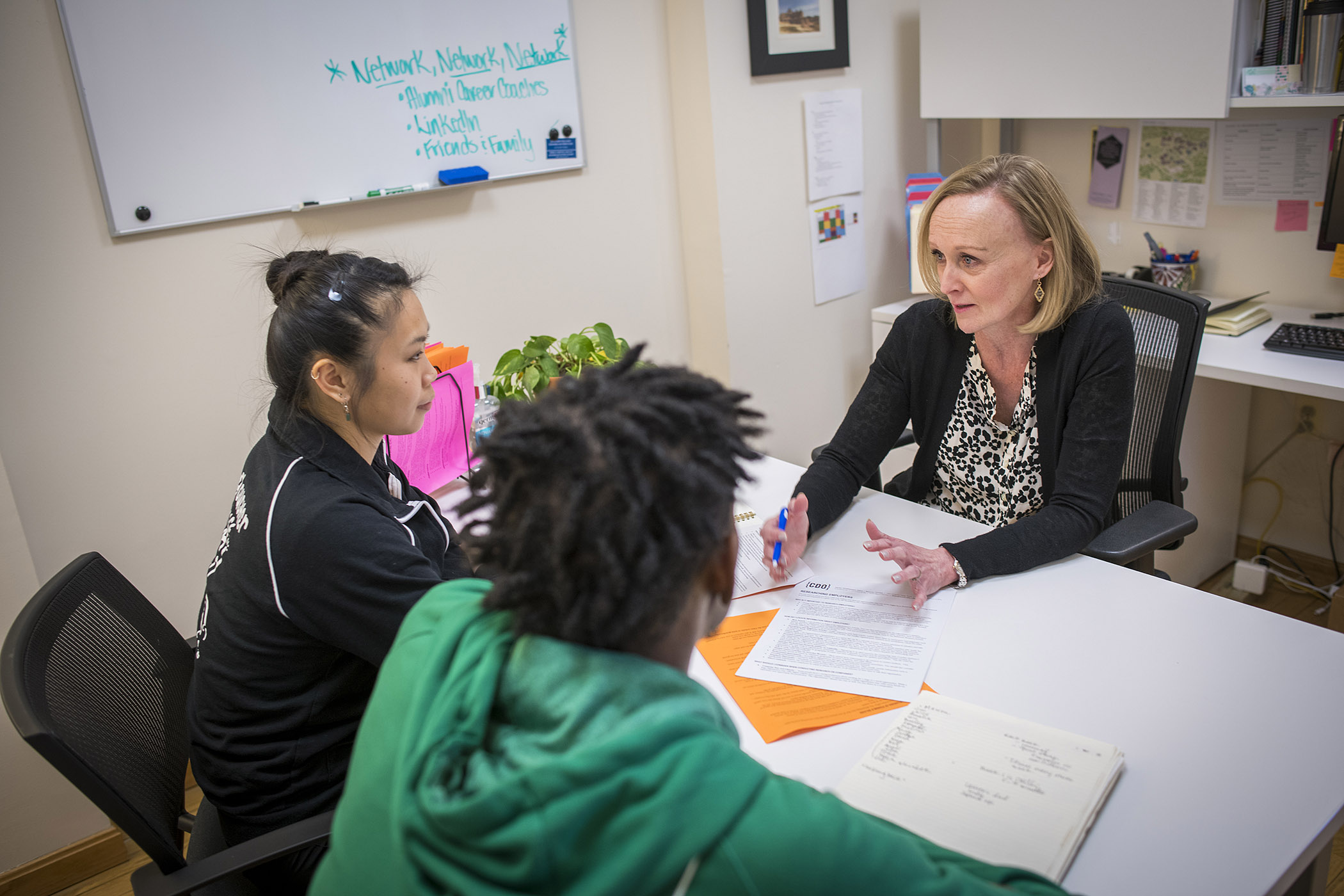 Finding your purpose and figuring out how to lead a fulfilling life can be a daunting challenge for anyone, especially young adults learning to navigate their way through college.
"It can be scary, hard, and confusing," said Traci Martin, director of career education at Goucher College.
Now, Goucher is reshaping that experience with the new "Goucher Advantage" program, which offers a comprehensive, holistic approach to career education. Martin and Eric Singer, associate provost for experiential and external programs, collaborated with faculty and staff stakeholders to create this new model for student success.
At the core of the Goucher Advantage is helping students think intentionally about how they get experience in the fields that they are most interested in and that can prepare them best for careers after graduation.
"We need to create these pathways … to get [students] early in their careers thinking about these things so that they can make informed decisions about the experiences that they have," says Martin.
For example, if a student were interested in environmental studies, they could research and find an internship in the field, explore potential study abroad programs in that discipline, and identify community-based learning opportunities that would offer additional hands-on experience.
To better help students pursue their interests in an integrative way, the Career Education Office (CEO, formerly Career Development Office), Community Based Learning (CBL), and the Office of International Studies (OIS) will be joined together to form the Exploration Hub in Van Meter Hall.
"The Exploration Hub will allow students to incubate ideas about who they are, what they are interested in, and how they can go about getting it," said Singer. "Part of our job is to meet students and push them to explore their purpose."
Singer says that this synchronized approach allows students to explore the ways in which experiential learning can complement their academic program of study and the hub will draw upon peer mentoring, integrated advising, and elements of the new Goucher Commons curriculum.
The new Goucher Advantage model will make career education a central element of every student's experience, starting when students arrive on campus and continuing during their four years as Goucher students. Through the First-Year Seminar, writing courses, and other course integrations, the model will focus on self-knowledge and personal branding, professional experience, alumnae/i connections, and career management skills, with resume writing and cover letter development incorporated directly into class assignments.
"The first phase of this model is the career education piece," says Martin. "The second phase is career communities, so that students can find a 'home' to discuss shared interests. We will invite students to join communities and they can meet other people, alumnae/i, employers, and parents to get support getting jobs in that area."
These career communities will also include an "exploring" community for those who aren't sure what specific career direction they want to pursue. "We recognize that one size doesn't fit all," says Martin.
She says that the CEO's work transcends the office walls and that her staff has created numerous programs aimed at exposing students to real-world jobs and career readiness through external programs that offer hands-on experience.
The GopherTreks program takes groups of students out to explore different industries through alumnae/i connections. A new job-shadow pilot program identifies alumnae/i and parents in various geographic areas for potential job-shadow opportunities during school breaks. Last month's spring break allowed current students the opportunity to explore a range of career paths, from meeting with Kyle Williams '12 at the tech giant Box.com in Silicon Valley to Dennis Teegardin '12, who works with Maryland State Delegate Eric Luedtke.
"A big piece of what we want to do in this model is to get students exposed to jobs, careers, employers, and industries early and often during their Goucher careers," says Martin.
These programs build on the CEO's successful Coffee Chats, which have also expanded to Tuesday Teas. Both events bring alumnae/i to campus to talk to students about their career path and share advice and networking opportunities.
Alumnae/i participation has been key to seeing these programs succeed. To celebrate its 40th class reunion, the Class of '77 Goucher Intern Fellowship was established and endowed to provide stipends to students taking internships. The fellowship enables students to take on an internship during the summer months and provides them with a stipend to defray costs incurred during the experience.
"This will be a transformational program," says Singer. "We are encouraging students to think about their present and future in a more intentional way—whether it is through an experience with CBL, OIS, or an internship—and all of those will be enhanced through this integrated space and programming."
For more information on how alumnae/i can get involved with Goucher Advantage programming, please visit http://www.goucher.edu/career-education-office/for-alumnaei.