Gail Standish '55 & Kat Elicker '19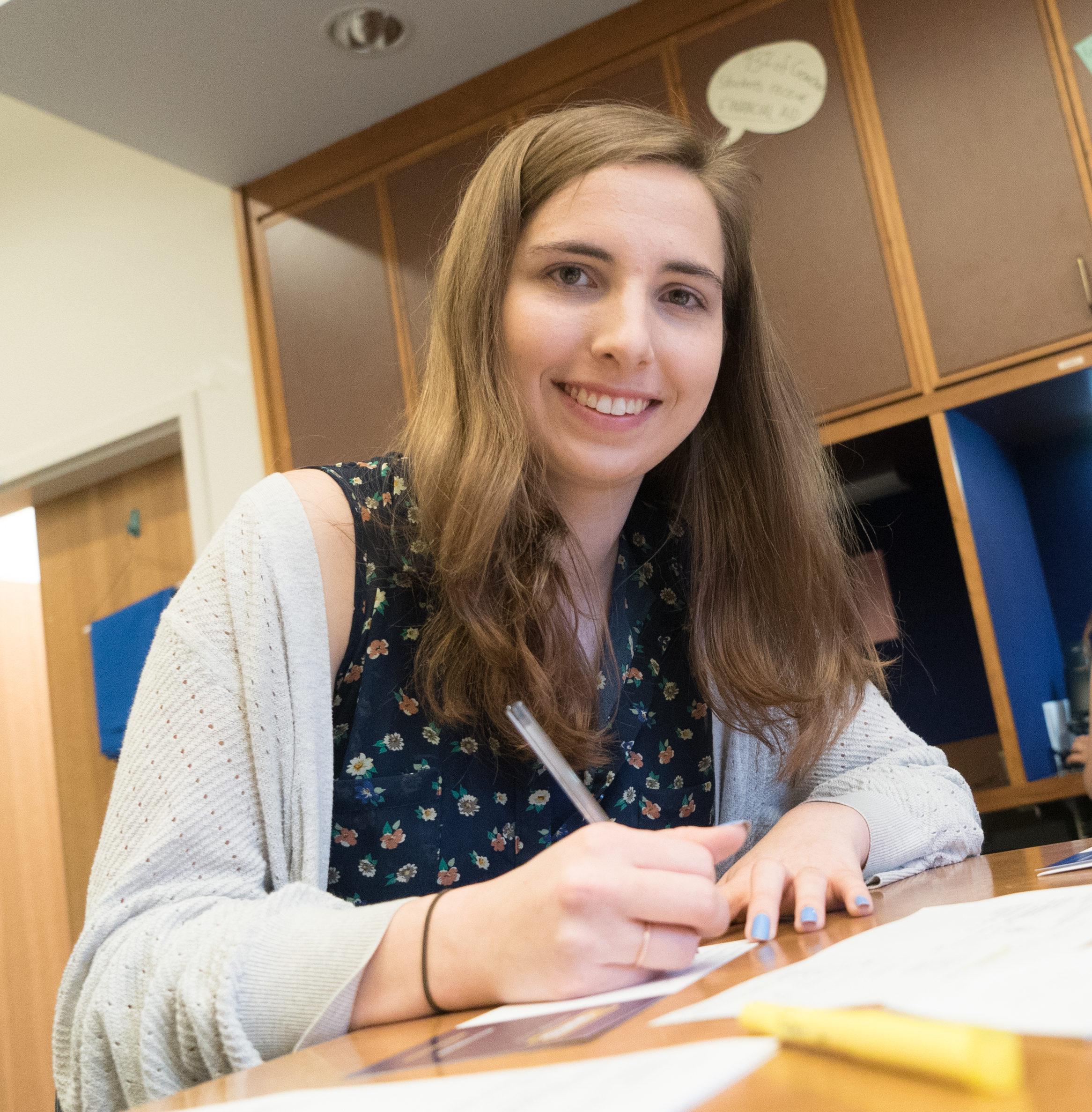 Kat Elicker '19 has long been steeped in Goucher history. Her mother, Jillian Storms '80, P '19 is an alumna, and Elicker grew up coming to art gallery openings on campus. But when it came time to apply to college, Elicker didn't see herself at Goucher, as she wanted to create her own path. Her mom convinced her to look, knowing Elicker wanted to be in a small liberal arts environment. After narrowing down her choices, she interviewed with Corky Surbeck, the director of Admissions. "There was this moment," Elicker says, "when I realized that Goucher just cared a lot more about me" than the other schools.
Goucher moments are special to Elicker, who loved hearing her mother's stories growing up. So when the environmental studies major wanted to make some extra money for her study abroad program in New Zealand, she got a job as a caller for the Alumnae/i House's Phone-a-thon.
She was intimidated by the thought of having to ask alumnae/i for donations, but the prospect of getting to listen to their stories, and the extra cash, won out. Her first day, the first two calls went to voicemail. On her third attempt, Gail Standish '55 answered the phone.
The conversation flowed. Elicker is a José and Kimberly Bowen Dorsey Scholar, and Standish had donated in Rhoda Dorsey's name several times before. ("God love Rhoda Dorsey, I adored the ground she walked on," Standish explains.) When Elicker mentioned her interest in environmental science, Standish immediately offered to connect her to her son-in-law, who runs a large environmental engineering firm called TRC.
"She's a very quirky, fun person to talk to," Elicker says. "She has these one-liners you won't expect."
Elicker shared her love of soccer, and Standish told her all about her grandson, Joshua, and his soccer scholarship. "She was very proud of him," says Elicker. "I swear she might have been trying to set us up."
"Everyone in the United States knows about my Joshua," says Standish. "I like to talk."
Elicker had a big impact on Standish, as well. "Kat is the future of Goucher. She's positive, she's ambitious. I was very impressed with her." By the end of the call, Standish had pledged $25. But after some thought, she called back to double it.
"Kat understood my pride in the fact that I graduated from a college like Goucher," says Standish. "I felt like she really cared about what I had to say." After the call, Elicker wrote a thank you note to Standish, who responded in kind. The two are now pen pals—Elicker has named the letters she receives "Gail Mail"—and they plan to keep sharing their Goucher experiences.
Like the time Standish went on a Goucher trip to Cuba in the summer of 1953, just as the first uprising began. "My mother was ready to call in the United States Navy," Standish says. "My dad was a good friend of then-Senator Prescott Bush. He had to tell my mother, 'You can't ask a senator to send a navy ship to get your daughter.' And we were totally safe, by the way."
Elicker is heading to New Zealand this fall and still working the Phone-a-thon in the meantime. For her, the best shifts aren't measured in the number of donations. "We're not just there to get something from you," she says. "More often than not, the alum is giving something to us, which is their memories."